Check out the games, puzzles, and challenges below and explore our estuary through science!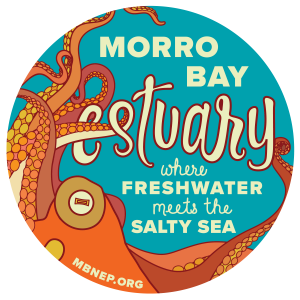 Have fun, learn about the Morro Bay estuary, and see how you can help it.
Videos allow you to dive beneath the eelgrass, see a 12-hour tide cycle, and talk with people who love the bay. Play a video game that allows you to become a steelhead trout making the journey upstream toward freshwater pools after your time in the salty bay. Learn all about the bugs that live in our streams and what they tell us about the health of our bay. See how climate change might affect the estuary, and use the water calculator to see how much water you use each week and how you could conserve it. 
DOG POOP POLLUTES! EDUCATIONAL COLORING BOOK, GAME, and SCIENTIFIC MONITORING SURVEY
STEAM activities for home or school, with a silly, stinky twist.
This series of interactive STEAM lessons gives kids the chance to read, write, draw, create, laugh, and get moving. They might be giggling and ewwing about dog poop, but they'll be tuned in and learning about the connection between land and sea, nonpoint source pollution, water quality, human health, scientific survey methods, and environmental stewardship. These lessons are suitable for classrooms, both digital and brick-and-mortar, and at-home learning. Download the Educator Welcome Letter, K–5 Lesson Plan, Coloring and Storybook, and Neighborhood Dog Poop Survey (grades 5–7) below! Curriculum development was funded by a generous grant from the Harold J. Miossi Charitable Trust.
Become a steelhead trout, race past obstacles, and jump to reach tasty bugs in Upstream Rush!
In this video game, you are a steelhead trout making the journey upstream toward freshwater pools after your time in the salty bay. Along the way, you must do your best to avoid birds trying to make you a snack, fishermen hoping to catch you, seals looking to make you into dinner, and more. Earn points by finding places to hide in the eelgrass or rocks while searching for bugs to eat to keep up your energy. It's all about how aware and sneaky you can be as this game takes you through the wilds of the estuary and creeks in an Upstream Rush. 
Dive into Marine Protected Areas (MPAs) and see how they protect California's waters and wildlife.
The Morro Bay National Estuary Program is a member of the San Luis Obispo Marine Protected Areas Collaborative. The Collaborative members worked together to create the 16-page Discover Marine Protected Areas – California Coastal Explorer Guide in both English and Spanish. The booklet features fun activities that educate its readers on Marine Protected areas like the Morro Bay estuary, wildlife, ocean safety, recreational opportunities and more. You'll even find experiments that you can do at home, with just a few household ingredients!
Estimate how much water you use at home each week and see how you can save.
Answer simple questions about what you do around your home to see how much water you use each week, then adjust your answers to see how you can reduce your water use. 
Be a bay-friendly superhero!
Our Morro Bay estuary needs YOU to guard its natural treasures. Head outside to see the estuary with your kids and complete the challenges on the Bay-Friendly Superhero Activity Page (print at home or pick up a copy in our Estuary Nature Center). Find out how your family can protect the estuary and be superheroes for the bay.
 (Answer Key) Bay-Friendly Superhero Activity Page
SCIENCE PROJECT FINDER
Help scientists collect data for cool projects.
Check out the featured kid-friendly project on the left or use the finder on the right to discover a project that's just right for you.
THE CLEAN WATER PLEDGE
Do you part and take the pledge.
The Clean Water Pledge is a promise to always keep four simple habits in your daily life – habits that help keep Morro Bay clean for people and wildlife.