PICK UP THE PICNIC WEEK
ABOUT THE CAMPAIGN
During Pick Up the Picnic Week (July 5—11), the Morro Bay National Estuary Program encourages trash pickup efforts big and small. All cleanup efforts along our shores help to keep our estuary clean and healthy.
WHY PICKING UP MATTERS
Summer is a busy time around Morro Bay. With more people enjoying the local beaches, picnic areas, parks, and trails, there can be more trash left behind. This trash poses a problem for the wildlife of the estuary when it blows, falls, or washes into creeks and the bay. Animals can attempt to eat the trash or become entangled, and plastic debris can leach chemicals into the water. It takes all of us working together to keep this trash off our streets and out of our waters.
HOST YOUR OWN CLEANUP
Pick the place. Pick up the trash. Send us the details.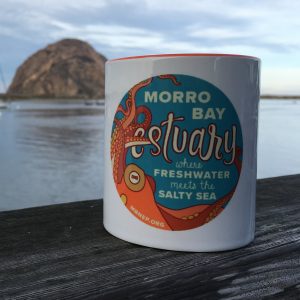 Participate in Pick Up the Picnic! Every time you pick up a piece of trash from the street, off the beach, or out of the water, you make a big difference for the health of the bay. Gather friends and family or enjoy a quiet walk by yourself as you pick up trash and record what you find using our data sheet. When you send us your completed data sheet, you'll be entered to win an Estuary Program mug!
MAKE IT EASY AND FUN FOR FAMILY AND FRIENDS
Make it a game. Set up teams to see who can pick up the most trash.
You don't have to spend the whole day. A #2minutebeachclean is great too!
Clean up by land or by sea. Get creative with your mode of transportation.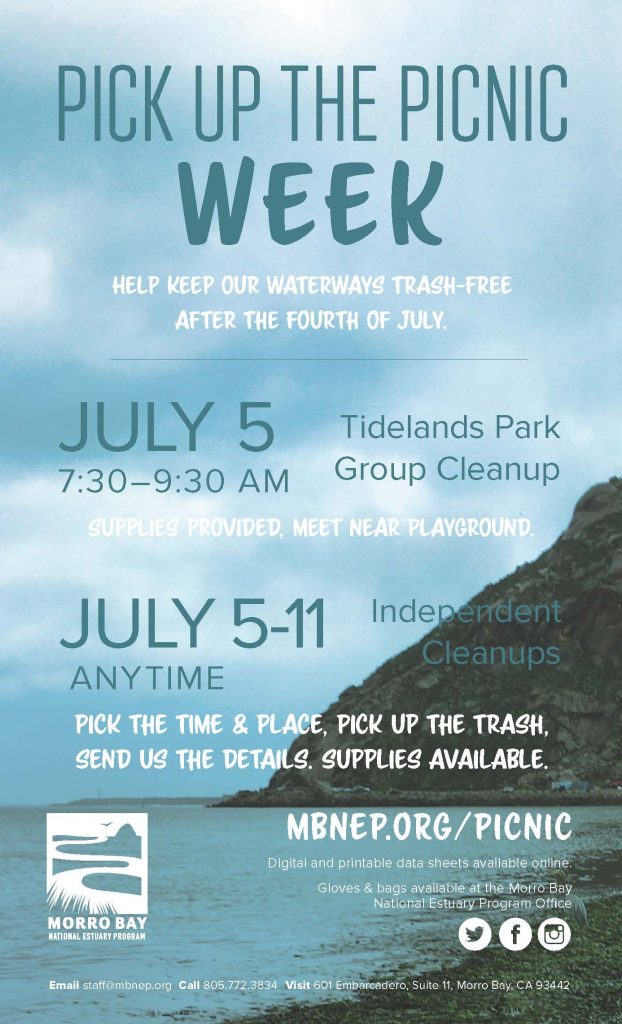 ---
WHY DATA SHEETS?
Data sheets help us track local trends and discover top items of concern in our area. We appreciate you taking the time to document your work to help clean up our beautiful home!
Send in your data one of four ways by July 12, 2017:
Send your data directly to our inbox with our digital data sheet.
WHERE TO PICK UP TRASH
Find your spot to clean up. If you can't make it to Morro Bay or Los Osos, then clean up wherever you are and send us your data anyhow. We love to see the efforts for #trashfreeseas happening all over!
LOCATION IDEAS FOR YOUR PICKUP
NORTH OF THE ROCK
North Point Natural Area Access
MORRO ROCK AND AROUND MORRO BAY'S TOWN CENTER
Morro Bay State Park Campground
Morro Bay State Park Marina Parking Lot and Peninsula Trail
White's Point (Around the Morro Bay Musuem of Natural History)
LOS OSOS AND MONTAÑA DE ORO STATE PARK
Los Osos Community Park (Skate Park, Library, Red Barn)
Morro Bay Sandspit – South (beach access in Montaña de Oro State Park)
---
DIGITAL DATA SHEET
Error: Contact form not found.
[space height="30″]

Morro Bay National Estuary Program brings together citizens, local governments, non-profits, agencies, and landowners to protect and restore the Morro Bay estuary.

[space height="30″]
| | | |
| --- | --- | --- |
| | Protecting and Restoring the Morro Bay Estuary. | |
| | | | | | | |
| --- | --- | --- | --- | --- | --- | --- |
| | [button href="volunteer"]VOLUNTEER[/button] | [button href="donate"]DONATE[/button] | [button href="explore"]EXPLORE[/button] | [button href="contact"]CONTACT[/button] | [button href="blog"]BLOG[/button] | |