Give great gifts and support the Morro Bay National Estuary Program!
Purchase any item from our new Zazzle store or from the Estuary line of ESTERO gear and 10% of the purchase price goes to the Estuary Program. Those dollars help us protect and restore Morro Bay for people and wildlife. Thank you!
Find links to ESTERO and to Morro Bay Estuary Zazzle Store items below.
Purchase any shirt, hat, or hoodie from ESTERO's Estuary line and they'll donate 10% of your purchase to the Estuary Program. Purchase an Estuary decal, and 100% goes to the Estuary Program. Thank you, ESTERO!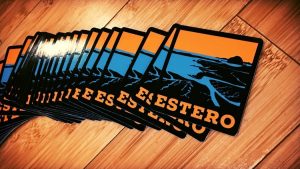 Please note that the items in this store have been designed by the Estuary Program, but are fulfilled entirely by Zazzle, which is an online retailer of customized products. The Estuary Program does not print or ship any goods. However, 10% of the purchase price of items you purchase through the Morro Bay Estuary store on Zazzle support the Estuary Program. Please see these items below!