ABOUT THE MANAGEMENT PLAN
In 1995, Morro Bay was accepted into the National Estuary Program, which was established in 1987 by amendments to the Clean Water Act. The Clean Water Act requires each National Estuary Program to develop and implement a Comprehensive Conservation and Management Plan, or Management Plan. The primary purpose of the Management Plan is to identify problems (called "priority issues") that threaten the ecological and economic resources of the estuary and watershed, and to define various action plans to effectively reduce those problems.
PRIORITY ISSUES IN MORRO BAY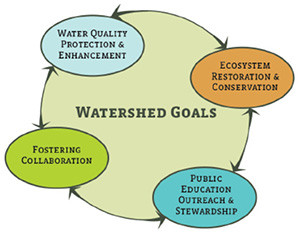 The Comprehensive Conservation and Management Plan defines the priority issues facing the health of the Morro Bay estuary and watershed and presents action plans to effectively address those issues. The management plan is the guiding document for the Estuary Program. These issues were identified through grassroots public participation, scientific study, and more than a decade of conservation and restoration experience. The priority issues include the following:
1.    Accelerated sedimentation
2.   Bacterial contamination
3.   Elevated nutrient levels
4.   Toxic pollutants
5.   Scarce freshwater resources
6.   Preserving biodiversity
7.   Environmentally balanced uses
The Conservation and Management Plan was developed with a five-year planning horizon. The Estuary Program will prepare an annual workplan that specifies tasks that will be undertaken each year. Tasks within each annual workplan will be set based on addressing the most pressing issues facing the estuary as well as having the appropriate partners and sufficient funding in place to ensure success. The primary focus areas presented in the beginning of Chapter 3 ("Maximizing Impact in the Next Five Years") will be updated every five years. Also every five years, the rest of the document will be reviewed to determine if updates are needed.
QUESTIONS ABOUT THE MANAGEMENT PLAN?
General questions about the Management Plan can be directed to Melodie Grubbs, Executive Director, at 805-772-3834, ext. 16.
MANAGEMENT PLAN
Requests to view the Management Plan in person can be made by contacting the Morro Bay National Estuary Program at 805-772-3834. The Estuary Program is located at 601 Embarcadero, Suite 11 (upstairs), Morro Bay California 93442.
Comprehensive Conservation and Management Plan Snapshot (PDF)