Events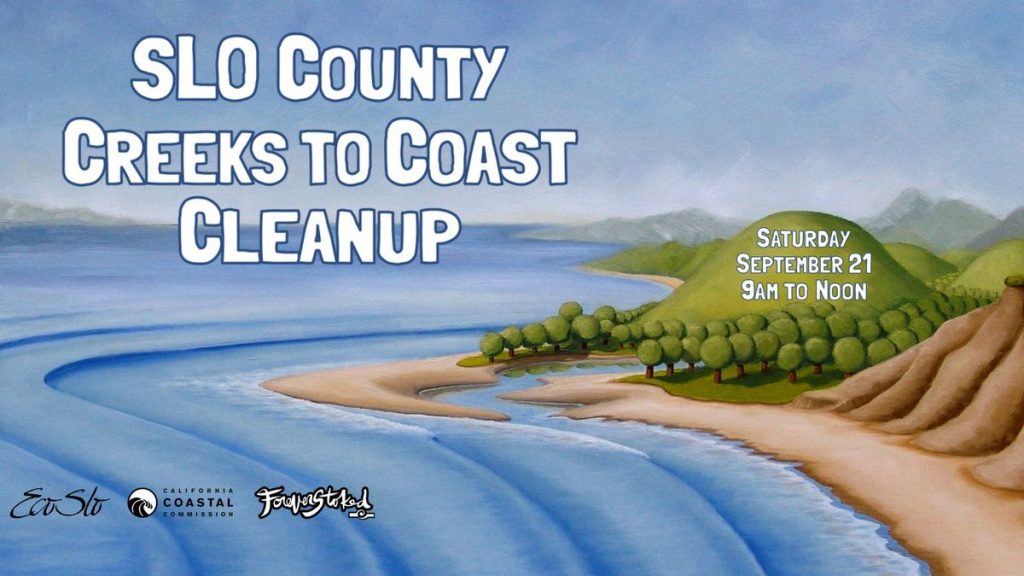 UPCOMING EVENTS

Creeks to Coast Cleanup on International Coastal Cleanup Day, Saturday, September 21

Join your neighbors and clean up the county from the peaks, down the creeks, and to the coast! This new effort replaces International Coastal Cleanup Day, keeps the same coastal sites you love to keep clean, and adds inland sites. It's a win for everyone–especially wildlife!
To clean up the Morro Bay Sandspit with the Estuary Program, reserve your space on the boat

by filling out this form

.
To clean up one of the dozens of other sites around the county, visit ECOSLO's

Creeks to Coast Cleanup Day website

.
Stay tuned: State of the Bay 2020 and our third season of Morro Bay Science Explorations with the Estuary Program will kick off in January of 2020.

RECENT PAST EVENTS

May 16, 2019.

Native Shellfish and Aquaculture in Morro Bay. Speakers

:

George Trevelyan, PhD, President of Grassy Bar Oyster Company. Topic: Oyster Farming in Morro Bay.
Ben Ruttenberg, PhD, Associate Professor of Biological Sciences, Cal Poly San Luis Obispo. Alex Marquardt, Master's Candidate and Graduate Assistant, Cal Poly San Luis Obispo. Topic: An investigation of Pismo clams.
Kerstin Wasson, Research Coordinator, Elkhorn Slough National Estuarine Research Reserve. Topic: Native oyster restoration science: coastwide overview and examples from Elkhorn Slough

March 21, 2019.

Wildlife Conservation and Restoration in Our Creeks. Speakers

:

Karissa Willits, Monitoring Coordinator, Morro Bay National Estuary Program. Topic: What bioassessment reveals about the health of local creeks.
Freddy Otte, Biologist, City of San Luis Obispo. Topic: Pacific Lamprey Return to San Luis Obispo Creek.
Kate Lundquist, Director of WATER Institute, Occidental Arts & Ecology Center. Topic: The history of beaver in California and the importance of beaver to watershed restoration.

Steph Wald, Watershed Projects Manager, CreekLands. Topic: South Central California steelhead trout and steelhead conservation across California
Lexie Bell, Executive Director, Estuary Program. Topic: Estuary Program restoration, monitoring, and education projects focused on steelhead trout
Ken Jarrett, Fisheries Biologist, Stillwater Sciences. Topic: Assessing Predation by a Voracious Non-native Fish Species in Chorro Creek

---

EVENTS BY OUR PARTNER ORGANIZATIONS

From science-based activities, celebratory mixers, shoreline cleanups, informative talks, active hikes, and more, here are some other local events put on by Estuary Program partners around the community.

The Central Coast State Parks Association has a variety of walks, talks, hands-on science workshops, and activities hosted by docents, California State Park officials, and other experts. Learn about the collection of happenings for all ages on their Events page.

ECOSLO organizes activities including docent-led hikes to promote healthy lifestyles and an engaged community in protecting natural resources locally and beyond. Check out the ECOSLO calendar on their website for info about upcoming activities.

The Land Conservancy of SLO leads hikers and bikers throughout the county. Their regular docent-led hikes and biking tours for a variety of levels provide special access to some private lands and information about the areas they work to protect. The LCSLO calendar of walks, tours, and special events as well can be found on their website.

San Luis Obispo Botanical Garden indulges guests in many hands on activities for all ages as well as informative walks through the property. See the SLO Botanical Garden's events page where they list recurring as well as special workshops and activities.

Small Wilderness Area Preservation (SWAP), The Los Osos and Morro Bay Chapter holds Third Saturday Walks monthly. Stroll through the Elfin Forest with a guest speaker presenting on a topic related to the natural history of the area. Visit SWAP's website for this month's presenter and topic.
| | | |
| --- | --- | --- |
| | Morro Bay National Estuary Program brings together citizens, local governments, non-profits, agencies, and landowners to protect and restore the Morro Bay estuary. | |
| | | |
| --- | --- | --- |
| | Protecting and Restoring the Morro Bay Estuary. | |