Adult contest closed March 31. Winners announced on the Morro Bay National

Estuary Program's blog

, Friday, April 17.
Student contest deadline extended by request through Friday, May 1!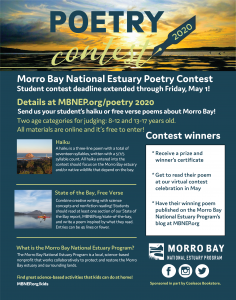 Categories
Estuarine Seventeen: All entries must follow the haiku form: a three-line poem with a total of seventeen syllables, written with a 5/7/5 syllable count. Click here for more information on the haiku form. Poems must use the theme "Morro Bay estuary." All poems entered must be unpublished as of the date of entry and must not have been submitted to the Morro Bay Estuary poetry contest in the past.
State of the Bay: Entries in this category may be written in any form, and should contain no more than 45 lines, including any blank lines between stanzas. Poems must focus on a topic covered in the Morro Bay National Estuary Program's 2020 State of the Bay report. All poems entered must be unpublished as of the date of entry and must not have been submitted to the Morro Bay Estuary poetry contest in the past.
Read the official contest rules. 
Who can enter?
The contest is open to students ages 8–17 (youth entries will be judged in two groups between ages 8–12 and 13–17) and adults age 18 and up at the time of entry. One youth winner and one adult winner will be chosen from each category.
How to enter
Send up to three poems in one email message to

poetry@mbnep.org

with the subject line "2020 Poetry Contest." These three poems may be in one category or split between the two categories. Poems should be typed in an easy-to-read 12-point font. (Please, no script or other fancy fonts.)
All student entries must be received by 11:59 p.m. (PDT) on Friday, April 17, 2020. (The contest deadline for adults has passed.)
You may include all of your entries in one document.
Please use one of the following formats:

Word file (.doc, .docx)
PDF (.pdf)
If you do not have access to Word, Google Docs, or another word processing program that allows you to save files in one of these formats, please copy and paste your poem(s) directly into the body of your email.
Note: If you are using Google Docs and you need help downloading the file in .docx or .pdf format, please email us for help at poetry@mbnep.org.

In the body of your email, please include:
Author's first and last name: The author's full first and last name as it should appear in publication.
Contact information: including email, phone number, and mailing address.
Personal information: 

Student entries should include the author's age, grade level, current school, and the full name email, and phone number of the parent or guardian who is giving permission for the youth to enter the contest.
Adults should include the author's city of residence.
The category or categories the author is entering. Category choices:

Student Estuarine Seventeen (two groups, ages 8–12 and 13–17)
Student State of the Bay (two groups, ages 8–12 and 13–17)
Again, please email your submissions to poetry@mbnep.org by Friday, April 17.
Celebration
Winners will be announced by the end of April and will be invited to participate in a celebratory reading online in May, in partnership with Coalesce Bookstore. Due to the extension of the student poetry contest deadline, the date is to be determined.  Winners will receive a prize and their work will be published online.
Judging Panel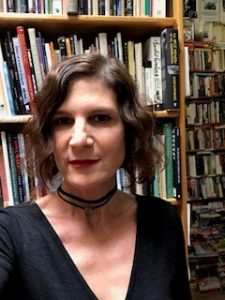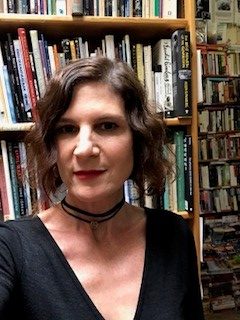 Karen Kirby, Guest Judge
Karen Kirby joined the staff at Coalesce Bookstore just over three years ago and is thrilled to call Morro Bay home. She was born and raised in Louisiana and spent her professional life in independent bookstores and libraries. As part of the library Youth Department she oversaw the arts program which included poetry writing and frequent poetry slams.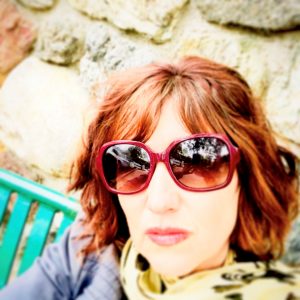 Marnie Parker, Guest Judge
Marnie Parker received a degree in  English and TESL at Cal Polytechnic University. A variety of her fiction, nonfiction, and poetry has been published in the Central Coast and Virginia publications. Parker's Blue Sanctuary (2015) placed first in adult free form  and her poem Meandering through the Zostera (2017) placed second in the same category  for the Morro Bay Estuary contest. She  was selected to read for the third annual Tanta International Poetry Festival in Egypt (2017). Her poem  Breaking of Coral  was translated into Arabic and included in an international anthology.
Last year, she delved into the world of digital photography. Two of her giclee  prints were selected for group shows for the  Glenn Dallas Gallery in Santa Barbara.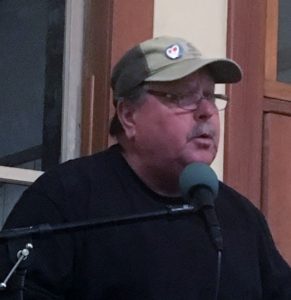 Kevin Patrick Sullivan, Guest Judge
Kevin Patrick Sullivan's books include, First Sight, The Space Between Things , UNIMPAIRED and a number of chapbooks.  His poems are in SOLO, HUMMINGBIRD, ASKEW, LUMMOX, MIRAMAR, SPILLWAY among  other journals and anthologies. He is co-editor of Corners of the Mouth A Celebration of Thirty Years at the Annual San Luis Obispo Poetry Festival. A Poet Laureate Emeritus for the city of San Luis Obispo and the Co-founder and Curator of the Annual San Luis Obispo Poetry Festival since 1984.
Currently he is the Founder/Curator of a new reading series, Corner Shelf Poetry, at the SLO Library.
He was Co-Founder and principal Curator of Corners of the Mouth, a monthly reading series
at Linnaea's Café from 1984-2019. He also founded and curated series' at the Steynberg Gallery, the Nautical Bean, and was Founder/Curator of the Excellent Series at the Excellent Center for Arts & Culture in Grover Beach. He is also the local curator of the 100 Thousand Poets For Change World Wide event every September.
Questions?
Please make sure to read the official rules; they should answer many of your questions. If other questions arise, please contact Rachel Pass at 805-772-3834 ext. 13.