September is full of special days for people who love the coast:
This weeklong celebration of all the places where fresh water meets the salty sea is close to our hearts. It starts on International Coastal Cleanup Day this Saturday, and ends on National Public Lands Day on September 24. It's a great time to get out and experience your local bay and do something to help it thrive.
Though our weeks are always filled with sea otters in Morro Bay, Sea Otter Awareness Week begins September 18. It's a time to focus on the important role that these top predators play in nearshore ecosystems and to understand their history and the challenges they face.
This annual state-wide celebration of our coastal and water resources reminds communities to come together to keep our coasts and inland waterways free of debris. Coastweeks kicks off with International Coastal Cleanup Day and continues for the next two weeks.
How to Get Involved
Fun things are happening in Morro Bay and beyond all month. Here are our recommendations for making the most of it.
Volunteer
International Coastal Cleanup Day, tomorrow, September 17, 9 a.m. to 12 p.m.
Opt outside and get your hands dirty with International Coastal Cleanup Day. In 2015, more than 66,000 volunteers picked up almost 1,150,000 pounds of trash along roughly 2,500 miles of California coastline? Those are big numbers that make a big difference for the health of our shoreline.
If you are looking for a way to make your Saturday count, visit local organizer ECOSLO's website to find a site near you. Volunteers are especially needed at the Estero Bluffs site, just north of Morro Bay.
Creek Day, September 17, 9 a.m. to 12 p.m.
This cleanup coincides with Coastal Cleanup Day, but focuses on freshwater locations further inland. The water in our creeks drains into our bay and the ocean, so keeping these areas clean is incredibly important. If you'd rather spend your Saturday on the banks of a creek than on the beach (always a tough decision!) Creek Day might be a good choice for you.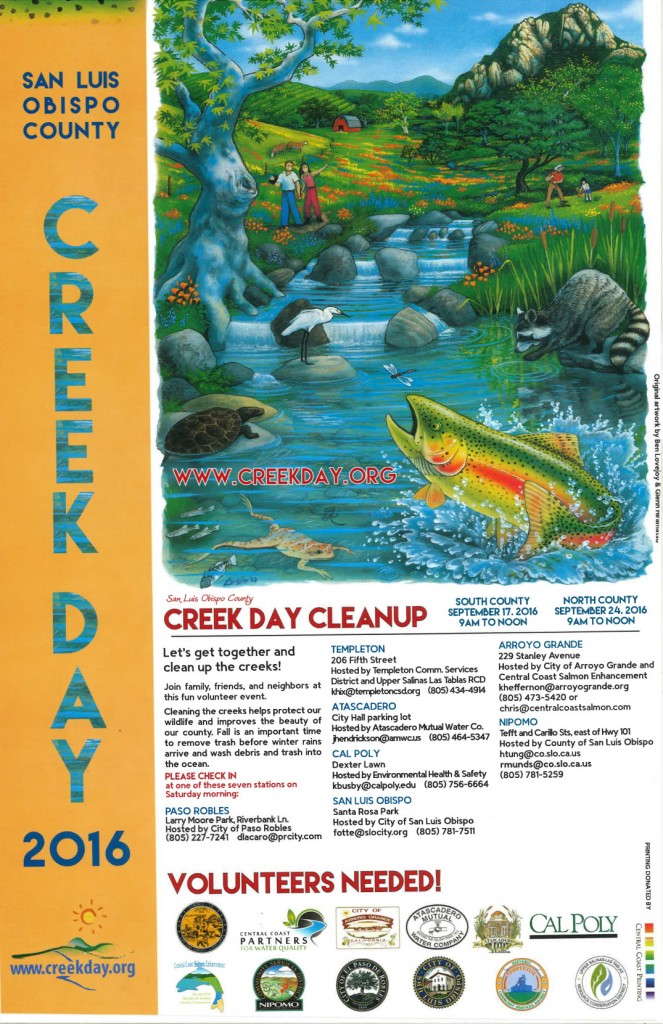 Make a Day for the Bay
Whether you participate in an organized cleanup and want to do more or you can't make it out on 9/17 but you still want to help, you can always give your time to keep the bay and watershed healthy. Head to your favorite spot for sun, surf, or quiet conversation and make it a point to pick up any trash or recycling you see and put it in the can.
Understand and Experience
Sea Otter Awareness Week
Did you know that sea otters have up to 1 million hairs per square inch of fur? Or that sea otter pups are born with a special coat that acts like a life jacket to buoy them up in the water? Sea otters are incredible creatures, and we're lucky to have them in Morro Bay.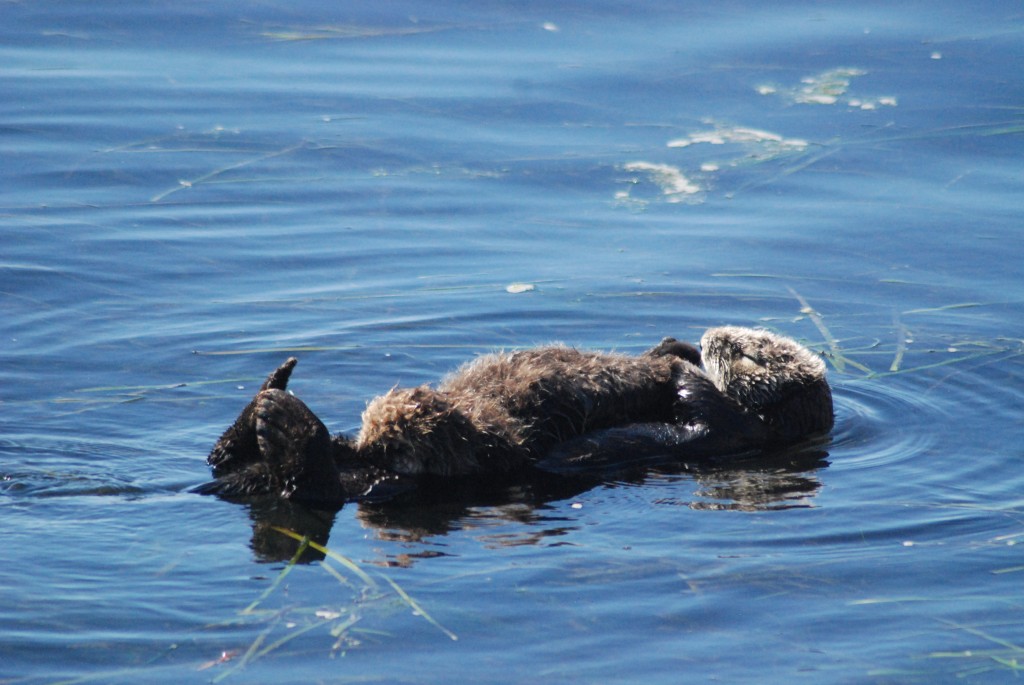 They were hunted to near extinction in the 18th and 19th centuries and were thought to be gone from the California coast until a small group was found near Big Sur in the 1930s. Today's southern sea otters—the type found in Morro Bay—are descended from that population.
If you want to learn more about these beloved mammals and find out how you can protect them, join California State Parks and Sea Otter Savvy for hands-on activities.
Fun with Microscopes at Morro Bay Natural History Museum
Join knowledgeable State Parks Docents this Saturday and Sunday for big fun looking at small things.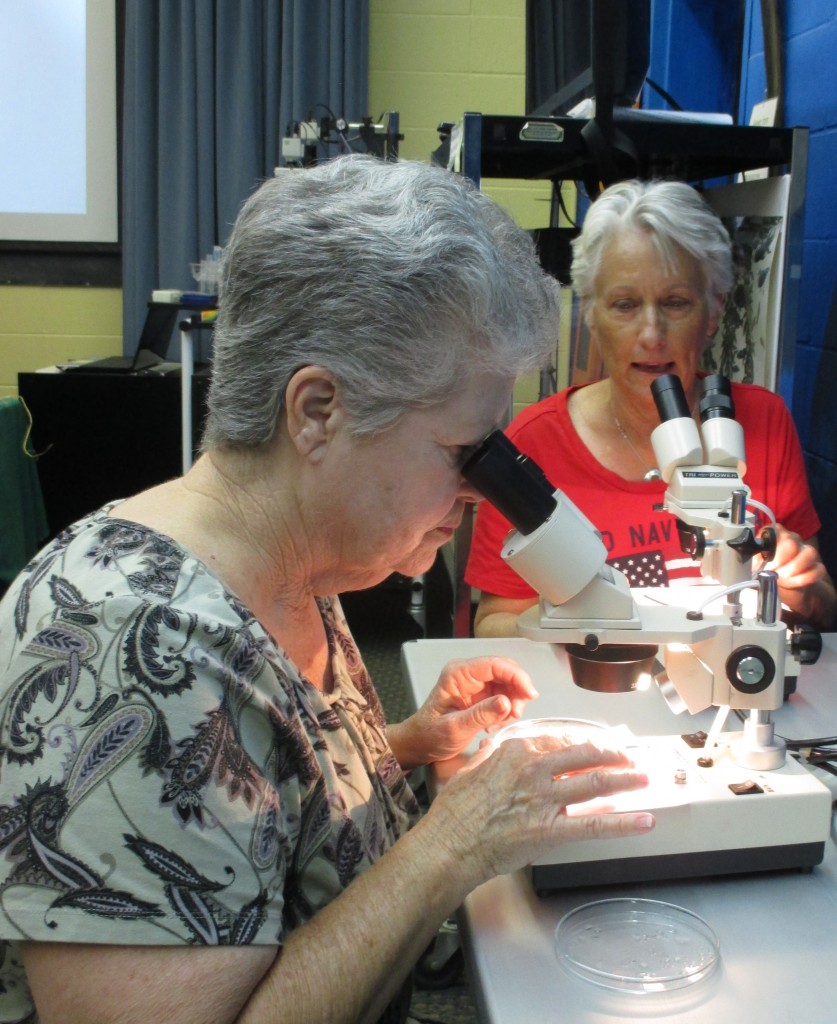 On 9/17 at 2 p.m., this month's Saturday Scientists presentation will focus on butterflies. As pollinators, butterflies are very important to the plants that make up many habitats that stretch from the salt marsh at the water's edge all the way to the upland creeks that drain to the bay.
On 9/18, at 2 p.m., examine a single drop of estuary under a video microscope to see the tiny life forms that thrive in the bay.
These are great ways to explore the bay and estuary on and entirely new scale as you celebrate #EstuariesWeek!
Coastweeks Activities
Check out the Coastweeks calendar to see what fun and informative coastal events are happening near you. The Morro Coast Audubon Society is offering an informative talk on California condors and a Shorebirds field trip on September 19 and 20.
Benefit Concert for Our Monitoring Program
September 29, 7 p.m., Coalesce Bookstore
Our local Eco Rotary group is generously hosting a benefit concert to help us purchase important water quality monitoring equipment. To learn more or purchase tickets, contact Coalesce Bookstore.
Share Your Story
Inspire others to volunteer, understand, and experience our California coast and wildlife by sharing your story. Take pictures when you clean up the beach or creek, watch otters through binoculars, or examine a butterfly wing up close. Then post your images to social media with these hashtags:
#EstuariesWeek
#EstuaryLove
#MakeaDayfortheBay
#SeaOtterAwarenessWeek
---