From time to time, we get calls from people who have found an injured or sick bird near the bay. They're concerned and want to help, but they're not sure what to do. We are lucky to be able to direct these people to Pacific Wildlife Care, a local nonprofit that has been helping San Luis Obispo wildlife for the past thirty years.
This winter, Estuary Program Communications & Outreach Coordinator Rachel Pass got one of these calls. This time, it was from her mom, Lynn, who was visiting from out of town. She had been out for a walk with her dog and found an adult brown pelican huddled up by a fence, with what looked like an injured wing.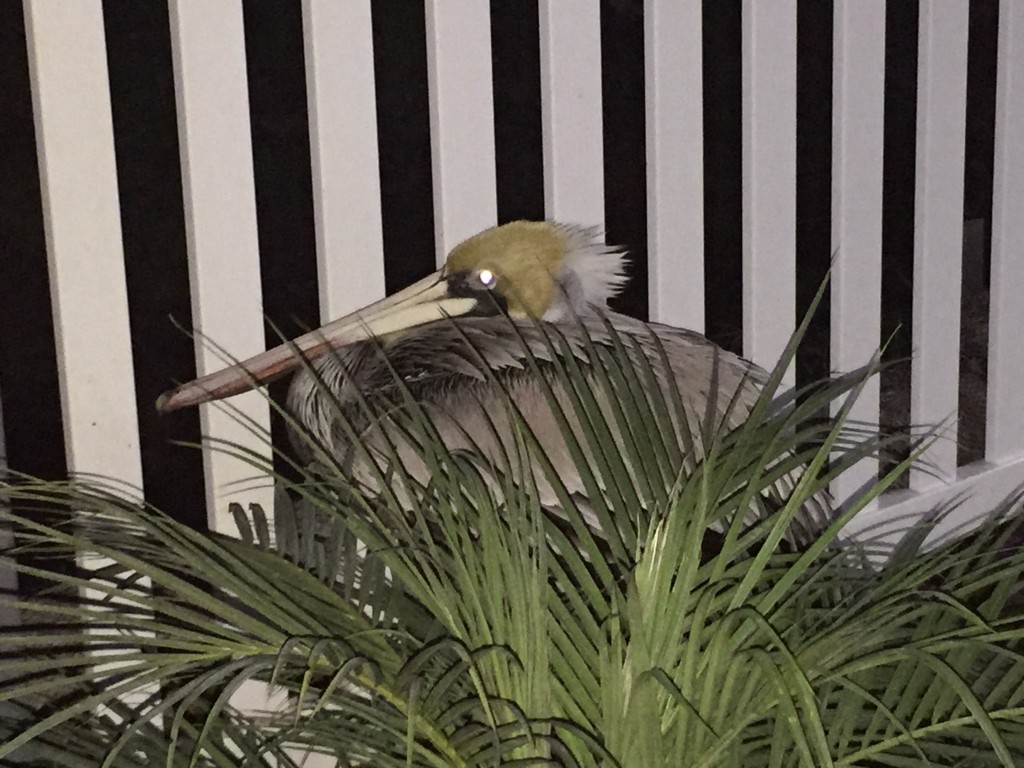 It was after 5 PM, but Rachel directed her to call Pacific Wildlife Care and leave a message for the volunteers. After making the call, Lynn brought her dog back inside and returned to the injured pelican with a large cardboard box, as the Pacific Wildlife Care information message had instructed her to do.
Lynn expected to keep the pelican overnight, but soon after she had carefully loaded the pelican into the box, she received a call back. It was Dr. Shannon Riggs, Director of Animal Care and the center's resident veterinarian, who was working late and had gotten the message. She asked Lynn a few questions about the pelican's condition, and then agreed to come pick the bird up that night.
After the pickup, Lynn couldn't help but wonder what had happened to the pelican. Did she survive? (Shannon had told her that the pelican was an adult female.) Would she be able to fly again?
Lynn called the center every couple of weeks to check in. The volunteers kept her up to date about the pelican's health and recovery. It turned out that she had been emaciated, anemic, and had a broken ulna. Shannon estimated that the pelican had suffered the injury about a week before Lynn had found her. The bone had partially healed already—thankfully, in the right place—so surgery hadn't been necessary.
What the pelican really needed was a safe place to recover and a steady diet of healthy food. After spending about two weeks inside the center, she was ready to move out into the specially-designed 100-foot flight cage.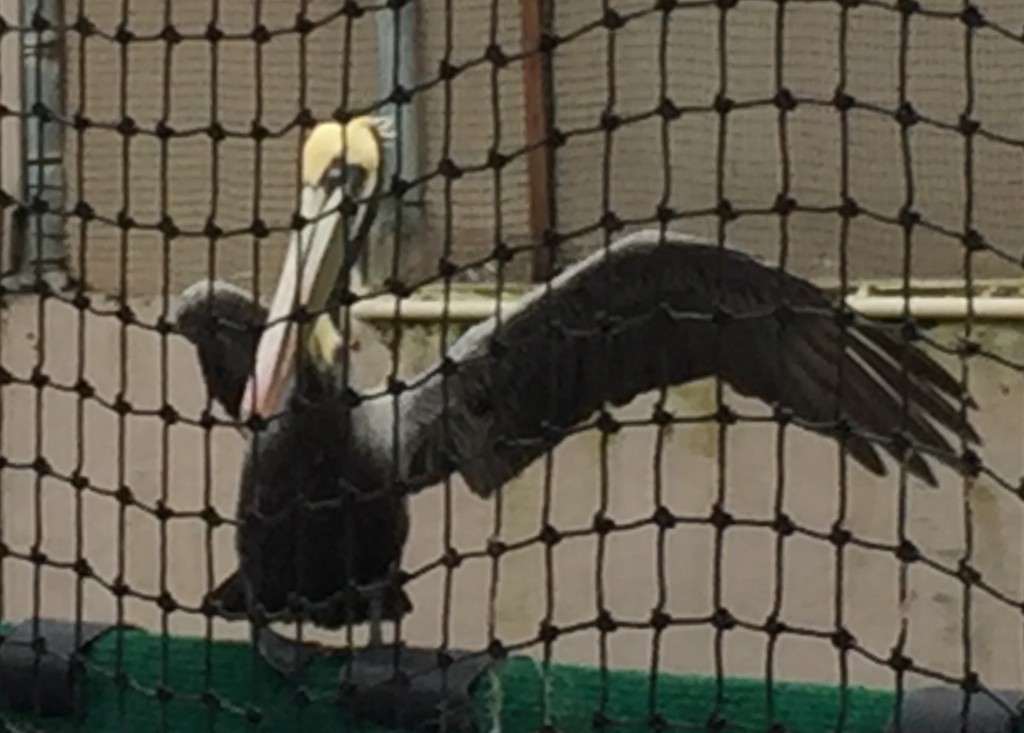 Shannon says that this pelican was a particularly cautious bird and took a while to warm up to the idea of flying again. However, after a month, she gained the strength and confidence she needed, and took the plunge. After spending some time practicing the skills she would need to use each day in the wild, she was ready to be released.
The Estuary Program had the rare chance to accompany Shannon and Clinic Director Vann Masvidal on the day that they released the pelican.  When we arrived, we found Shannon scouting out the perfect spot near the forebay.
She was looking for somewhere that the pelican could see, and make a beeline for, a flock of other pelicans. Once she found a promising group of birds across the water on the sandspit, she assessed other conditions on the beach. There were a couple of beach-walkers, and a woman playing with her dog, but it was otherwise quiet.
Shannon waited for the dog to head back to his owner, and the beach to calm down a bit. Once the beach was clear, she opened the door and the pelican walked slowly and carefully out.

She headed straight for the water and paddled away. It was a beautiful thing to watch.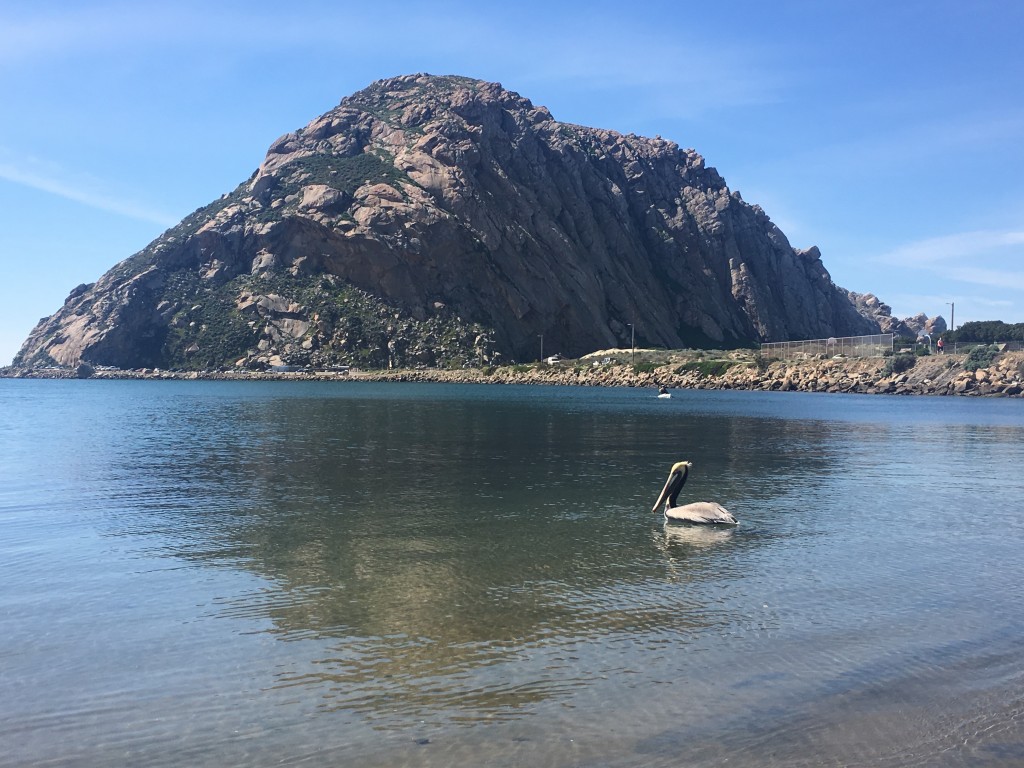 Shannon says that the story doesn't always end up this way, but there are a few things that you can do to improve an injured animal's chances of recovery.
If you find an injured bird, land mammal, reptile, or amphibian, please call Pacific Wildlife Care at 805-543-9453 (WILD). Take the time to listen to the message. It's lengthy because it gives detailed instructions about what to do to aid the animal in your care before a volunteer arrives. Leave your own message and keep your phone close. Someone will call you back.
While you are waiting for a return call, get a towel, sheet, or sweatshirt and cover the animal's head. This will help keep it calm while you transfer it. If you feel that you need protective gear, consider wearing gardening gloves while you do this. Do not handle any animal if you do not feel safe doing so.
Place the animal gently into a cardboard box that allows it to breathe. Bring the animal to a quiet place away from dogs and kids. It is likely to be very stressed out and needs as little stimulation as possible. Handle it as little as possible.
Remember that water birds can have surprisingly long necks. It's best to keep their faces (and beaks) as far away from your face as possible.
Do not feed the animal.
Wait for more instructions when you receive a call back. The call may come from a volunteer's personal cell phone number.
In talking with Shannon about the pelican, it becomes clear that she loves her job. She says it's never boring, and you never know what will walk through the door. (Sometimes literally.) We are lucky to have such passionate people working to protect Morro Bay's wildlife.
Visit Pacific Wildlife Care's website to learn more about this local organization and to find out how you can volunteer with them.  You can also visit them in person at their 30th Anniversary celebration, Wild in the Plaza, on Saturday, May 13.
---