Each fall, we gather together with volunteers from different areas of our program to thank them for their hard work. This year, we gathered at the Old School House in the Los Osos Community Park. We shared pizza, cookies, stories, and heaps of gratitude for the hundreds of hours and immeasurable love of the bay that our volunteers give us each year.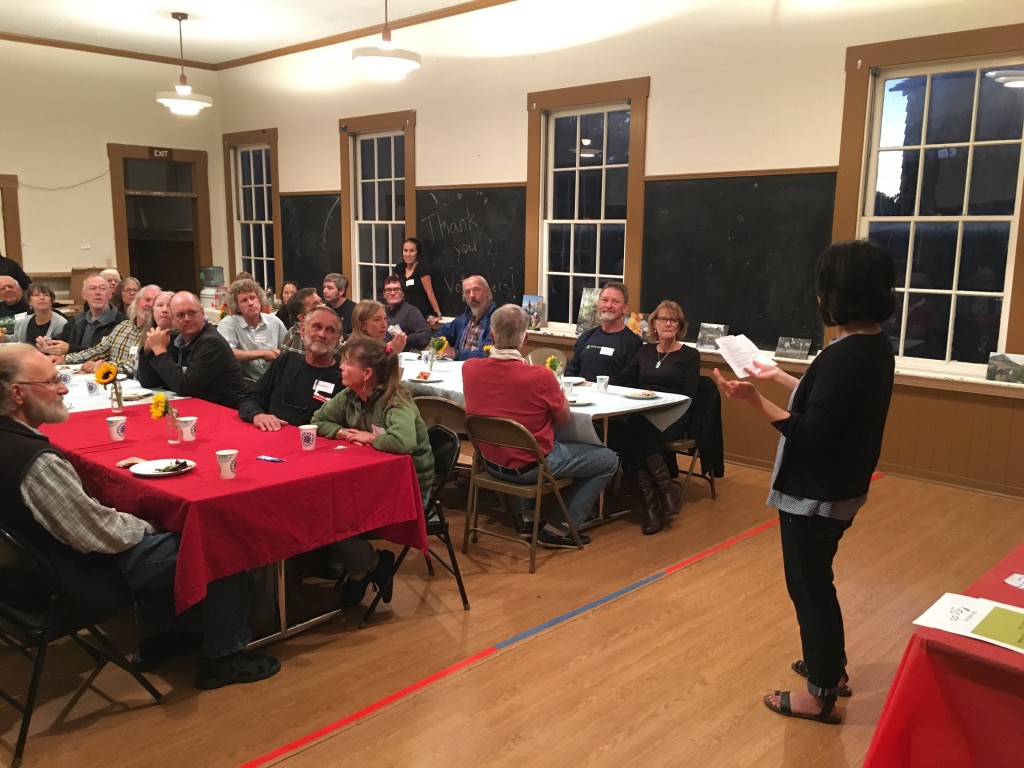 We were very grateful to local business for donating goodies for our free Volunteer Appreciation Raffle. Donors included Ascendo Coffee, ESTERO, Growing Grounds Downtown, Kayak Horizons, and Sunshine Health Food Store.
Our volunteers are a very important part of the Estuary Program. Here is a sampling of the various roles they fill:
Board, committee, and working group members share their professional expertise and knowledge to help guide the Estuary Program and evaluate our community grant applications.
Education and Outreach Volunteers share their knowledge of the bay, watershed, and natural processes with visitors at local festivals and the Morro Bay Estuary Nature Center. They also encourage stewardship and responsible recreation.
Monitoring Program volunteers collect and analyze water, bacteria, and phytoplankton samples. Bioassessment volunteers venture out into creeks to assess habitat and collect bug samples each spring.
Mutts for the Bay volunteers keep 27 free dog waste bag dispensers filled and ready for your furry companion's next walk. This helps you put dog waste in the can so that harmful bacteria don't wash into the bay.
Restoration volunteers contribute to specific projects that fit their unique skill sets. This year, local anglers helped fish for invasive Sacramento pikeminnow in Chorro Creek, community members helped harvest eelgrass, oyster farmers gave us rides to transplant eelgrass, and many others pitched in as needed along the way.
Without the help of these volunteers and more, the Estuary Program wouldn't be what it is today.
Each year, we recognize two standout volunteers: one who contributes to our Monitoring Program and one who contributes to any of the other areas of the program. This year, we are pleased to recognize Mike Lindley as Monitoring Volunteer of the Year and Ron Ruppert as Community Volunteer of the Year.
Mike Lindley
Monitoring Volunteer of the Year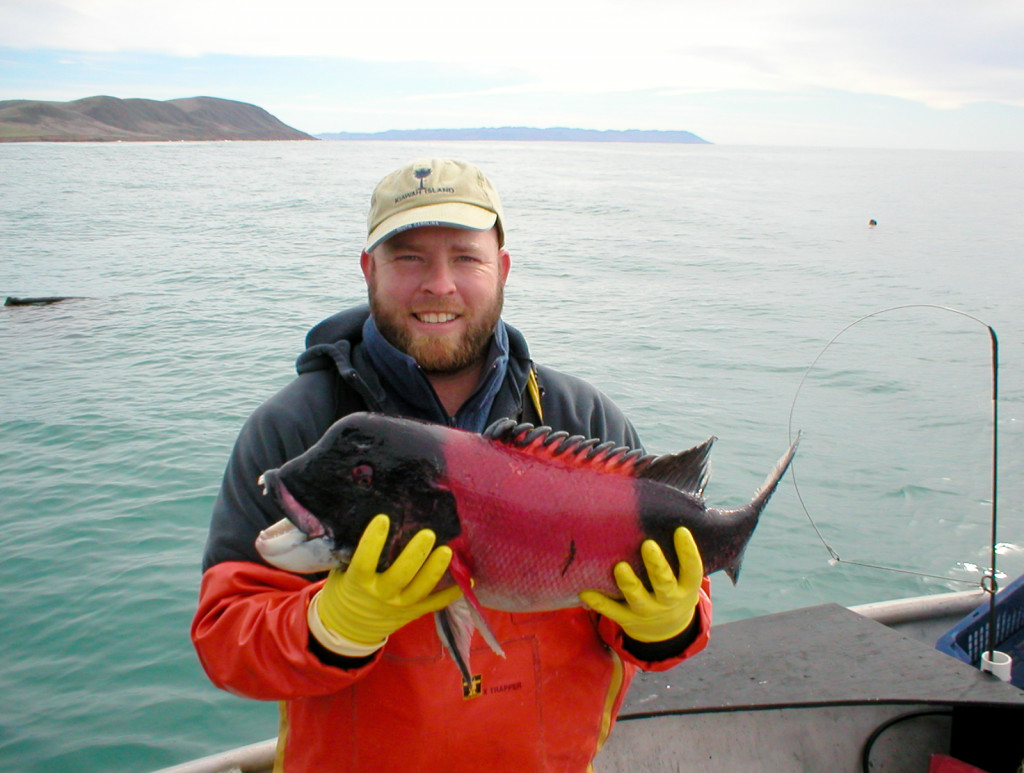 Mike originally hails from South Carolina, but moved out west to escape the state's wealth of biting insects—fire ants can be especially pesky!—and find a more hospitable climate. He began volunteering with the Estuary Program in January of 2004, only six months after he landed in Morro Bay.
Since then, Mike has spent 270 hours monitoring water quality at five different creek sites over the course of 138 separate trips. This is no small feat! It requires attention to detail, accuracy, a willingness to put on waders and venture into cold waters, and the bravery to face poison oaks and ticks. All of this hard work adds to our long-term database of local water quality, which we share with partner organizations and use to inform our restoration and conservation efforts.
Mike enjoys this volunteer role because it lets him see and explore parts of our local creeks that he wouldn't get to see otherwise. Travel and conscientious data collection are also part of his day job. Mike is trained as a marine biologist and also has a minor in chemistry. He has worked in aquaculture and on shrimp boats. He also has been a chemist and a kayak guide. He learned that he's happiest working on boats outdoors and now spends his days as a NOAA observer, traveling between San Simeon and Ventura to collect data from commercial fishing and processing vessels. This data is used to monitor fisheries and inform management decisions at the federal level.
We have really appreciated Mike's dedication to his post and his consistently excellent data collection. Thank you, Mike!
Ron Ruppert
Community Volunteer of the Year
Since 1978, Ron has been teaching biology at Cuesta College, where he is currently the Division Chair of Biological Sciences. He is a longtime supporter of the Estuary Program and many other local organizations. Working in his role as Central Coast Biological Society Chair, Ron became a founding member of Friends of the Estuary—the grassroots organization that organized to designate Morro Bay as a State Estuary and an Estuary of National Significance. This work laid the foundation for the Morro Bay National Estuary Program as we know it today.
This video shows Ron discussing the reconstruction of a mountain lion skeleton with one of his students.
He participated in organizing the first ever State of the Bay conference. This scientific conference featured speakers such as Senator Leon Panetta and the famous biologist Dr. Joel Hedgepeth. The tickets sold out. Ron was the president of the Morro Coast Audubon Society and signed the deed when Sweet Springs became a Nature Preserve. He is also a founding member of Small Wilderness Area Preservation (SWAP), the group that conserves and restores the beautiful Elfin Forest.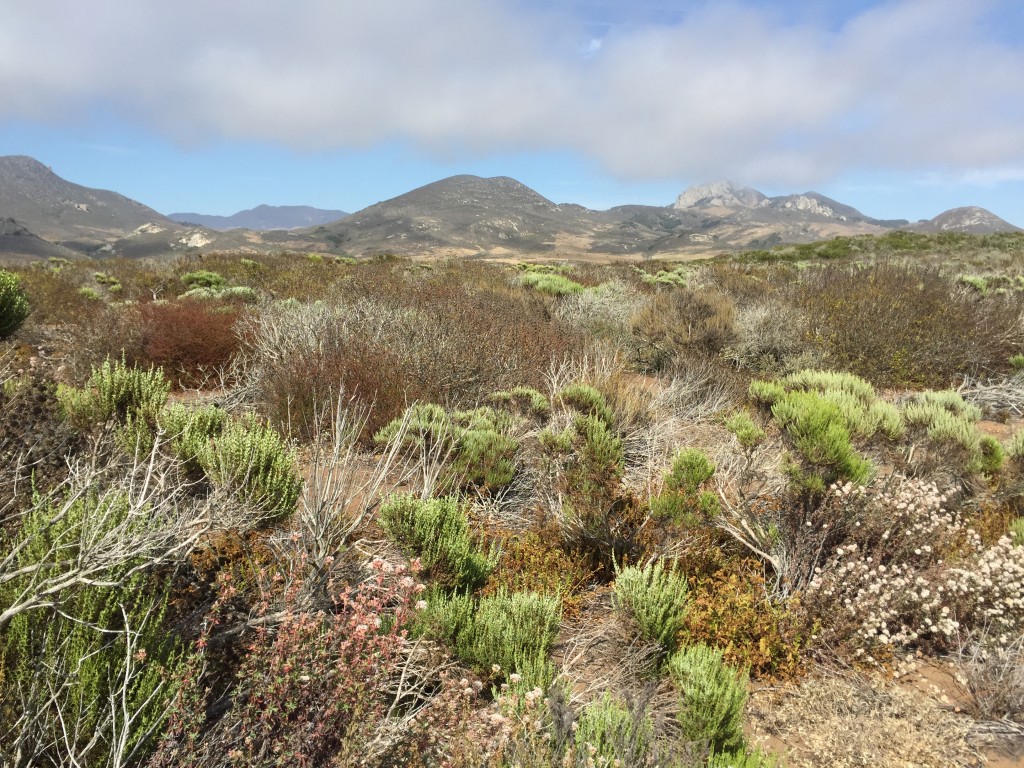 Beyond his work within specific organizations, Ron has participated in a number of projects related to Morro Bay and its watershed. These include working on the Morro Coast Audubon Christmas Bird Count for the past 20 years, counting birds for the Morro Bay shorebird census, taking on a mountain lion and carnivore game camera study at Cuesta College, and many more.
Estuary Program staff greatly appreciate Ron's continued participation on our Education & Outreach Working group and his willingness to share his considerable expertise to other projects as they come up. Thank you, Ron!
---
Subscribe to our weekly blog to have stories like these delivered to your inbox each week.