Finding A New Perspective: Morro Bay Estuary Poetry Contest 2018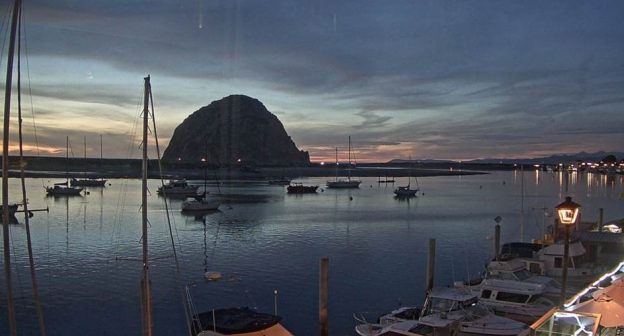 You've likely stood near Coleman beach and watched the waves roll in through the mouth of Morro Bay's harbor, or visited Sweet Springs and looked out over the back bay to see the mud flats at low tide. But, have you ever stood perfectly still—as still as a great egret stalking its prey or a live oak on the edge the boardwalk at the Elfin Forest—to watch the tide roll all the way in and all the way out? It's a phenomenon that happens twice each day along Morro Bay's shores, but we don't have time to observe it as a whole.
That's where the beauty of technology comes in. With timelapse photography, we can watch a full tide cycle.
Or even the full arc of the sun across the sky, from its rise in the east until it sets over the waters of our western horizon.
Using technology to show us the full scope of these natural processes gives us a new perspective on our the changes going on in and around the Morro Bay estuary each and every day. The conditions are always changing. The estuary is remade each day, each hour, each moment. We must always be looking.
Our new Morro Bay Cam helps us see this by capturing a new snapshot that shows the end of the sandspit, the main channel, and Morro Rock every two minutes.
You never know what the Bay Cam will show. Sometimes it's a beautiful sunset, sometimes it's the rock totally shrouded in mist, sometimes it's whitecaps from a sharp wind. No matter what it shows, it's always worth a look.
Each year, the Estuary Program hosts a poetry contest. We ask writers to submit two types of poems, haiku and free verse. We are interested in haiku that focus on the bay, since haiku have always been tied to nature. The theme of our free verse poetry contest this year is to focus on our new Interactive Science Kiosk content, which features the timelapse video of the tides, the Bay Cam, another video that takes you diving below the water's edge and into the eelgrass, and more.
You might visit the kiosk's Water Quality page to write about the method our scientists use during our annual bioassessment effort to assess the health of local creeks. You might draw inspiration from the pictures macroinvertebrates (that's a scientific way of saying "bugs that you can see with the naked eye") that we collect during this field work.
You might even draw inspiration from our Water Calculator page, which lets you assess your water usage at home and determine how you can best act to help conserve water, keeping more of it in streams for wildlife.
We invite you to explore the kiosk at www.learn.mbnep.org to see what catches your interest, and then grab your pen and write. Each writer can submit up to three poems in total (a combination of haiku and free verse poems is allowed), and poems are due by 11:59 p.m. on Monday, April 30. Only digital submissions will be accepted. Winners and poetry contest judges will read their work at a celebratory event on Friday, May 18, at 7 p.m. at Coalesce Bookstore.
Please find the complete contest details here.
Local partners and sponsors in this work
The Estuary Program is very grateful for the generous support of the Harold J. Miossi Charitable Trust, which made the creation of this kiosk content possible. The Miossi Trust has also funded the  Estuary Program's macroinvertebrate bioassessment for five years. These generous gifts have allowed us to glean important data about creek health in the Morro Bay watershed, as well as to capture the amazing pictures of the bugs that you will find on the Water Quality page.
We are also very grateful to the fine people at Coalesce Bookstore, who have generously allowed the Estuary Program to host our celebratory poetry contest reading in their beautiful garden chapel for the past three years. We look forward to this year's reading and can't wait to see what poems await us as the submissions come in.
---
Subscribe to our weekly blog to have stories like these delivered to your inbox each week.