This summer and fall, the Morro Bay National Estuary Program is asking everyone who enjoys the estuary to Give a Day for the Bay to help keep it clean and healthy for all of us. We've worked with our partners to put together a variety of volunteer service activities for you to participate in. We also encourage you to Make a Day for the Bay by creating your own bay-friendly service activity at home.
In order to inspire you, we've invited Wendy Disch, owner of éphé mer handmade beach apparel on the Embarcadero, to tell how she takes care of the Morro Bay estuary. Here's Wendy's story.
---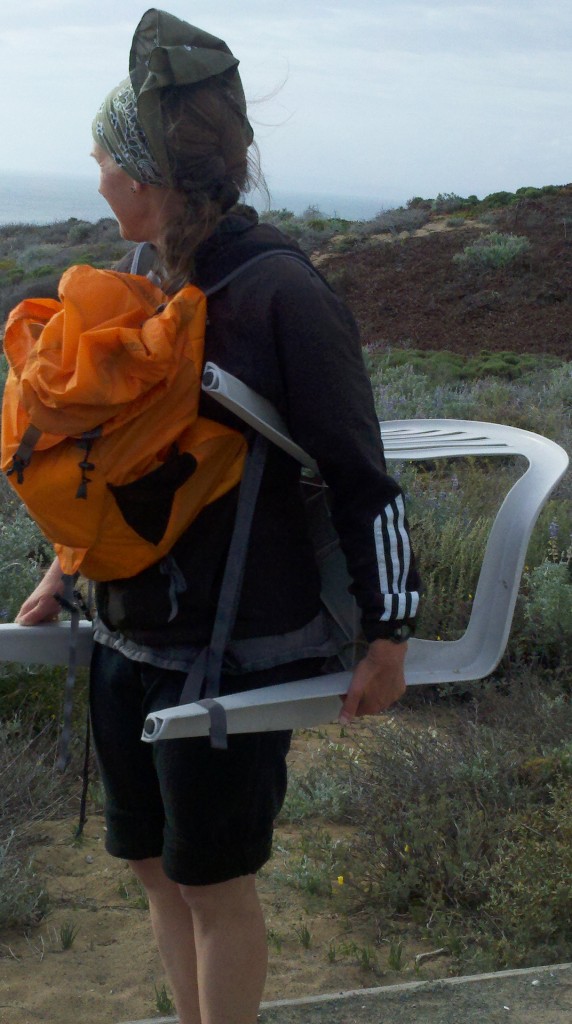 I hate to exercise, but I know it's good for me, so I make myself go "running" (I use the term liberally). One method that motivates me to exercise is to go "running" in places where there is natural beauty. Here on the central coast, we have a lot of gorgeous spots; I am partial to Morro Bay, in particular.
Whenever I go "running," I remove trash on the trail. It is my way of respecting nature.
Over three years ago, on May 18, 2012, I noticed a lot of debris on the Sandspit at Montaña de Oro. I usually pick up any trash I see and carry it back to the waste bin. But on that day, there was so much that I had to make my jacket into a bag by closing the zipper and tying the sleeves to close the neck opening in order to collect as much as I did. I took pictures of my haul.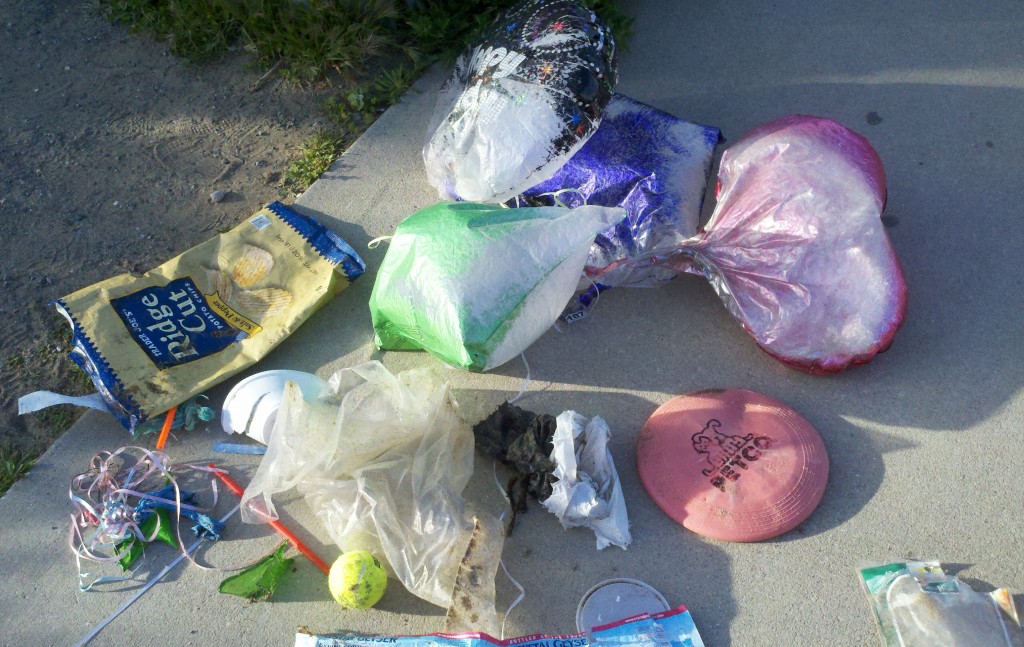 After a while, my "runs" on the beach were becoming clean-up efforts. ​It was not exactly easy, collecting trash on the beach, and I started bringing a bag. I would hold the bag with one hand and try to put the litter in the bag with the other hand while the wind would blow my bag shut. Plus, it was getting rather cumbersome to "run" and schlep.
I thought: wouldn't it be great to have a backpack that I could wear on the front? That would hold the trash I collected as I ran, while keeping my arms free.
I decided to write a letter to the returns department at Patagonia asking for their help, because Patagonia professes to care about the environment. I told my son, Luke, my intent and he scoffed at me, expressing cynicism that I would get anything. I wrote the letter despite his lack of confidence.
I explained my beach cleanup efforts, sent pictures of my hauls, and told them how I would carry the pack on my chest to free my hands and arms for trash collection and to continue my running. "If you have a spare lightweight travel pack that may not be in perfect condition, but is functional, I would be grateful to re-use it," I wrote.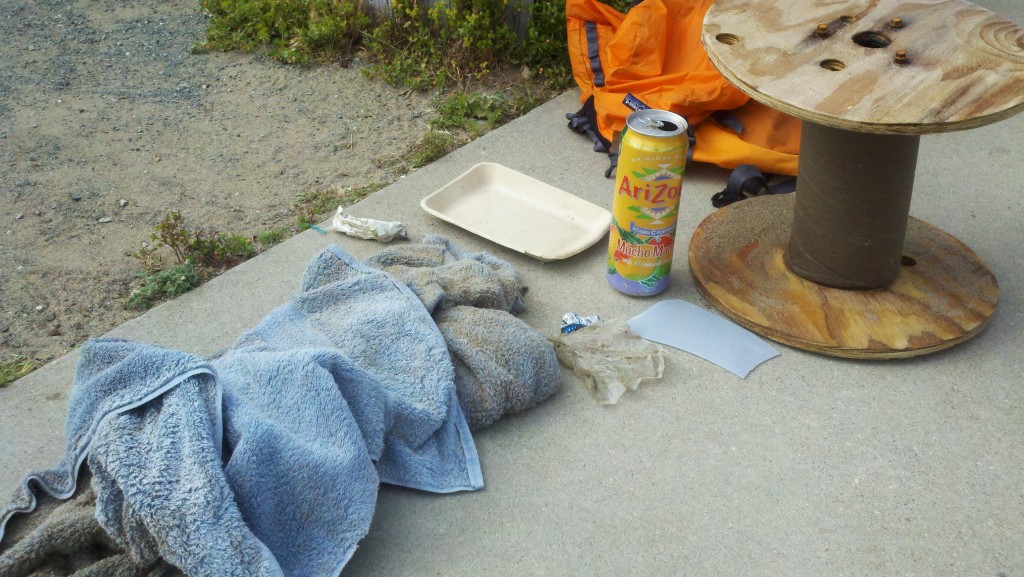 I didn't hear anything for a quite a while after I sent the letter.
Then, I left town to visit a terminally ill friend in Austin, and the backpack idea was no longer a priority. (In other words, I forgot about it.)
When I returned from Austin, however, there was a used box with Patagonia marked as the sender on the label. Inside the box were two lightweight packs, my letter, and this note, "Here you go. You cannot return or exchange them. Thank you."
Wasn't that nice? Luke was impressed; so was his buddy, Kyle.
Kyle asked me why I pick up the trash.
I said that I do it because I love the beach. I take so much from it that I can't just ignore the trash and not pick it up. Also, my picking up after others makes up for the times that I unknowingly leave a mess that someone else picks up after me. Kyle told me that his brother does the same thing. After a moment of reflection, he decided that he should do it too.
My efforts to pick up flotsam on the beach continue. The orange backpack from Patagonia Returns has been very useful and I have made some very interesting hauls since then. The only thing that I have left on the beach was, regrettably, a freezer. It wouldn't fit in the backpack.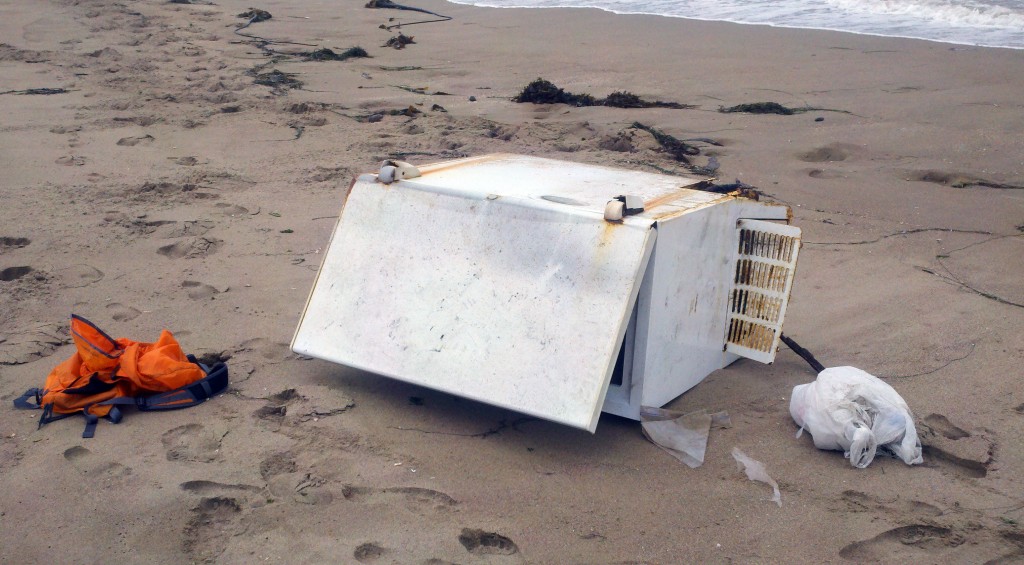 ---
Wendy, thank you for all you do for Morro Bay!
If you were inspired by Wendy's story, learn how you can Give a Day for the Bay.