Everyone is talking about El Niño: the rain, the wind, the warmer ocean temperatures, and whether or not it will impact the drought. At the Estuary Program, we are keeping our eyes on this weather phenomenon because it directly affects our local waterways. In this post, we'll discuss what extra precipitation might mean for the Morro Bay watershed and estuary.
How much rain can we expect?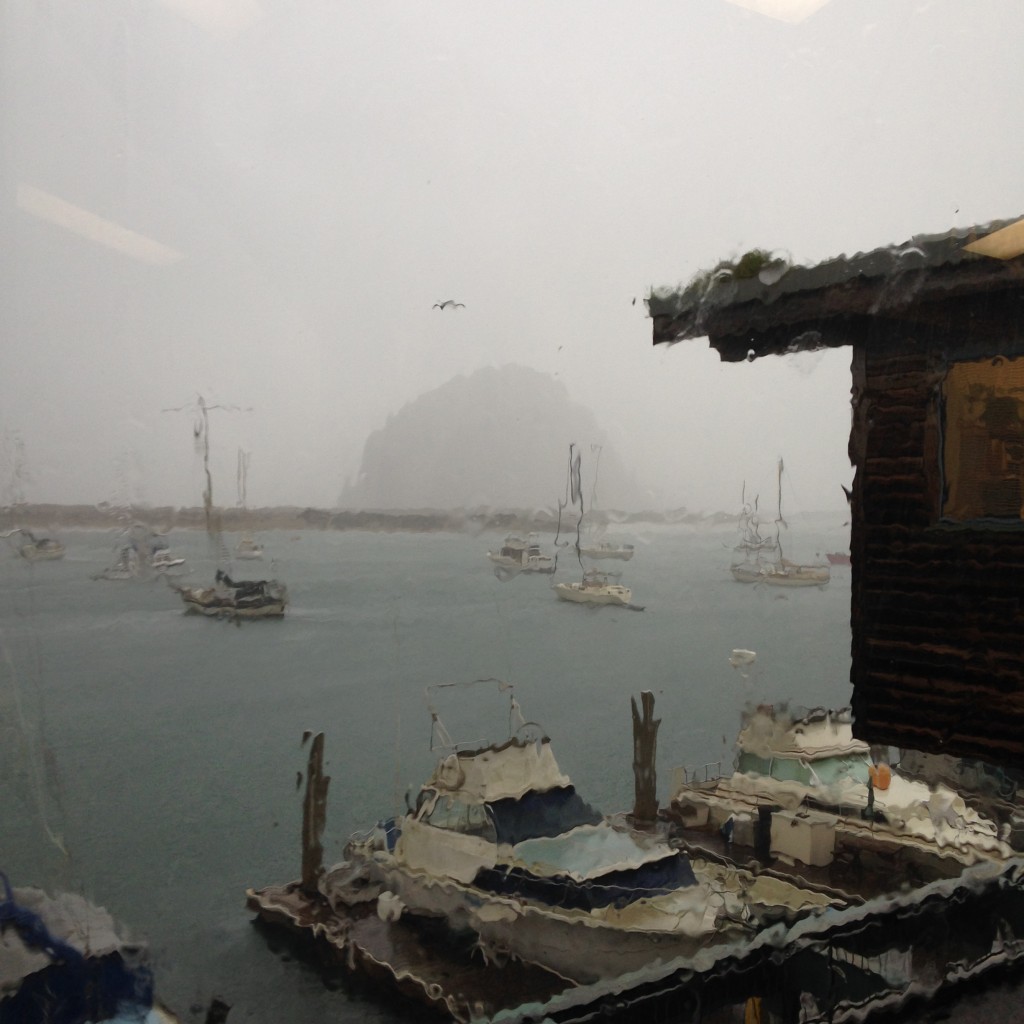 According to an article by local meteorologist John Lindsey, the historical average rainfall for our area is about 23.5 inches during the rainy season, but previous strong El Niño events have brought almost double that amount. The 1983 rain season totaled about 47.3 inches, and the 1998 rain season totaled 44.1.
Scientists at NOAA define El Niño as, "a phenomenon in the equatorial Pacific Ocean characterized by a five consecutive 3-month running mean of sea surface temperature (SST) anomalies" that is above the 0.5°C threshold. This year, sea surface level temperatures have risen at least 2°C, indicating a strong system—much like the 1997 to 1998 El Niño event.  While we may anticipate rain totals similar to those in 1998, there is never a guarantee when it comes to weather.
What would an increase in rainfall mean for us?
We're in the middle of a historic four-year drought, and we need desperately need rain.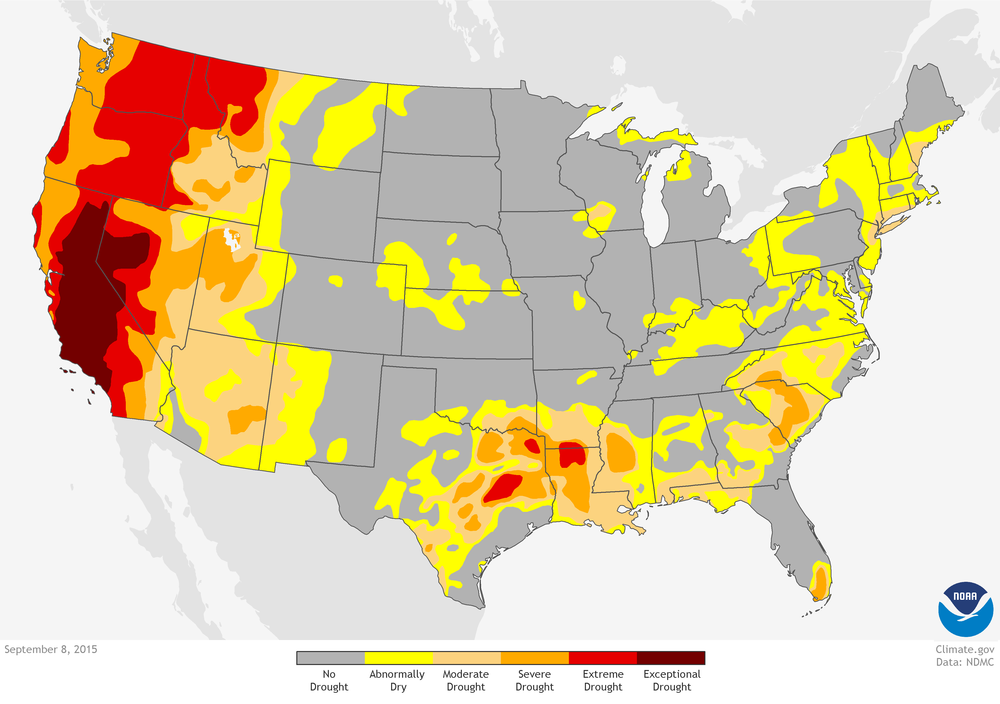 An increase in rainfall has the potential to help recharge aquifers and refill reservoirs that are used for drinking water, irrigation, and other purposes. It can also help fish, other aquatic animals, and plants, by increasing water levels in streams—and even causing creeks that have run dry to flow again.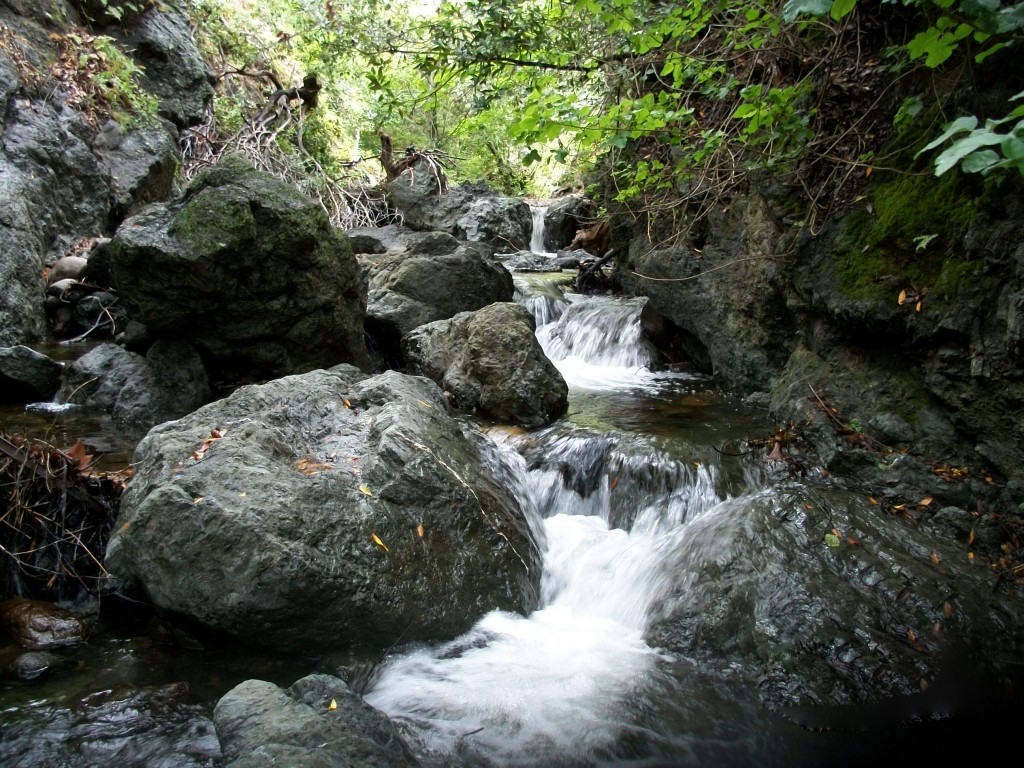 That said, the benefits of an increase in rainfall also depend on how quickly the rain comes down. If we receive too much precipitation too quickly, there is the potential for an increase in erosion, which means more sediment washing into streams and ending up in the estuary. This causes problems for plants and animals that need clear, clean water to thrive.
Will El Niño end the drought?
Unfortunately, even if we receive double the average amount of rainfall for one year, we'll still be behind. The map below shows how much rainfall different areas of California would need to recover from the drought (definitions vary as to what it means to "recover from the drought").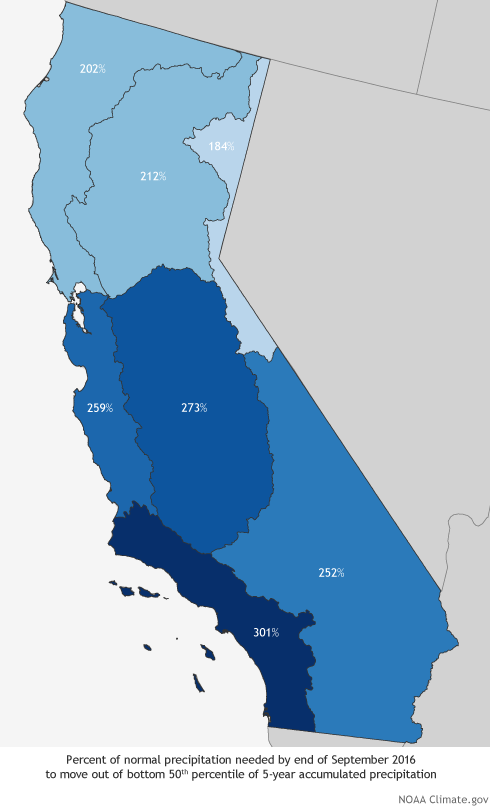 On the Central Coast, we'd need at least 259% of typical rainfall for our five-year rainfall total to move into an average range. That's about 60.9 inches of rain—much more than we received in either of the two most-recent El Niño events.
In short, no matter how much precipitation this El Niño brings, we'll need to continue saving water in every way possible to ensure that there is enough for humans and animals alike.
---
More resources
For more information on El Niño, try these sources:
"El Niño, explained: a guide to the biggest weather story of 2015" in Vox
PG&E Meteorologist John Lindsey's column in The Tribune, and his daily emailed forecast. To be added to the list, email pgeweather@pge.com.