Every three years, the Estuary Program releases a State of the Bay report. This science-based assessment of the health of Morro Bay estuary and watershed presents data collected over the years. Through interesting articles, graphs, and illustrations, this publication shares what the data means for water quality, sedimentation, bird populations, eelgrass beds, and many other important aspects of a healthy bay.
We are happy to announce that the 2017 State of the Bay report is here. Read it online, or pick up a copy in our Estuary Nature Center or office.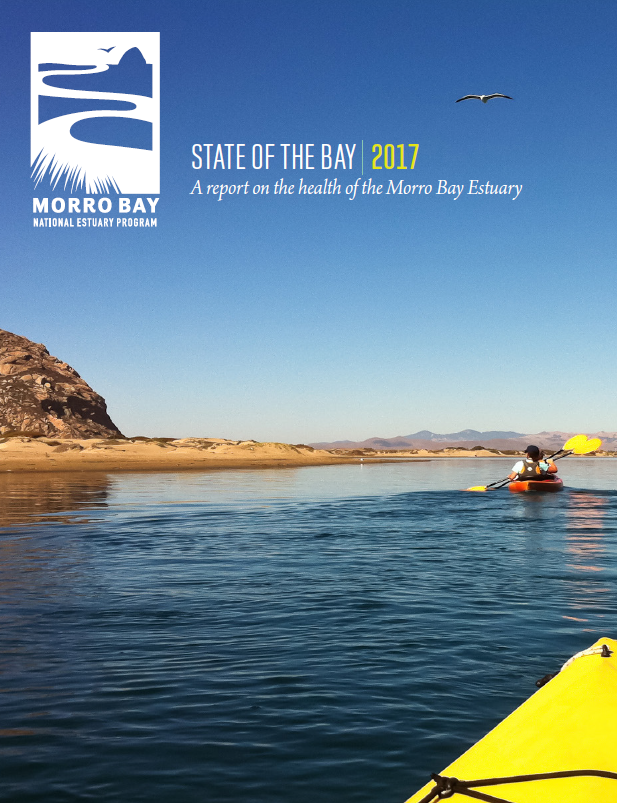 One of the best parts of our State of the Bay release is getting to share this information with locals and visitors through a series of fun talks, walks, hikes, and other activities throughout the watershed. The 2017 State of the Bay events kick off with a Clean Water Talk and Wild Ale Launch at Libertine Brewing in Morro Bay on Saturday, April 1.
Acknowledging that great beer requires clean water, this steal-the-glass event benefits the Estuary Program. First pours of the new Morro Bay Gose—made with local citrus, saltwater, and seaweed—will be $10, and include a Libertine glass and a bamboo Estuary Program coaster to take home with you. Refills of any Libertine beer will be $5, and will also benefit the Estuary Program. While you're making merry, Assistant Director Ann Kitajima will reveal what the data say about the health of the Morro Bay estuary and creeks. (All of our indicators predict that it will be a great time!)
Download a calendar or pocket-sized event card and print it at home.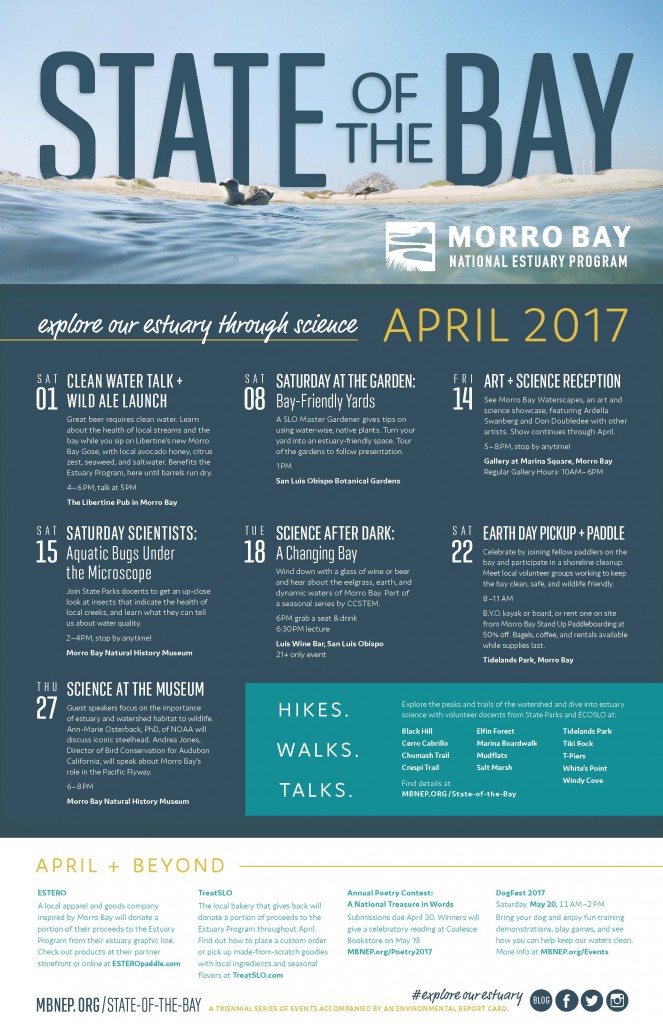 We are very excited to be working with Libertine Brewing and our other wonderful partners. We are thankful for their generosity and time. State Parks Docents and ECOSLO are volunteering their time and expertise to lead a variety of State-of-the-Bay themed walks, talks, and hikes in the Morro Bay watershed. The San Luis Obispo Botanical Garden is hosting a talk by SLO Master Gardeners about bay-friendly gardening, with a free tour to follow. Our local CCSTEM is hosting a Science After Dark talk by our Executive Director about our changing bay at Luis Wine Bar in San Luis Obispo. The Morro Bay Natural History Museum will host a science talk with Ann-Marie Osterback of NOAA and Andrea Jones, Director of Bird Conservation for Audubon California. This in-depth discussion will focus on the importance of Morro Bay's habitat to steelhead and bird populations. ESTERO and TreatSLO will be donating a portion of their proceeds to the Estuary Program, too. The list goes on.
We are so thankful to work with so many wonderful organizations and people to help keep our bay clean and healthy. We hope that you will join us to explore our estuary through science this April and beyond.
Find all of the event details, the report, and quick facts on the State of the Bay page.
---