July 4 is a time when locals and visitors gather along the Central Coast to celebrate with friends and family. People barbecue in back yards, picnic at parks and beaches, and set up camp near Pismo Beach or Cayucos to watch fireworks displays.
What to do in Morro Bay for Independence Day
Morro Bay's Family Fun day always attracts a crowd with a skateboard race, bike parade, live music, magic show, and kids' carnival.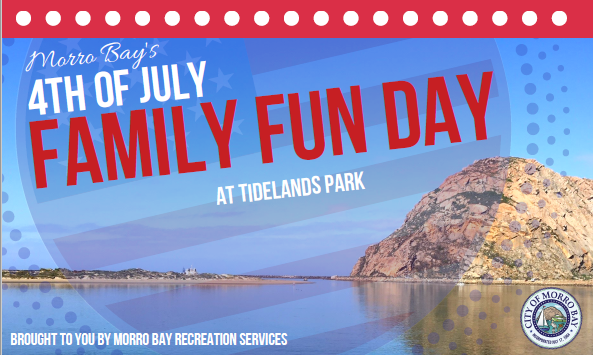 Many people take some time out to enjoy the water by sailboat, motorboat, kayak or paddleboard, too. You can bring your own kayak or paddleboard and launch from Coleman beach, or rent one from any of the wonderful local shops.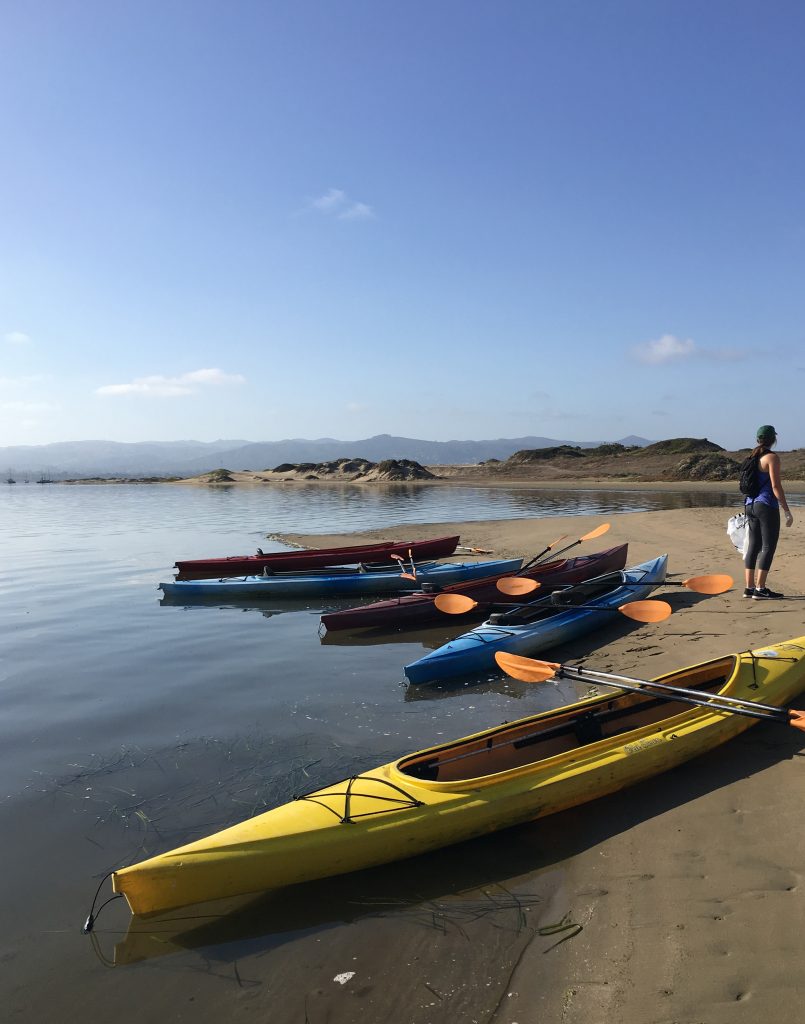 Make your Independence Day bay-friendly
Whether your July 4 plans involve food, fireworks, or outdoor adventures, we ask you to celebrate in a way that keeps Morro Bay and its wildlife clean and healthy.
Bay-friendly July 4 tips
Choose reusable plates, utensils, and drink containers.
Choose paper straws instead of plastic, or drink straight from your cup.
Make sure your picnic or barbecue trash goes far enough into the trash and recycling bins that curious seagulls and our brisk coastal breezes can't pull it out easily.
Carry your supplies in a reusable bag, rather than a single-use plastic bag.
Keep lighter fluid, charcoal, and other barbecue supplies away from storm drains and dispose of them properly when the party's done.
Keep dogs on leashes in designated areas. This helps keep sensitive species like snowy plovers safe allows delicate beach and dune plants to thrive.
Join a July 5 cleanup!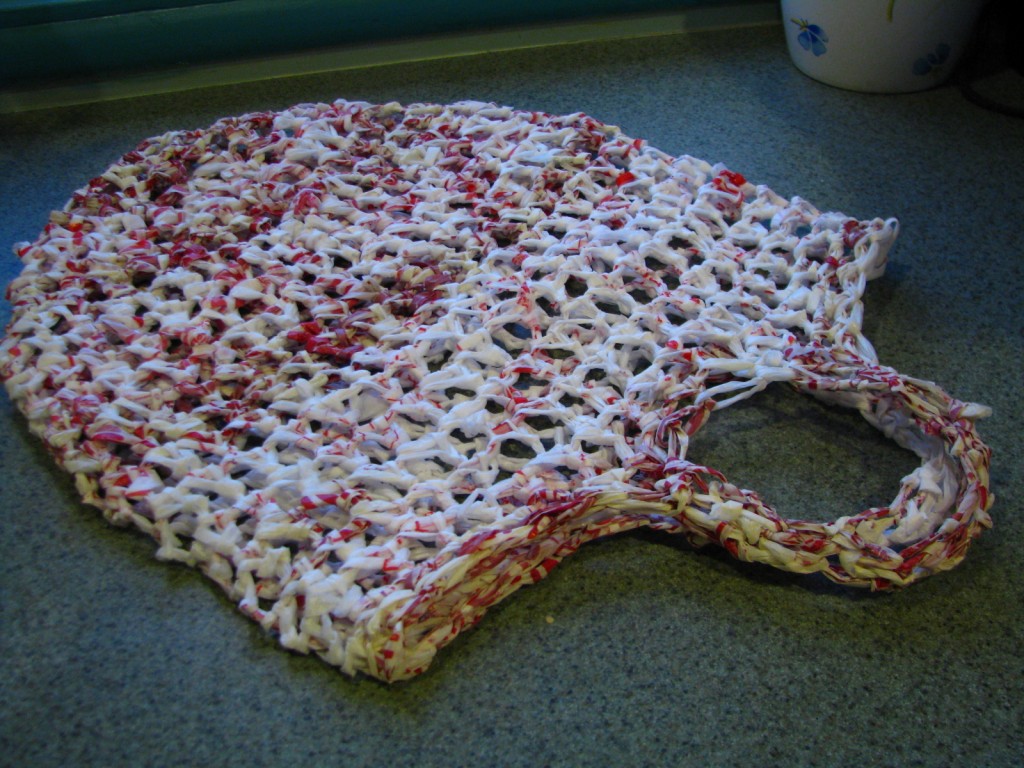 July 5 cleanups
No matter how careful we are, there is almost always trash and recycling left in parks and on the beach after a big gathering. July 4th is no exception. That's why we encourage you to participate in one of the fun morning cleanups happening on July.
These cleanups will give you a chance to pick up trash and recycling and leave the beach better than you found it. They'll also give you the chance to become a citizen scientist and track the trash and debris you find along the coast to help researchers and other community groups.
As ECOSLO's director, Mary Ciesinski says, "It's important that, through data-driven cleanups, we continue to raise awareness on the amounts of trash, in particular single-use plastics, and their extremely harmful impacts on our natural environment.  For summer holidays, try to find fun ways with family and friends in which you can reduce the amount of trash you produce."
Ready to sign on? Check out the cleanups below.
ECOSLO
Our friends at ECOSLO are hosting two July 5 cleanups, one at Pirate's Cove from 9:00 a.m. to 11:00 a.m., and one at the Cayucos Pier from 7:00 to 9:00 a.m. 
Estuary Program
We're excited to roll out our second annual Pick Up the Picnic Week! The week starts on July 5 with a group cleanup at Tidelands Park in Morro Bay from 7:30 a.m. to 9:30 a.m. Meet us on the grassy area between the parking lot and the playground to sign in and pick up a snack, data sheet, and other supplies.
Pick Up the Picnic week
If you can't make one of the scheduled group cleanups, don't worry. You can participate all week long, from July 5 through 11, by completing your own independent cleanup with friends or family. Just stop by our office to pick up gloves, bags, and data sheets, and then send us the info when you're done.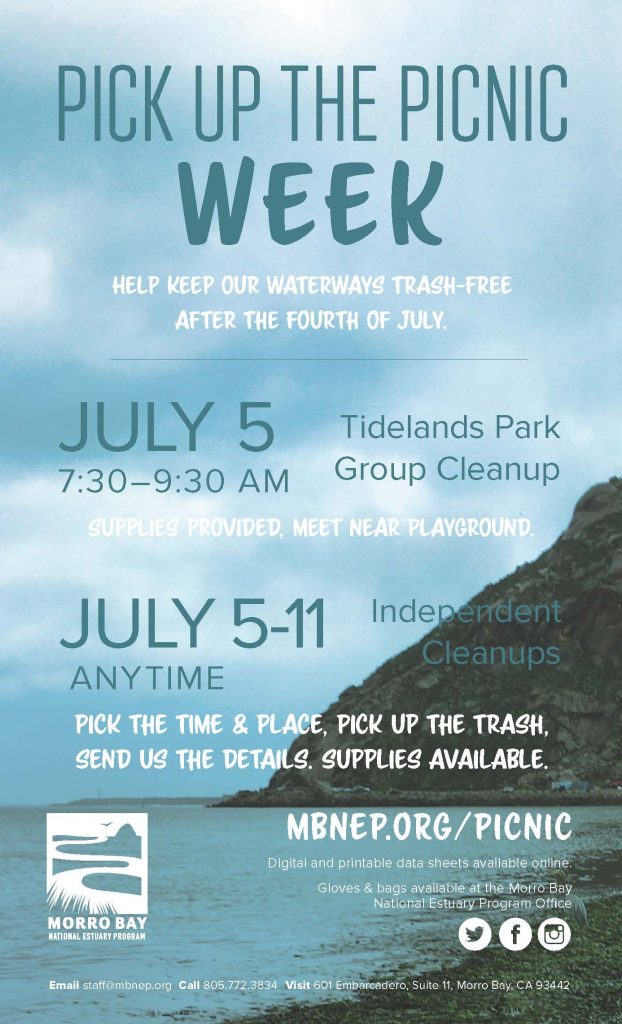 Last year's Pick Up the Picnic week was a huge success. 48 people spent  87.5 hours cleaning up trash and recycling from local beaches. They picked up:
More than 1,000 cigarette butts
253 food-related items
87 items specific to July 4 celebrations including fireworks, July 4 decorations, etc.
This year, with your help, we're hoping to exceed those numbers!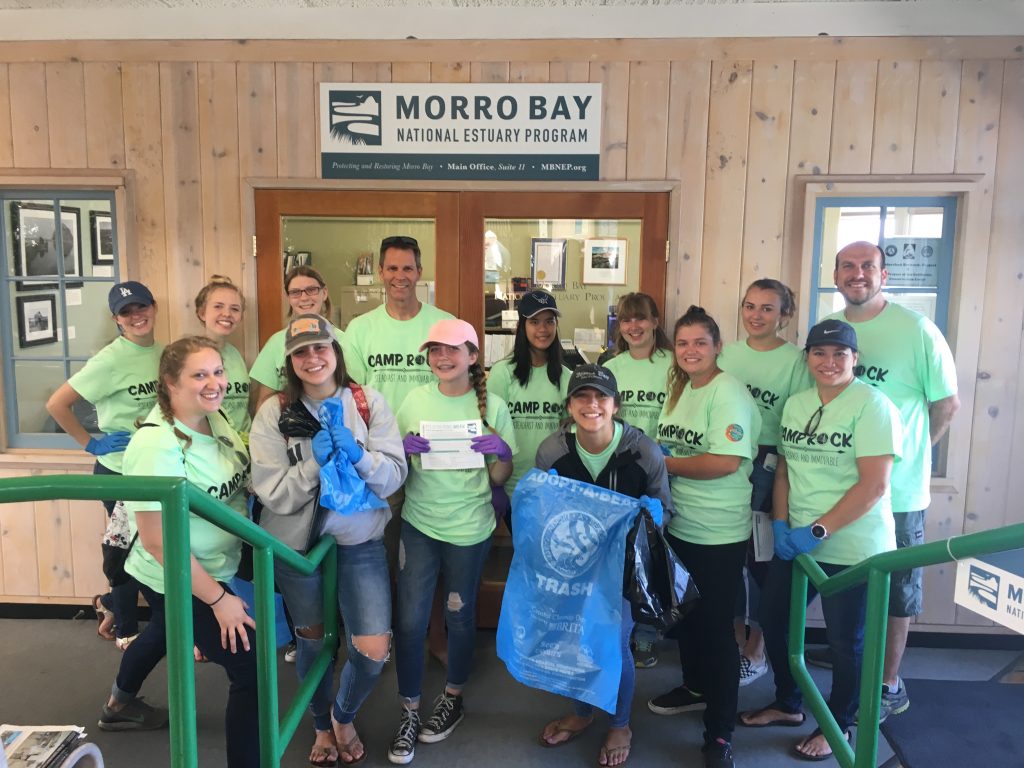 ---