This too shall pass, but until then, here is a reminder of the beauty that Morro Bay has to offer.
History of Portolá Point trail
Portolá Point offers one of the best viewpoints in Morro Bay, allowing you to see a scenic panorama that includes the Morro Bay estuary, the sandspit, and distant Morro Rock.
The name of the trail comes from Gaspar de Portolá, who was in charge of the Portolá expedition from 1769-1770. This was an expedition of land and sea. The goal was to travel from San Diego to Monterey Bay, but they somehow passed it and ended up in San Francisco Bay! If you want to know more about the Portolá expedition check this page out. If you walk the trail to Portola Point, you can see the same landscape that mesmerized Gaspar de Portolá all those years ago.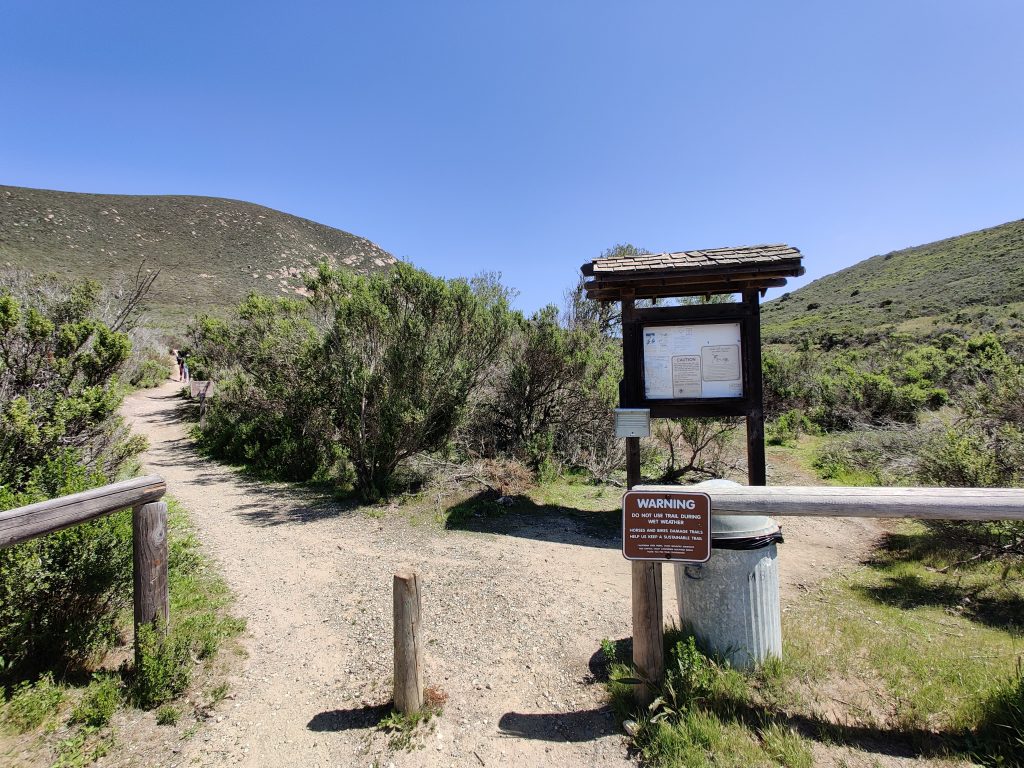 Here is the trail head of the hike. Ready, set, go!
Finding the Trailhead
If you aren't familiar with the area, it is easy to pass the trail head, as it is tucked away on the side of South Bay Boulevard. The trail is now closed due to social distancing efforts, but the good news is that it will be there, waiting for everyone to come and enjoy the beauty that it holds when it reopens.
Trailhead address: South Bay Boulevard, Morro Bay, CA 93442
Trailhead coordinates: 35.34652, -120.8252 (35° 20′ 47.5″N 120° 49′ 30.7″W)
This hike is a two- mile loop with an incline to start the hike. Don't worry, this hike is relatively easy, making it a fun hike for the whole family.There are several routes that intersect the trail, it can be easy to pick the wrong trail. I used a trail app to navigate this path. For those who are more directionally savvy, looking at a map of the hike before you go will likely give you enough information to navigate to Portolá Point.
Check out this web page for a map of the trail.
On the trail: I Spy
Throughout the hike, not only do you get a killer view of Morro Bay, but also you get the chance to see a variety of plants along the way. Here are some plants that you can see while you hike. Practice your plant identification skills from home and, when the trail reopens, play a game of I Spy with yourself or your hiking companions. See who can identify the most plants!
Want a book that helps you identify some native flowers from the central coast? Check out this book, Wildflowers of San Luis Obispo, California by David J. Keil, PH.D. 
Humming bird sage (Salvia spathacea)
Fun fact: You can use the leaves of this sage to make a tasty tea! Sources say that it can help with congestion and is good for sore throats.
Blue dicks (Dichelostemma capitatum)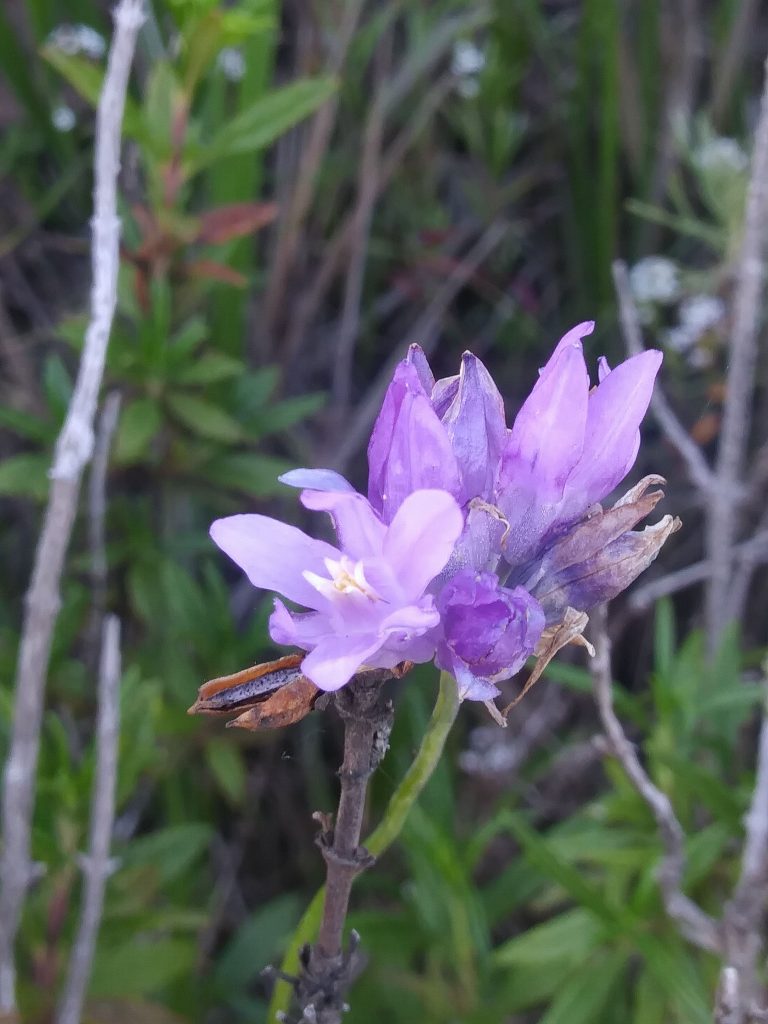 Fun fact: This flower has a corm, which is an underground plant stem that helps it to survive extreme weathers. This corm is edible and is eaten by several animals. Due to its high starch level, it is a nutritious and tasty treat.
California buckwheat (Eriogonum fasciculatum)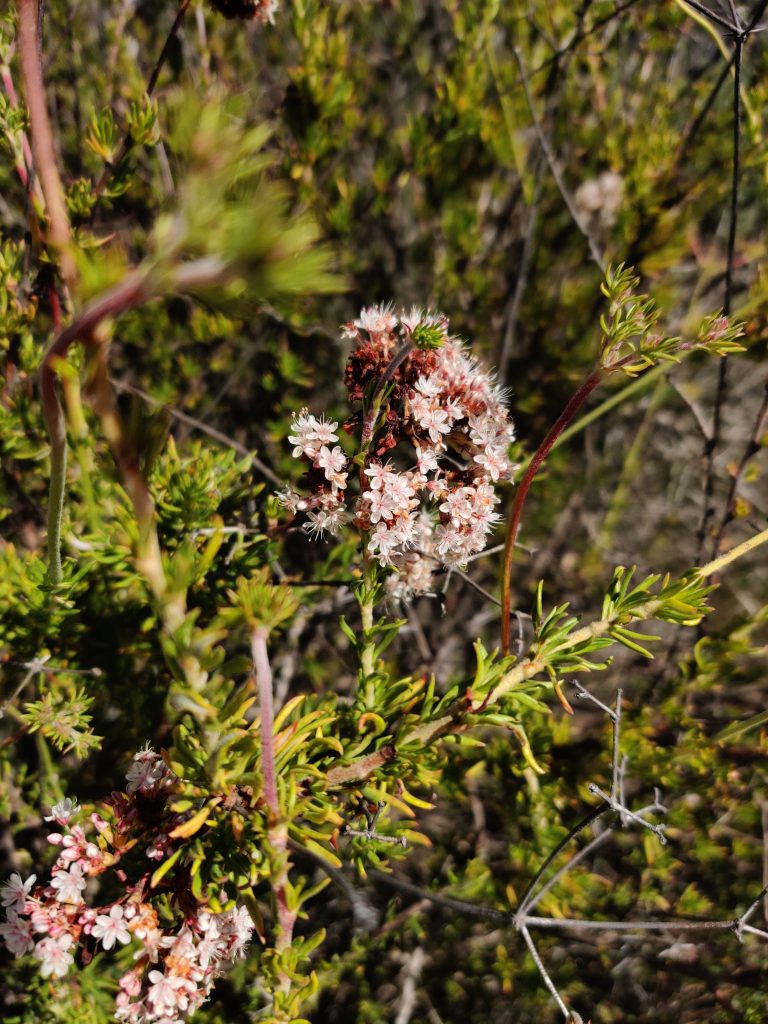 Fun fact: Bees love this plant's flowers because they are rich in nectar. This makes for some yummy honey.
Sticky monkeyflower (Diplacus aurantiacus)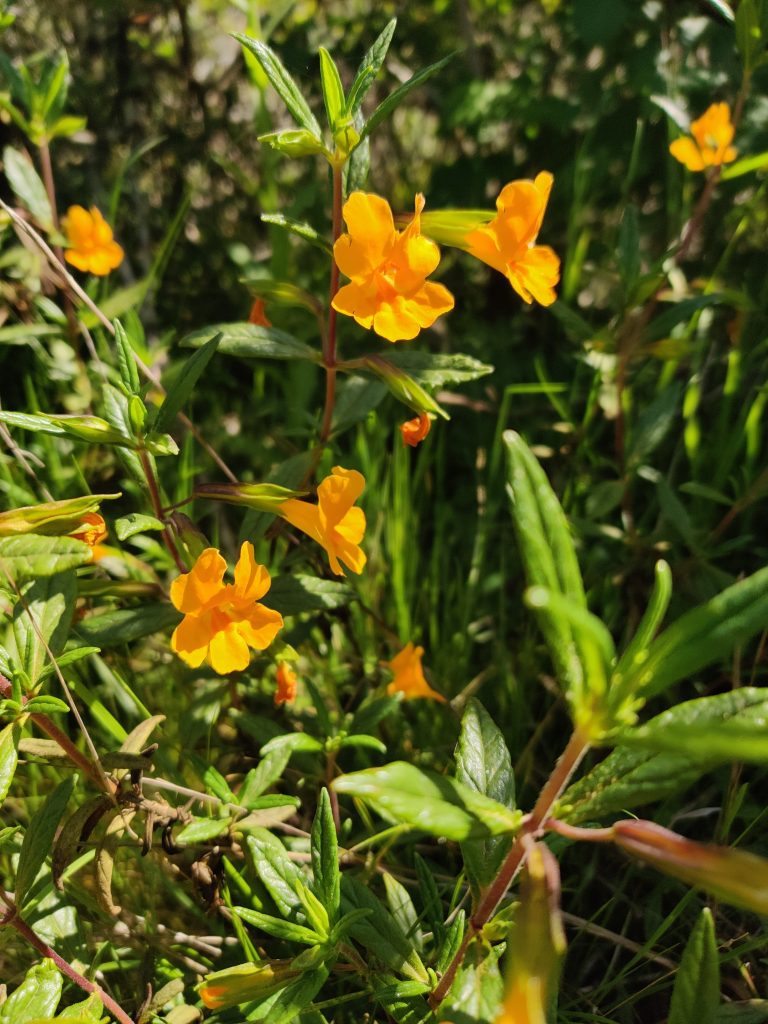 Fun fact: This plant has edible leaves, blossoms and roots!
Harvest Only at Home
Who would have guessed so many of our native plants were edible? Please note that, though you can eat these plants, harvesting plants from Morro Bay State Park and other public areas is against the law. It can also harm wildlife that need those plants to survive. You can grow these plants at home, too, where you can experiment to your culinary heart's delight.
Here are some videos and photos taken on the trail!
This trail has so much to offer! Even though it isn't accessible to us right now, it will be, hopefully soon. Until then, please enjoy the following photos and videos of the trail.
If the videos don't work below check these links out: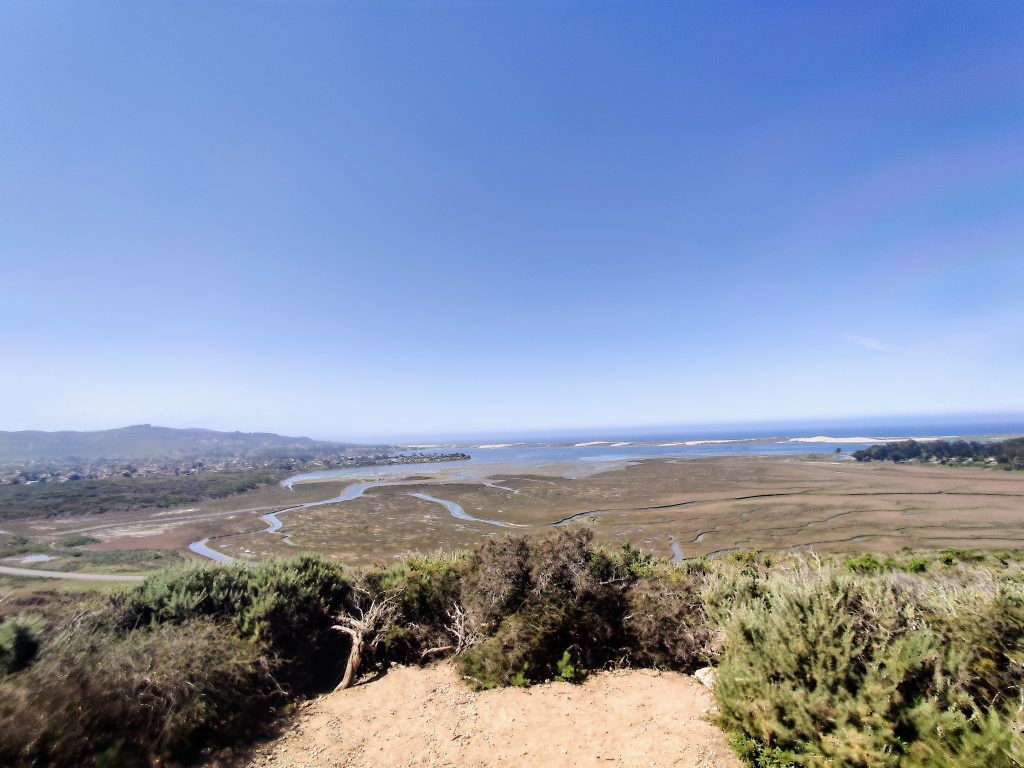 Here is the view from Portola Point!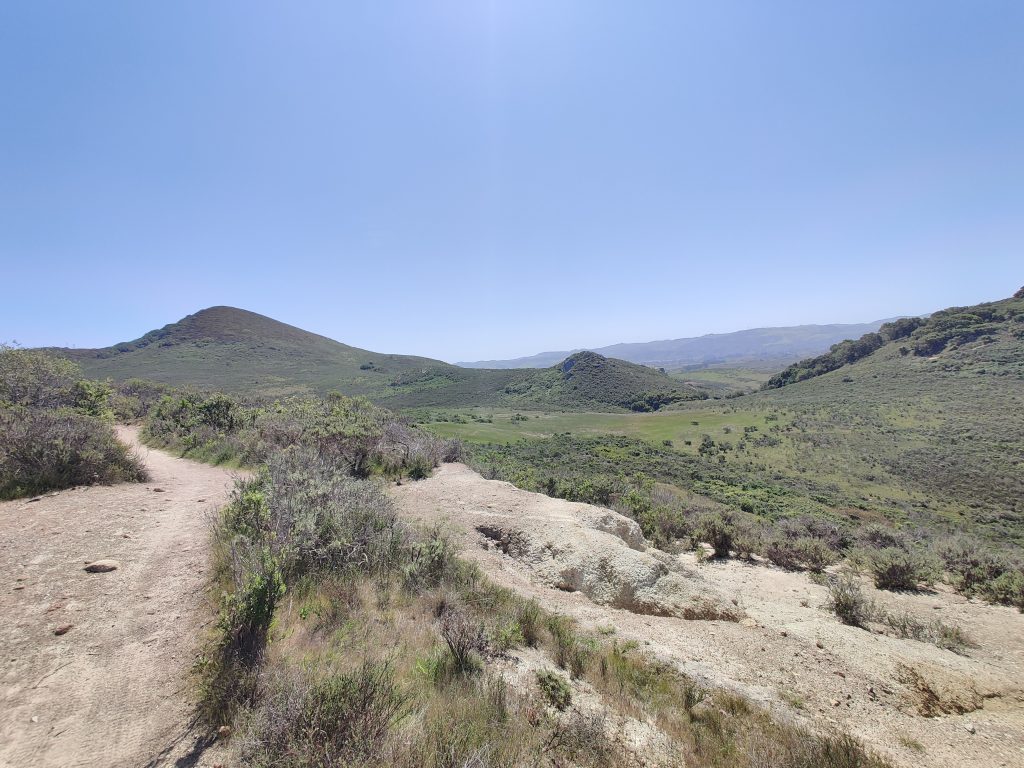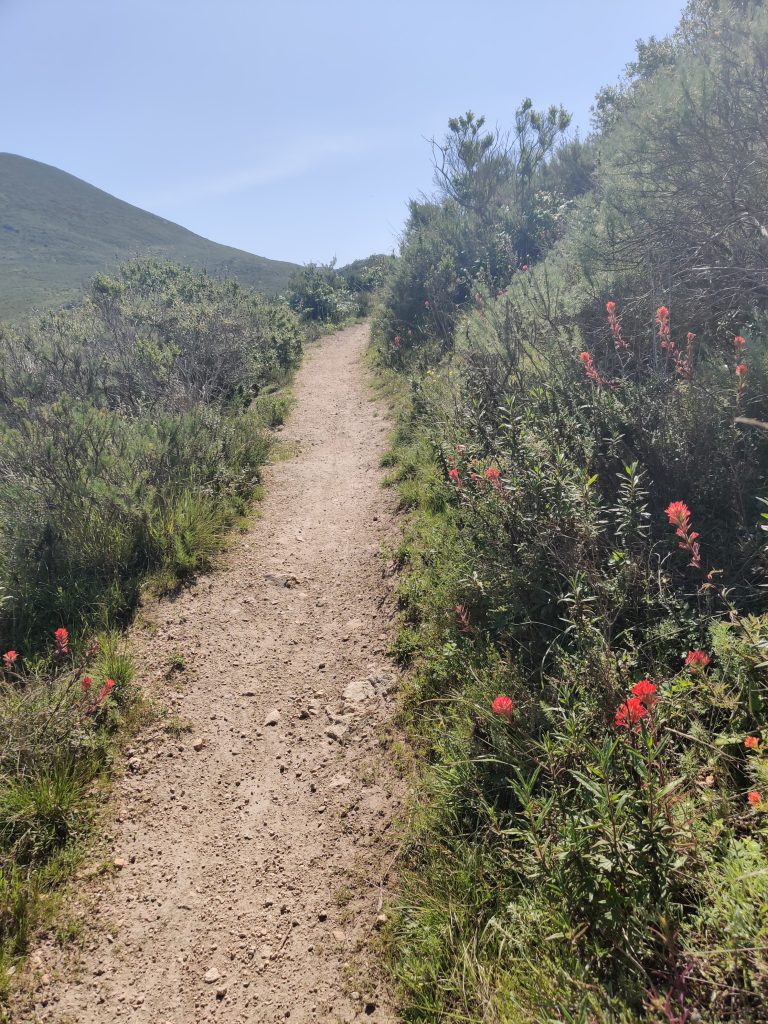 Can you identify the flower here? There are two in the photograph. The purple one is hummingbird sage while the red one is common Indian paint brush.
---
Help protect and restore the Morro Bay estuary
Thank you for your support!
---
Works cited
"California Buckwheat." Nature Collective. Accessed April 10, 2020. https://thenaturecollective.org/plant-guide/details/california-buckwheat/.
Richards, Linda, and Yanling Lu. "Home." If Nature Could Talk, June 26, 2012. https://ifnaturecouldtalk.com/medicinal-and-edible-california-natives.
"Salvia Brandegei, Brandegees Sage." Costa Hummingbird on a Saliva clevelandii Alpine. Native plants support native birds and butterflies. Accessed April 10, 2020. https://www.laspilitas.com/garden/sages.htm.
Smigelski, Seth. "Portola Point in Morro Bay State Park." Find hikes on Hikespeak, December 24, 2011. https://www.hikespeak.com/trails/portola-point-morro-bay/.
"Sticky Monkey Flowers." Information, Recipes and Facts. Accessed April 10, 2020. https://specialtyproduce.com/produce/Sticky_Monkey_Flowers_10649.php.