Now through October is the peak of the nudibranch-viewing season.
Wait, what? You didn't know there was a season for looking at nudibranchs? Well, there is, at least for some of the flashiest species found in the tidepools of the Central Coast. Scuba divers have a bit more time and options, but for those of us who look for nudibranchs with our heads above water, the early morning hours of late summer offer us some of the best opportunities to see these colorful marine gastropods in the intertidal. In previous blogs for the Estuary Program, I've gone into a bit more detail about particular nudibranch species, but this month, it's all about finding them.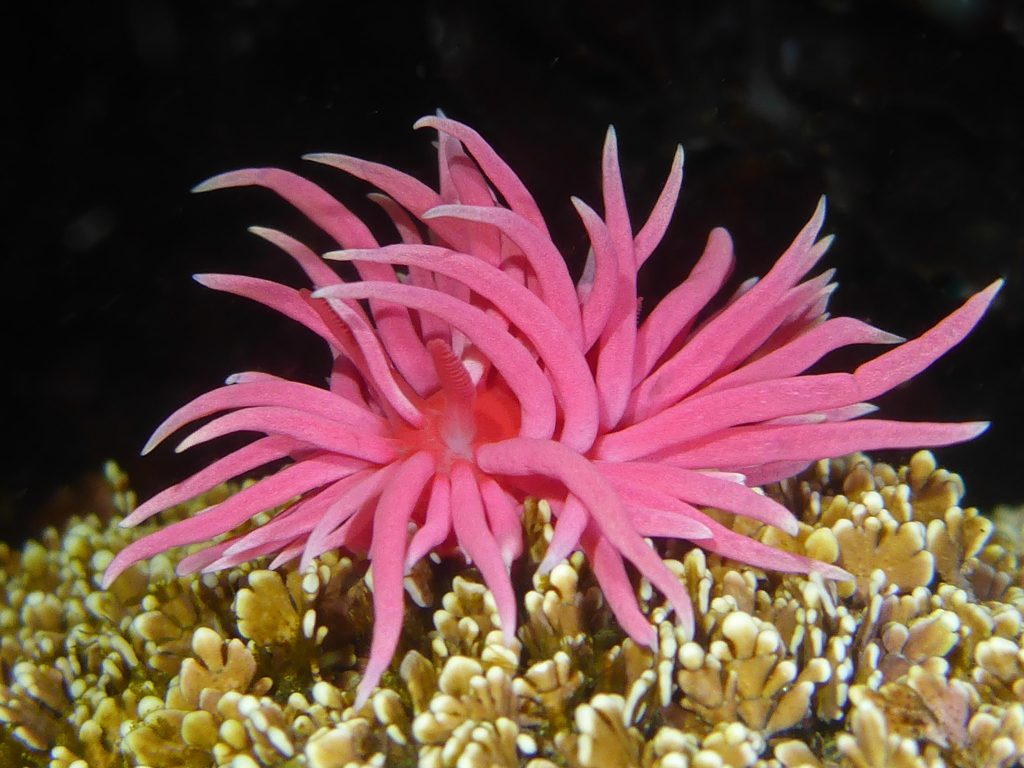 Nudibranchs are gorgeous shell-less marine molluscs commonly called sea slugs. Most are small–less than an inch long. Many display bright colors to warn predators that they will defend themselves with stinging cells sequestered in their cerata (digestive/respiratory organs on their backs) or in glands along the perimeter of their bodies.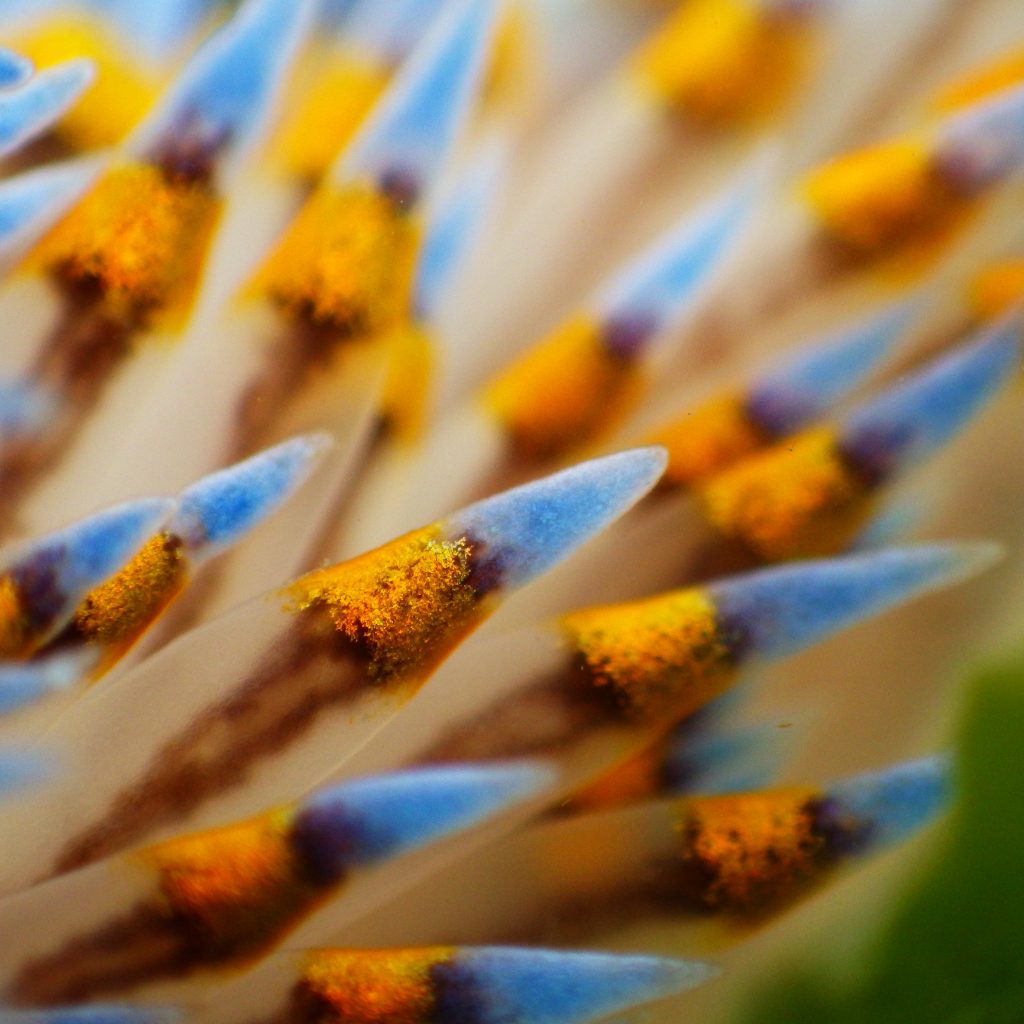 To date, there are over 1300 observations of 77 different species of nudibranchs in San Luis Obispo County on iNaturalist.org, a joint initiative by the California Academy of Sciences and the National Geographic Society. iNaturalist is a free citizen science platform that will help you identify your photos of all living organisms, not just nudibranchs.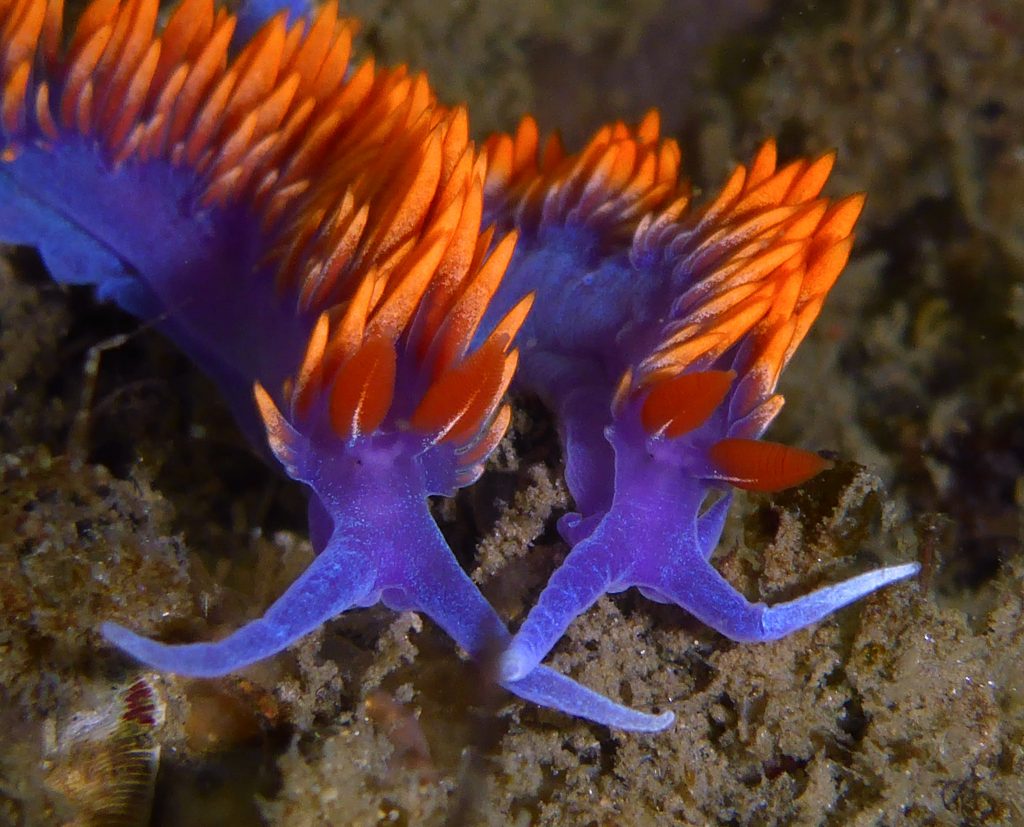 From the new social-distancing perspective, you could hardly find a better activity than searching for nudibranchs in the low intertidal zone. There aren't a lot of people out there, particularly at the hours you'll be going. You will be up very early in the morning, perhaps with an intrepid member of your household; for safety reasons, do not go tidepooling alone. You'll be outdoors in a salty environment, dressed in layers. By definition, you will be spreading out, searching in different tidepools for these colorful little beasts. And a buff or neck gaiter is a good idea, not just for those times you may be getting within six feet of someone, but because it can be chilly out there.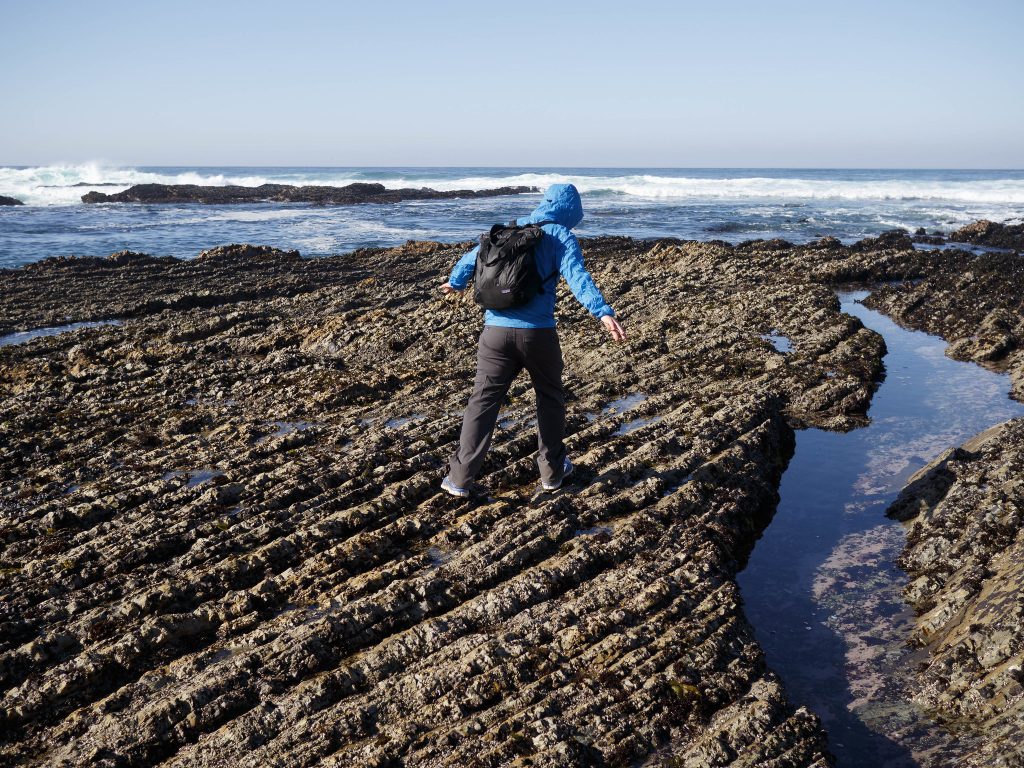 How Early Is Early? Answer: Darn Early in SLO County…
You don't get to see many nudibranchs unless you go to your favorite tidepools during a very low tide, preferably a minus/negative tide (when the lowest tide height is below 0.0 feet). This takes some planning ahead, and, at least in the summer in San Luis Obispo County, a good alarm clock. Bear in mind you should try to be on the reef an hour earlier than the times listed, to maximize your searching time! So with your travel time to the reef, you will be getting up very, very early indeed. But it'll be worth it!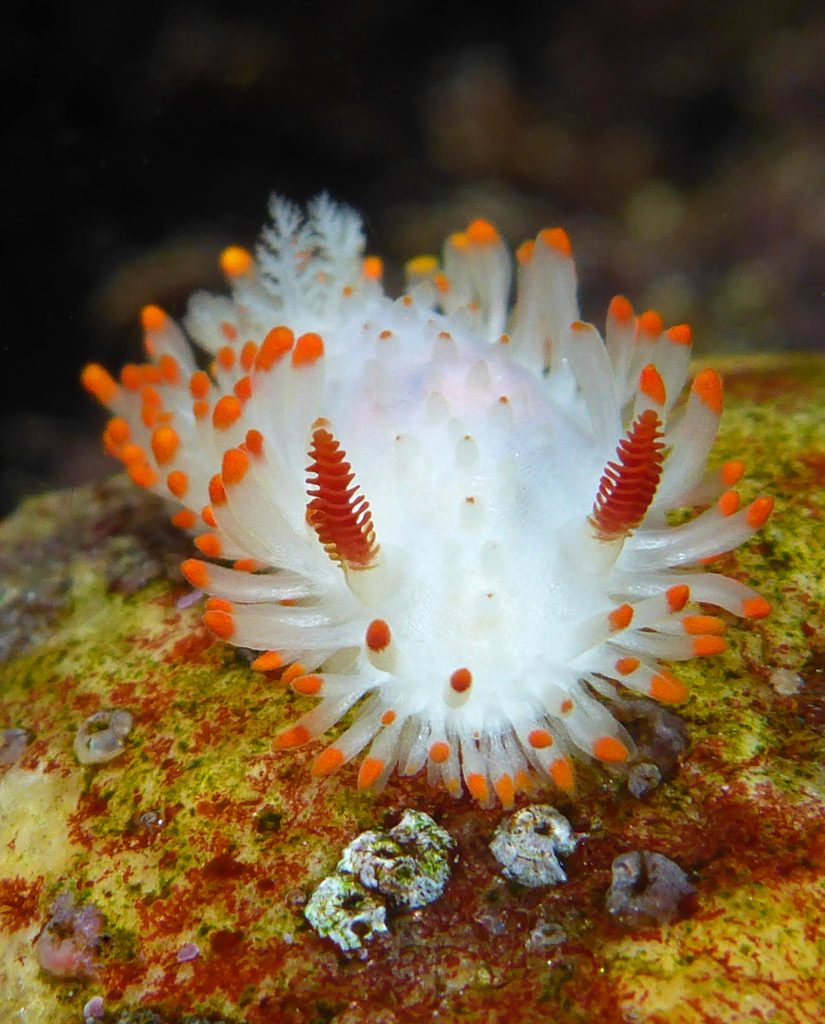 For tide information, I like to go to the source and use NOAA's tide predictions, but there are other free sites that repackage the NOAA data. Taking a look at the predictions for Port San Luis (other locations will vary by a few minutes), the best days and times for the remainder of June and all of July are:
| | | |
| --- | --- | --- |
| Day | Time | Low (in feet) |
| Sat, June 20 | 4:43 AM | -0.68 |
| Sun, June 21 | 5:21 AM | -0.90 |
| Mon, June 22 | 6:00 AM | -1.03 |
| Tues, June 23 | 6:42 AM | -1.06 (lowest day of the last June cycle) |
| Wed, June 24 | 7:26 AM | -0.97 |
| Thurs, June 25 | 8:11 AM | -0.76 |
| Fri, June 26 | 8:58 AM | -0.44 |
| Thurs, July 2 | 3:05 AM (yikes!) | -0.65 |
| Fri, July 3 | 3:52 AM | -1.08 |
| Sat, July 4 | 4:37 AM | -1.31 |
| Sun, July 5 | 5:21 AM | -1.34 (lowest day of the first July cycle) |
| Mon, July 6 | 6:03 AM | -1.21 |
| Tues, July 7 | 6:45 AM | -0.94 |
| Wed, July 8 | 7:26 AM | -0.58 |
| Thurs, July 9 | 8:06 AM | -0.16 |
| Sat, July 18 | 3:46 AM | -0.36 |
| Sun, July 19 | 4:23 AM | -0.69 |
| Mon, July 20 | 5:00 AM | -0.93 |
| Tues, July 21 | 5:39 AM | -1.04 (lowest day of this cycle) |
| Wed, July 22 | 6:18 AM | -1.00 |
| Thurs, July 23 | 6:58 AM | -0.79 |
| Fri, July 24 | 7:39 AM | -0.41 |
Where to Go Tidepooling
Since you're still reading, the early hours haven't discouraged you. Yay. So now you have to figure out where you want to go. For this, you can begin by returning to iNaturalist and using their mapping function to see where nudibranchs have been observed. Here's the collection of map pins for all 1,367 nudibranch observations in San Luis Obispo County. You can also search the iNaturalist map in other ways, such as for a single particular species that you're interested in seeing, or in a smaller area than the whole county if you're not wanting to drive during the Shelter-in-Place orders. As you can see, nudibranchs are found along most of the SLO coastline, with many observations in the protected areas of the rocky intertidal. This gives you some local options.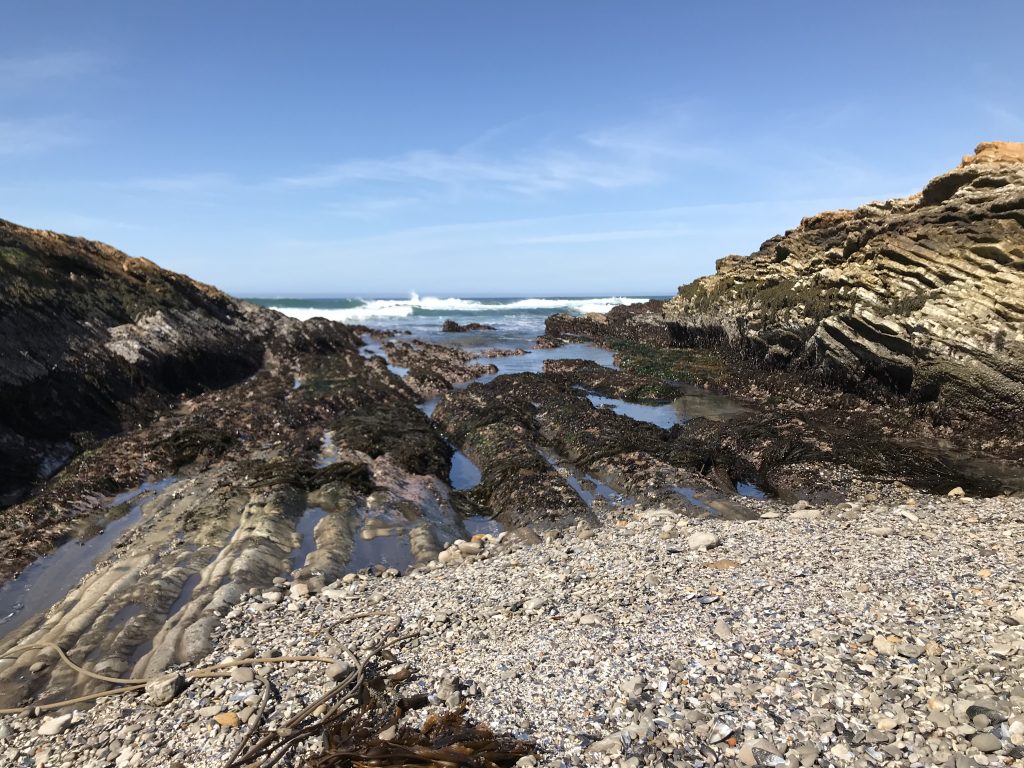 You definitely will want to check the relevant website for the latest Covid-19 update just before you go, since many parks and other protected areas in San Luis Obispo County have been updating their regulations regularly. In particular, check the park opening hours.
In addition to the area under the management of the Morro Bay National Estuary Program, some of the areas in the county to look for nudibranchs are:
Avila Beach/Pirates Cove Beach

South Palisades Park

Vista Del Mar Beach
Bring a flashlight or headlamp for looking under ledges. Dress in warm layers and waterproof boots or shoes. A waterproof camera, or a smartphone in a drybag, will help you take photos of your finds.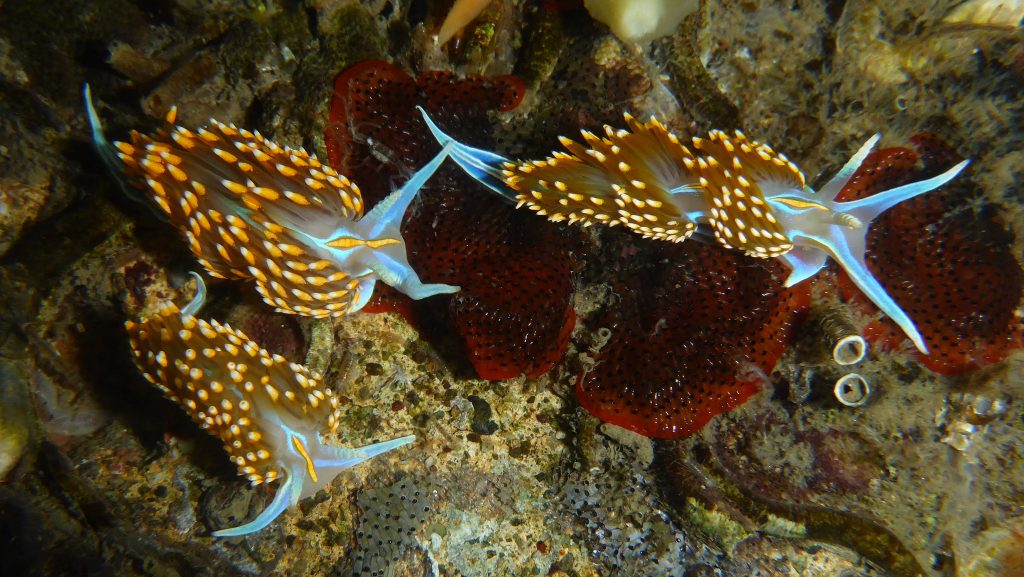 Good luck! Take your time to look for nudibranch food sources (hydroids, sponges, anemones) or nudibranch egg masses, which look like tiny white spirals, whorls and fans. If you see one, resist the temptation to move it; instead, follow good tidepooling etiquette and leave it where it is, next to the particular food source it requires to survive. Even better, take along a camera and upload it to a citizen science platform like iNaturalist.org, so that your observation can help scientists with their research.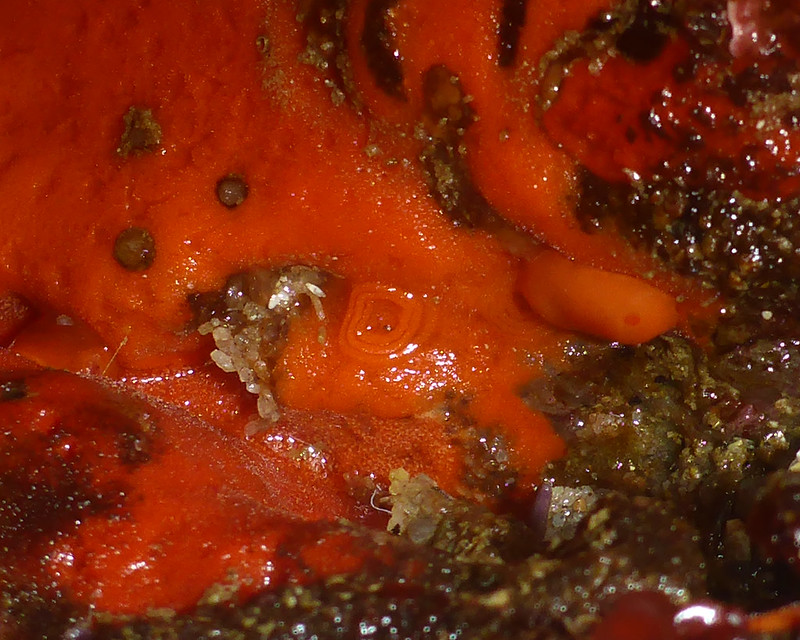 ---
Guest Author, Robin Agarwal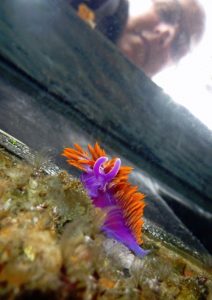 Lying flat on a bouncing floating dock underneath one of the biggest tourist-attraction piers in California, with my head and arms hanging over the side, I am frequently reminded of the kindness of fellow humans who think I've had a stroke or dropped my phone. No—just photographing sea slugs! I point, and show them a few photos on the back of my cheap underwater macro camera, and presto, another nudibranch enthusiast.
I was a tidepool kid who went astray and graduated with a liberal arts degree. In the last decade, I've returned to the tidepools and found a particular passion for photographing nudibranchs and other intertidal marine life. I'm co-editor of the California Sea Slugs Guide, and the Dock Fouling in California project on iNaturalist.org, where I have posted about 4,000 geotagged observations of nudibranchs, mostly along the Central California coast. Since I offer all my photos free to non-profit organizations (my way of thanking them for the work they do), you can find them all over the internet as well as Bay Nature magazine and NOAA National Marine Sanctuary informational signage. I've also been an enthusiastic contributor to a few scientific papers on nudibranchs, most recently Heterobranch Sea Slug Range Shifts in the Northeast Pacific Ocean Associated with the 2015-16 El Nino by Goddard et al. (2018).
---
Subscribe to our weekly blog

to have posts like this delivered to your inbox each week.
Help us protect and restore the Morro Bay estuary!
Thank you for helping our beautiful, bountiful, biodiverse bay!