The Morro Bay National Estuary Program's fieldwork has been deemed an essential service by the County of San Luis Obispo. Due to COVID-19 safety precautions, we are not working with volunteers at this time and our field staff are following updated monitoring protocols. We look forward to working with volunteers and other community members again as soon as it is safe for us to do so. Thank you, readers, for staying engaged and supporting the Estuary Program's work on monitoring eelgrass expansion and other projects during this difficult time. 
Green, green, everywhere!
If you've been out on the bay recently, especially at a low tide, you might have noticed things are looking significantly greener than in the past few years. Why, you may ask?
If you guessed a major uptick in eelgrass coverage, you'd be right! Eelgrass (Zostera marina) is a flowering marine plant found in Morro Bay that serves many ecological functions. These include, but are not limited to, improving water clarity, oxygenating the water, and providing refuge for aquatic wildlife.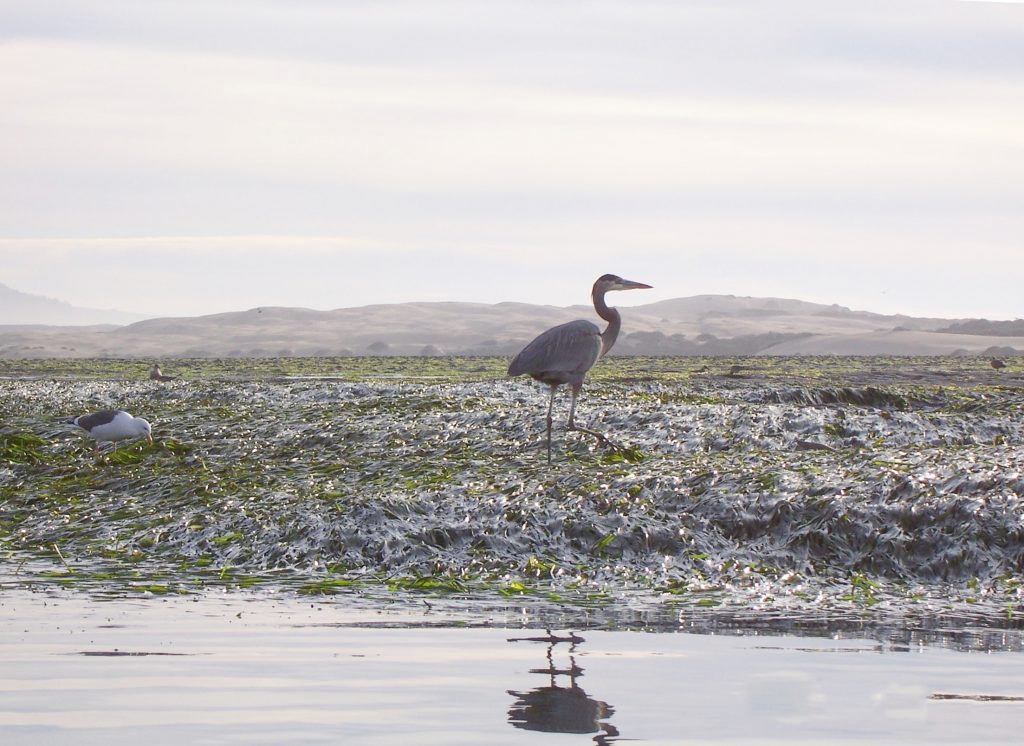 Eelgrass decline from 2007 to 2017
The Estuary Program has been monitoring eelgrass in Morro Bay since the early 2000's, and found a significant reduction in eelgrass acreage during 2012. Mapping efforts in 2007 had indicated nearly 350 acres of eelgrass, but by 2012, only thirteen acres remained in the bay: a decline of more than ninety-five percent. That acreage continued to decline to a record low of about nine acres in 2017.
Researchers from the Estuary Program, Cal Poly, Cuesta College, and other partners have researched causes for this drastic decline, but to date, we do not know the exact cause that led to the decline. It was most likely due to a combination of factors.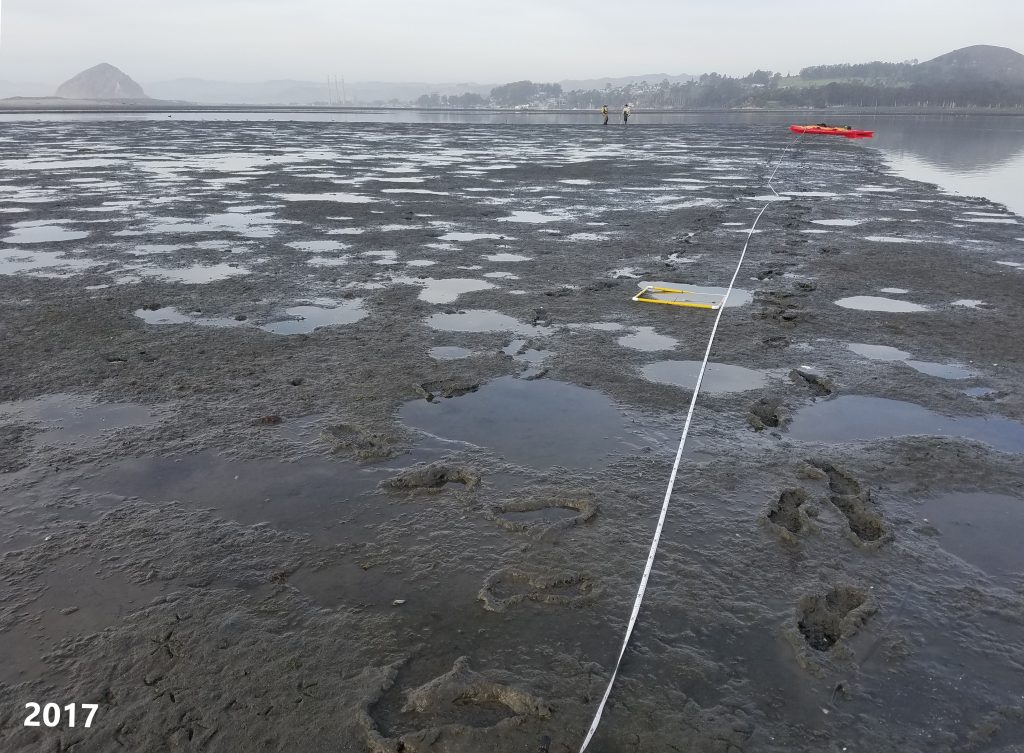 Eelgrass expansion
Although Morro Bay has seen a major decline in eelgrass over that ten year period, things seem to be moving in a better direction in the past few years. Our most recent full-bay mapping and monitoring effort from 2019 indicated that eelgrass acreage had risen to about forty-two acres, meaning that the Morro Bay eelgrass population had more than tripled since 2017.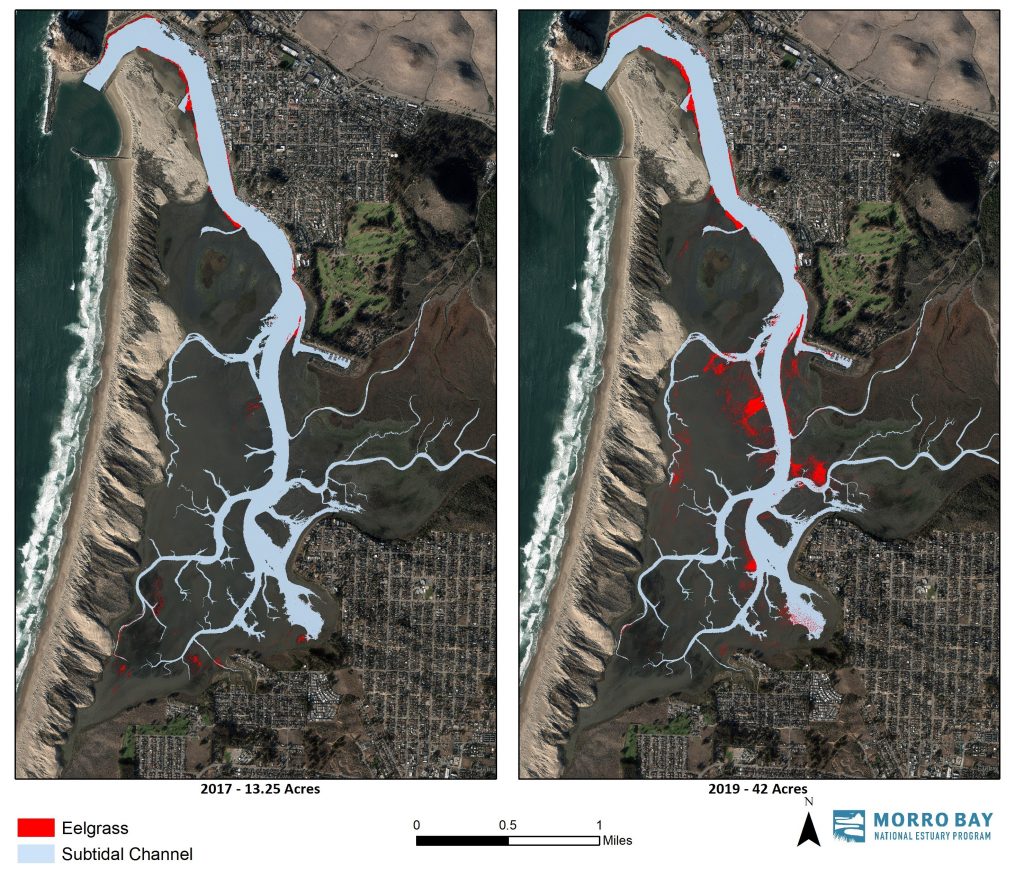 The Estuary Program's annual eelgrass monitoring has also documented this eelgrass expansion. Each year, staff return to specific locations in the bay for routine monitoring, with the idea of capturing regional differences in eelgrass health and coverage between the front, mid, and back bay. These locations range from the mouth of the bay, at Coleman Beach (near Morro Rock), to the back of the bay, just south to Pasadena Point, in Los Osos.
While some sites are still working to get back to pre-decline levels, other sites like one site near State Park Marina, has had more eelgrass than we've ever documented.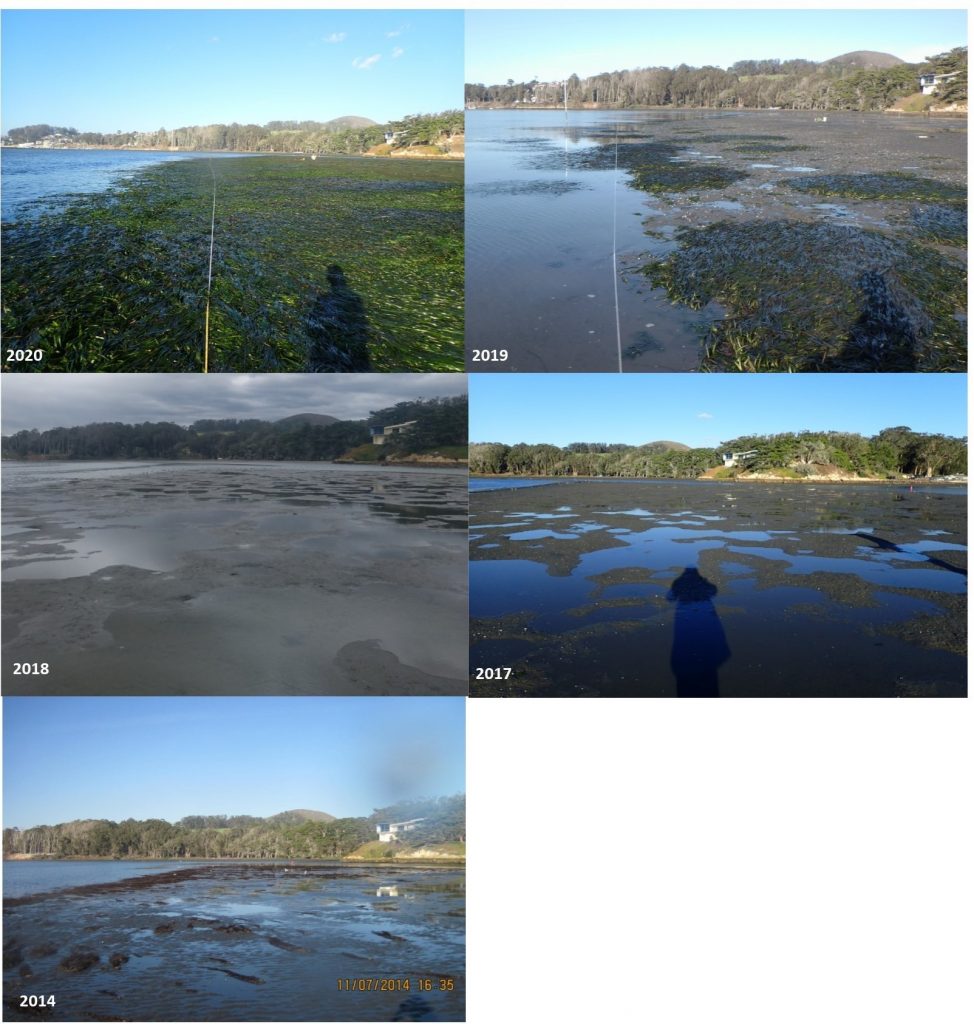 The photo above shows a time series at the same location near State Park Marina, from 2014 to 2020. As documented in 2014, 2017 and 2018, nearly no eelgrass exists within the monitoring location. In 2019, new patches of eelgrass began forming. By 2020, these small patches have significantly expanded, creating one cohesive eelgrass bed.
Looking to the future
While we still have a way to go before we get back to 300+ acres of eelgrass in the bay, it's exciting and invigorating to see a rebound in eelgrass acreage.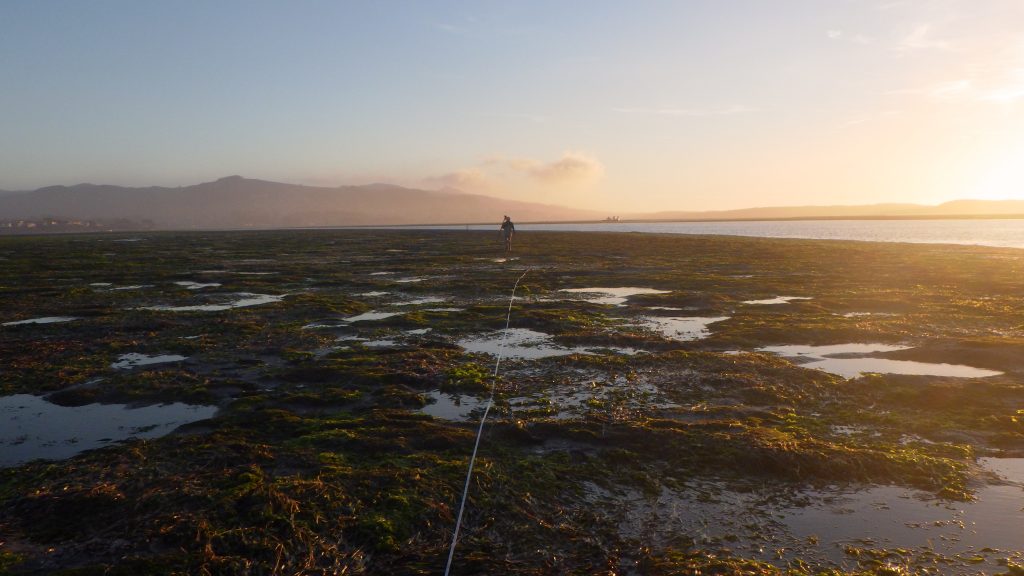 Subscribe to our blog
Interested in hearing more about eelgrass expansion, restoration, and other topics? You can stay up to date with all things fieldwork related by subscribing to our blog. We put out weekly posts and field updates on the first Friday of every month. Subscribe here to never miss a post!
---
Help protect and restore the Morro Bay estuary
Thank you for your support!