Guest post by Robin Agarwal
California has about 180 known species of sea slugs
Most of California's approximately 180 known species of sea slugs (nudibranchs and related species) were described in scientific literature decades ago.
Only a handful of these sea slugs are regularly seen and documented, but have not been formally described. These species remain on scientists' collective "to-do" list, including:
Doto Form A of Goddard (1996)
One of the most common Dotos on the Southern and Central California coast, its pinkish cerata are covered with white-tipped tubercles. Its rhinophores have a prominent cup-shaped sheath and are tipped with opaque white.[1] "Doto form A [is] confirmed by Shipman & Gosliner (2015) as genetically distinct from Doto amyra," writes nudibranch expert Dr. Jeffrey Goddard. "[It] also has smaller eggs than D. amyra."[2]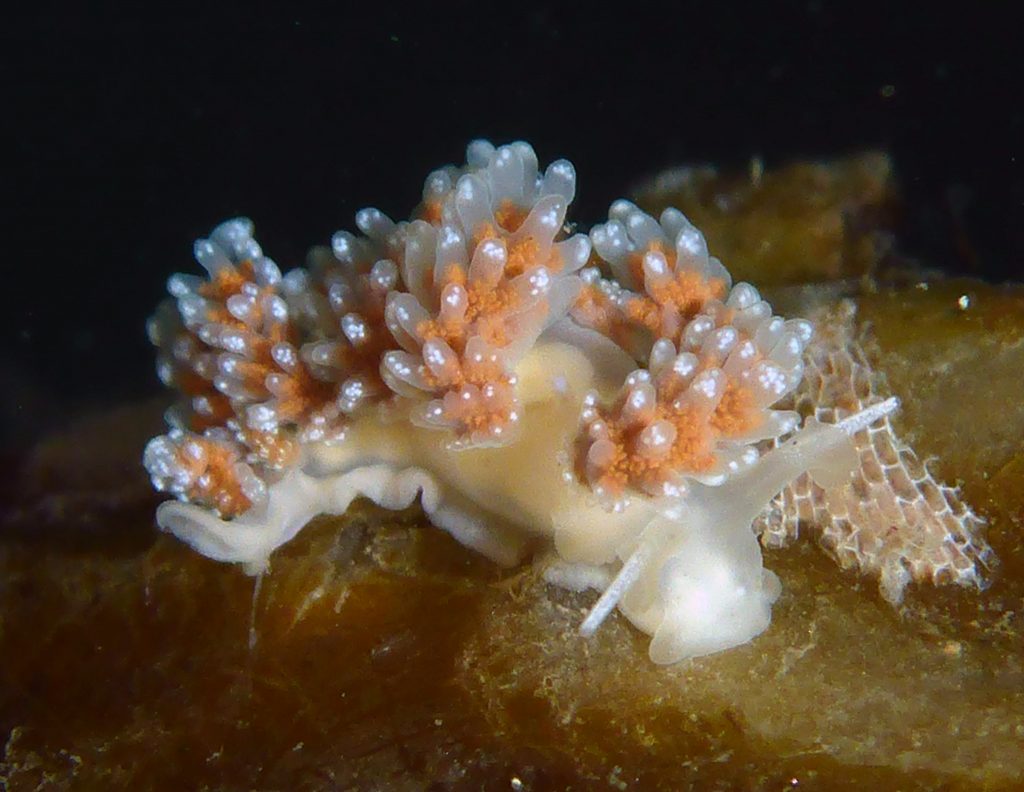 Cumanotus species of Goddard and Green (2013)
Superficially similar to its much larger, described cousin, Cumanotus fernaldi, and the North Atlantic's C. beaumonti, this beautiful Cumanotus species is distinguished by its development. They all lay eggs in corkscrew-shaped egg masses. However, each egg capsule of this Cumanotus sp. has just one large egg, compared with 4–14 smaller eggs per capsule for C. fernaldi.[3]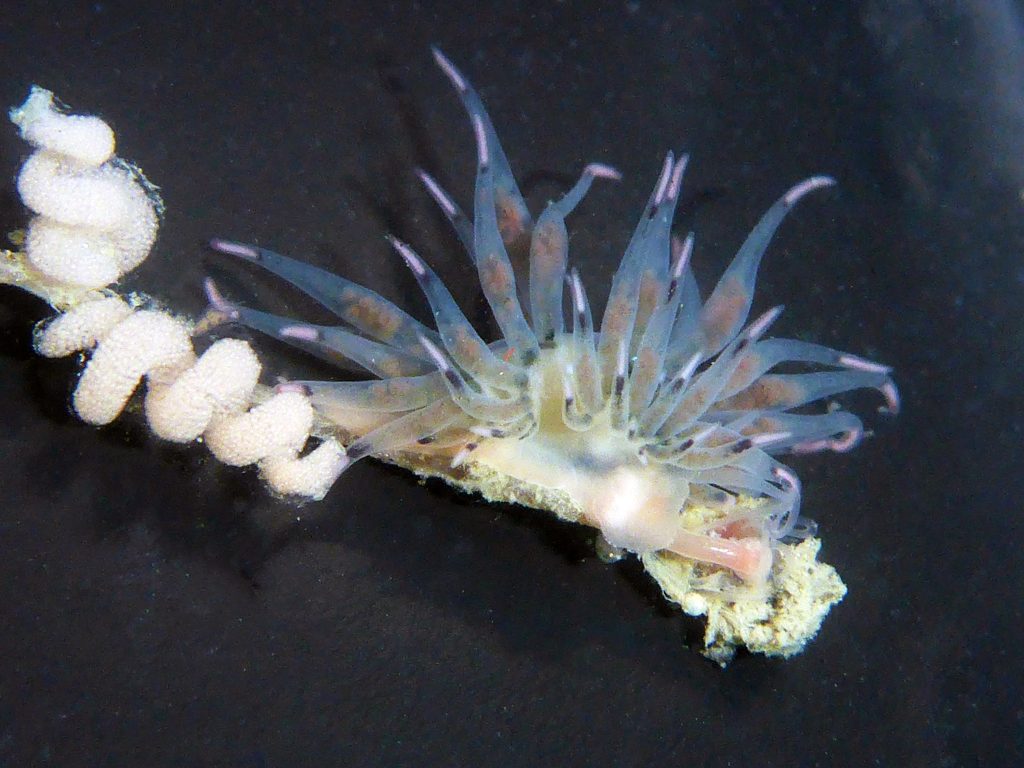 Nudibranch enthusiasts find two never-before-documented species of sea slugs
For the first time in many years, two entirely new-to-science nudibranchs were spotted and photographed along the California coast in August. These sea slugs are certainly the rarest of the rare. What makes this summer's finds even more remarkable is that both were seen and photographed by sharp-eyed nudibranch enthusiasts rather than professional researchers.
Here are the photos and stories of these exciting new-to-science nudibranchs, in chronological order of discovery:
Siena McKim's Unknown Aeolid: San Diego, California, August 8, 2021
Until September, when she began her PhD program at University of California Santa Barbara, Siena McKim has been the Algae/Invertebrates Expert and Artist-in-Residence at the Birch Aquarium at Scripps UC San Diego, where she created murals highlighting species in the Marine Protected Areas in La Jolla. She's also an avid nudibranch hunter, searching the San Diego tidepools during low tides.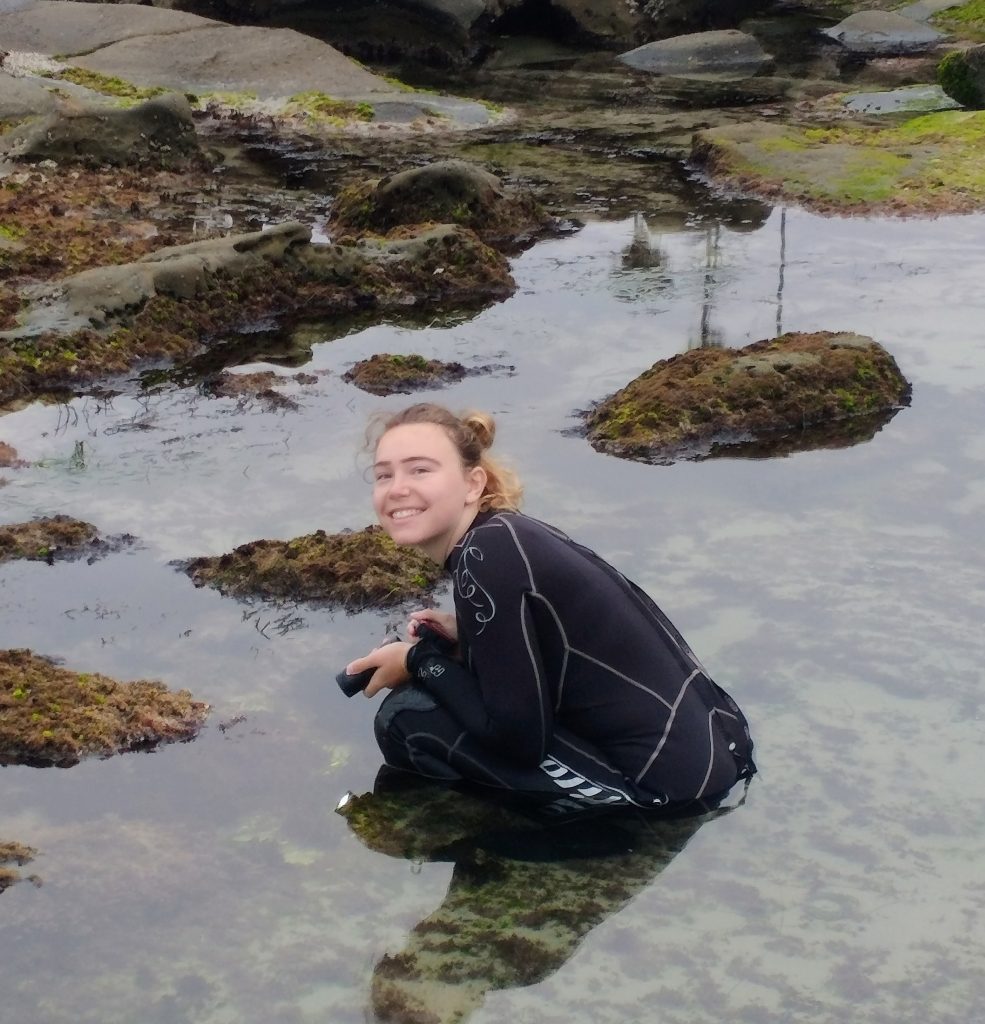 "During the summer, low tides are usually at 4:00 a.m. or even earlier, so it's quite the night time adventure," she said. "Every time I go, I see something new: a new sea snail, a new sea slug, a new amphipod. The biodiversity in the tidepools is my motivation."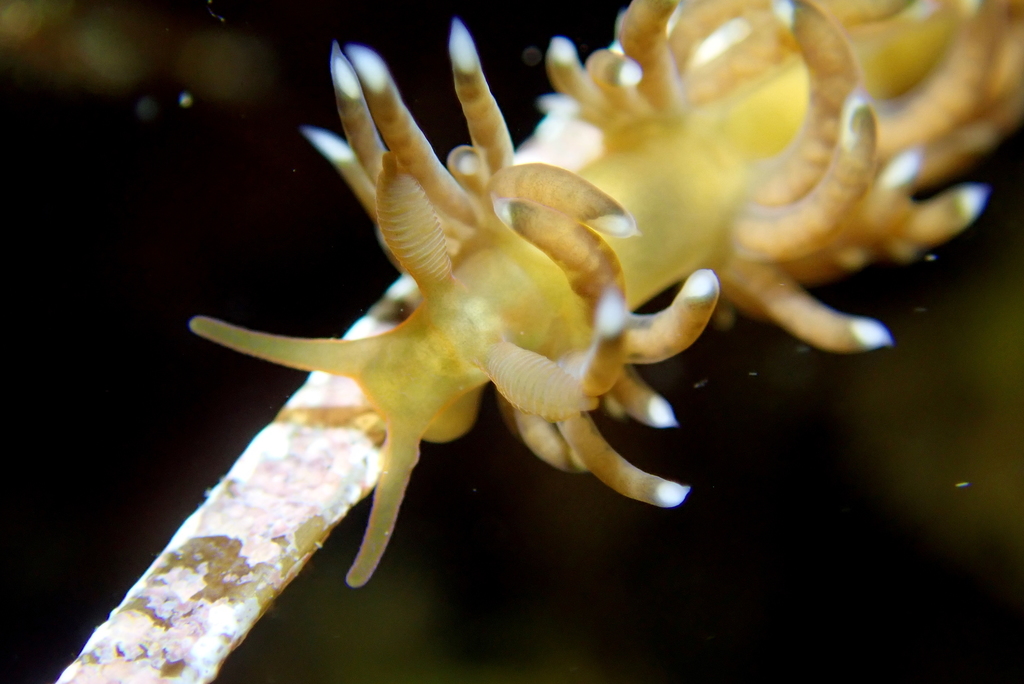 The trip she spotted the new-to-science nudibranch, she said, "My boyfriend, Zach Berghorst, and I were enjoying a sea slug-filled morning, finding the usual Opalescent Nudibranchs and Colorful Dironas, all tiny. But then we came across this big (still only an inch long) sea slug near the surface on a blade of eelgrass. We thought it looked strange, perhaps an aeolid we didn't know about yet. We took the normal amount of photos we would for a sea slug new to us, and moved on. The next day, after I posted my photos, experts commented on my post that it was quite possibly a new species!"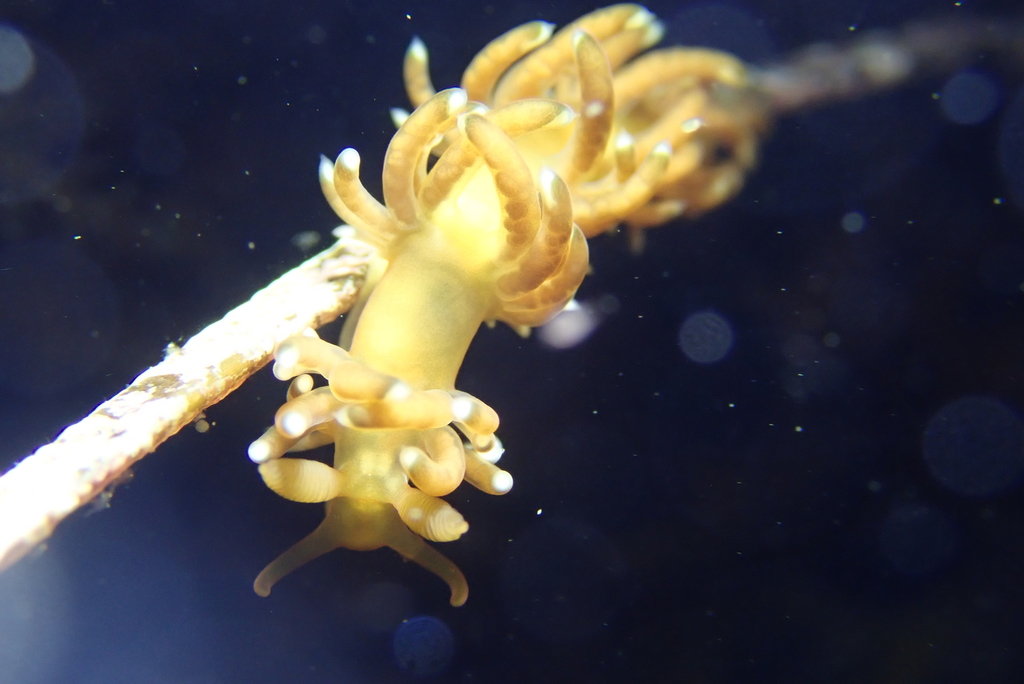 McKim, Berghorst, and a group of sea slug enthusiasts from Orange County and the San Francisco Bay Area went back to the spot where they found it, but could not refind it. "I'm hoping one day someone will find it, so that its species isn't completely mythical," McKim said. "This nudibranch was special to me since the only people who have seen it are me and Zach. It feels unreal that no one else has documented this organism, and it reinforces the idea that there is still so much to discover and the biodiversity of our earth is never-ending."
McKim went on to encourage others to continue their own searches for interesting organisms. "Keep your eyes out! No matter what experience level you are, you have the ability to find organisms no one else has seen. If the natural world and discovery is something you're interested in, I highly recommend studying marine invertebrates. We need more people to describe species and research large portions of the marine world, including charismatic sea slugs!"
Luan Roberts' Unknown Cladobranchia: Berkeley, California, August 5, 2021
Luan Roberts is a nudibranch enthusiast based in Washington State whose passion for nudibranchs has prompted her to travel to California regularly. She found her mystery nudibranch while photographing dock-fouling species in Berkeley Marina.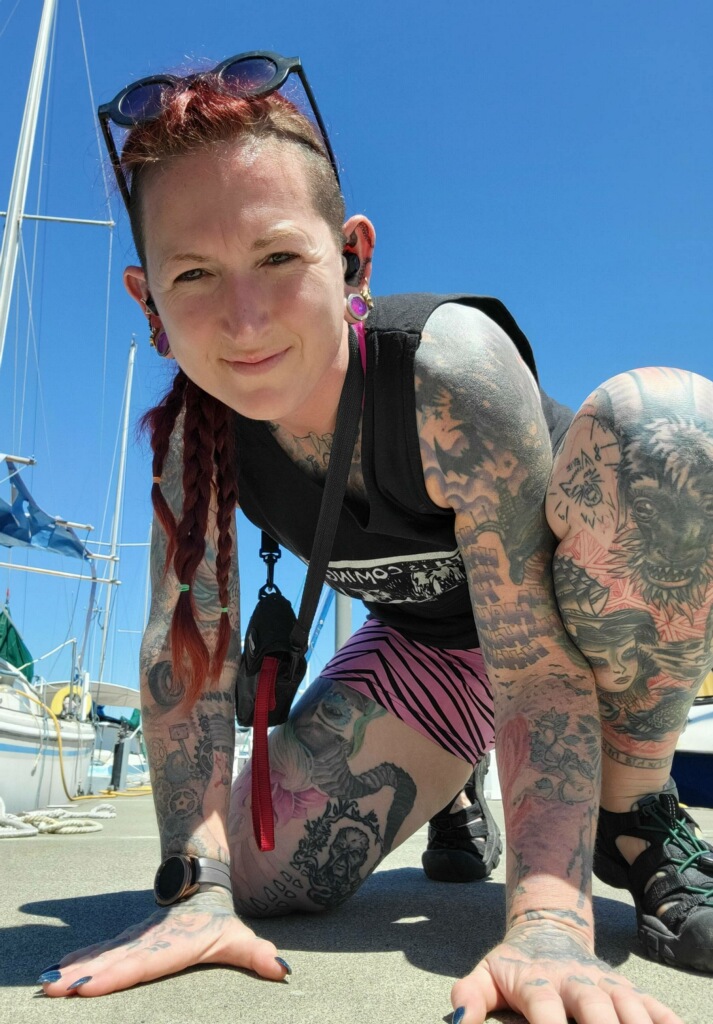 "I've been heading out to the San Francisco Bay Area every three months for the past year on dock-fouling pilgrimages," Roberts said. "Berkeley Marina was a spot I visited previously and, although it had good biodiversity, I found no nudibranchs. When Robin Agarwal (yes, me, the author) offered to take me on a fouling expedition, Berkeley seemed like a great choice, and I felt optimistic that we would see some nudibranchs."
She certainly did.
"I noticed a boat bumper covered in chain tunicate," she continued. "Sea slugs seem attracted to floating things covered in fouling, so I looked closer. I spotted something that looked like a grain of rice on the float and started taking photos of it."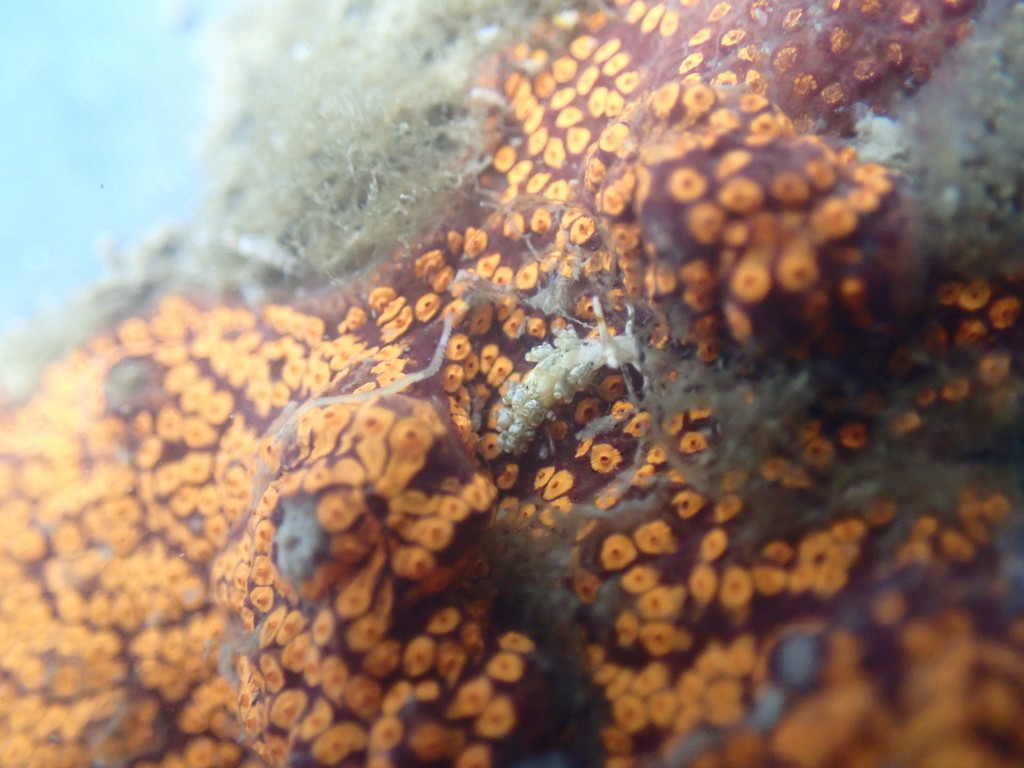 Roberts showed me the nudibranch and I photographed it as well. "Neither of us thought it was anything special at the time, as we couldn't see it in great detail with our naked eye. We weren't sure what species it was—perhaps Eubranchus olivaceus or Catriona rickettsi—but when we uploaded photos to iNaturalist.org, the experts chimed in, and it seemed that it was something that hadn't previously been seen in California."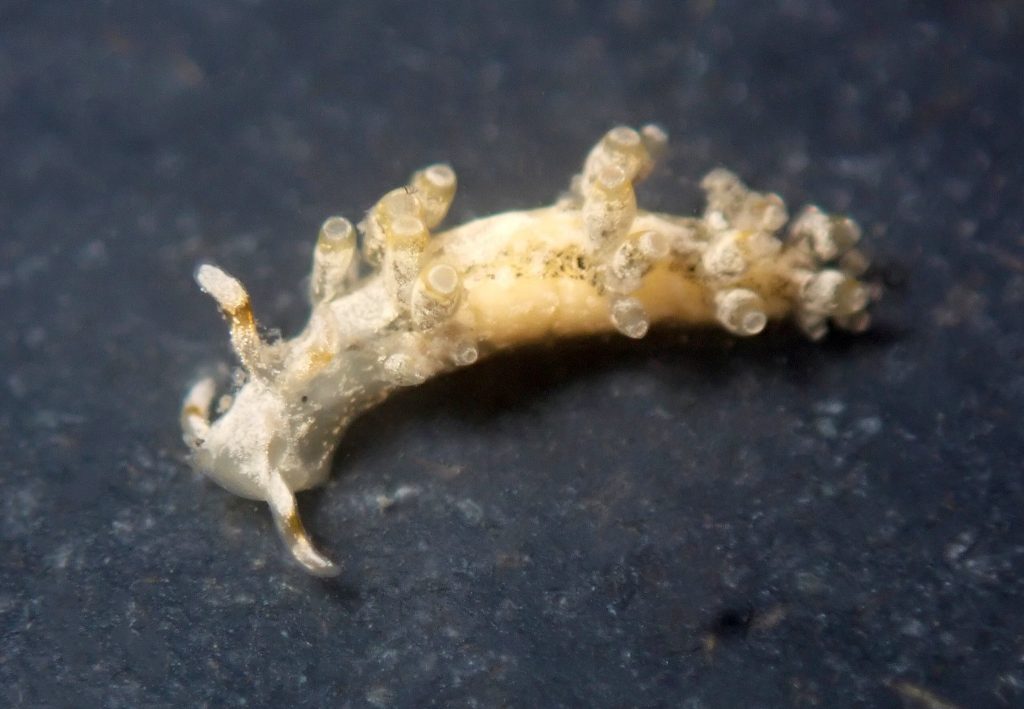 And it wasn't a nudibranch from some other international location, either. Terry Gosliner, a worldwide nudibranch expert with the California Academy of Sciences and author of Nudibranchs and Sea Slugs Indo-Pacific, wrote: "I do not think this is C. rickettsi. Dave [Behrens, author of the Eastern Pacific Nudibranchs field guide] is correct that C. rickettsi does not have the opaque white spotting, nor does it have orange bands on the rhinophores. C. rickettsi also has a broader foot and head. I think this is something that has not been found previously in California, but I can't say what. I have never seen this one before. It might in fact be a Eubranchus; similar, but not the same as Eubranchus sp. 10 in NSSI. I hope you collected the specimen. We can sequence it and see where it comes out?"
"We had not collected the nudibranch," said Roberts, "We left it in place, though, so a small party went out to refind it a couple days later, but to no avail. I was already back in Seattle, but was sorely tempted to catch a flight back and look for it again myself."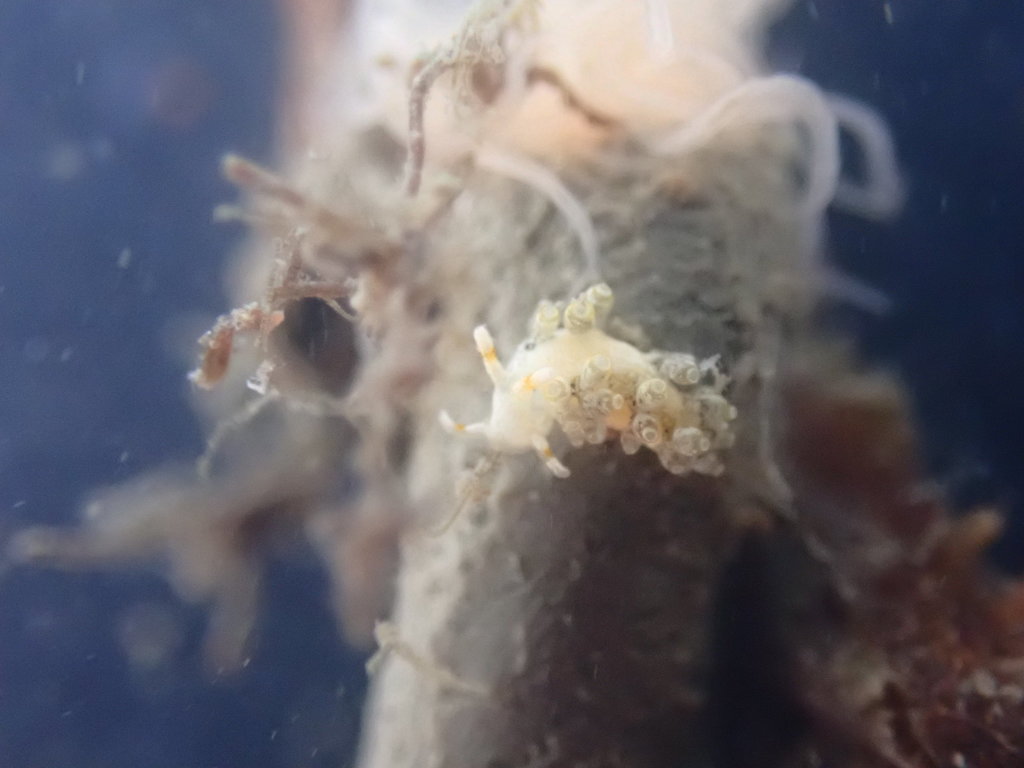 She summarized her experience: "This was a special find for me because it gave me confidence in my own skill at spotting nudibranchs and filled me with excitement to go out to look for more! Whether or not this is an undescribed species is yet to be seen. It felt like an accomplishment to see what no one else was seeing, in a territory that was not my own."
---
For more details and references:
[1]  More information on Doto Form A of Goddard on iNaturalist
[3] Cumanotus species of Goddard and Green
---
Guest Author, Robin Agarwal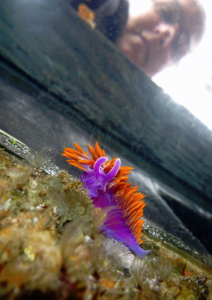 Lying flat on a bouncing floating dock underneath one of the biggest tourist-attraction piers in California, with my head and arms hanging over the side, I am frequently reminded of the kindness of fellow humans who think I've had a stroke or dropped my phone. No—just photographing sea slugs! I point, and show them a few photos on the back of my cheap underwater macro camera, and presto, another nudibranch enthusiast.
I was a tidepool kid who went astray and graduated with a liberal arts degree. In the last decade, I've returned to the tidepools and found a particular passion for photographing nudibranchs and other intertidal marine life. I'm co-editor of the California Sea Slugs Guide, and the Dock Fouling in California project on iNaturalist.org, where I have posted about 4,000 geotagged observations of nudibranchs, mostly along the Central California coast. Since I offer all my photos free to non-profit organizations (my way of thanking them for the work they do), you can find them all over the internet as well as Bay Nature magazine and NOAA National Marine Sanctuary informational signage. I've also been an enthusiastic contributor to a few scientific papers on nudibranchs, most recently Heterobranch Sea Slug Range Shifts in the Northeast Pacific Ocean Associated with the 2015-16 El Nino by Goddard et al. (2018). 
---
Help protect and restore the Morro Bay estuary
Thank you for your support!