This blog is part of a series on recent invasive plant efforts written by the Coastal San Luis Resource Conservation District. 
From sandy beaches to vertical bluffs, the coastline of the Golden State is remarkable. Where the land meets the water, you often find some of the most unique ecosystems California has to offer, including dune habitat. The coastline provides a niche ecosystem that many endangered, threatened, and rare plants and animals call home.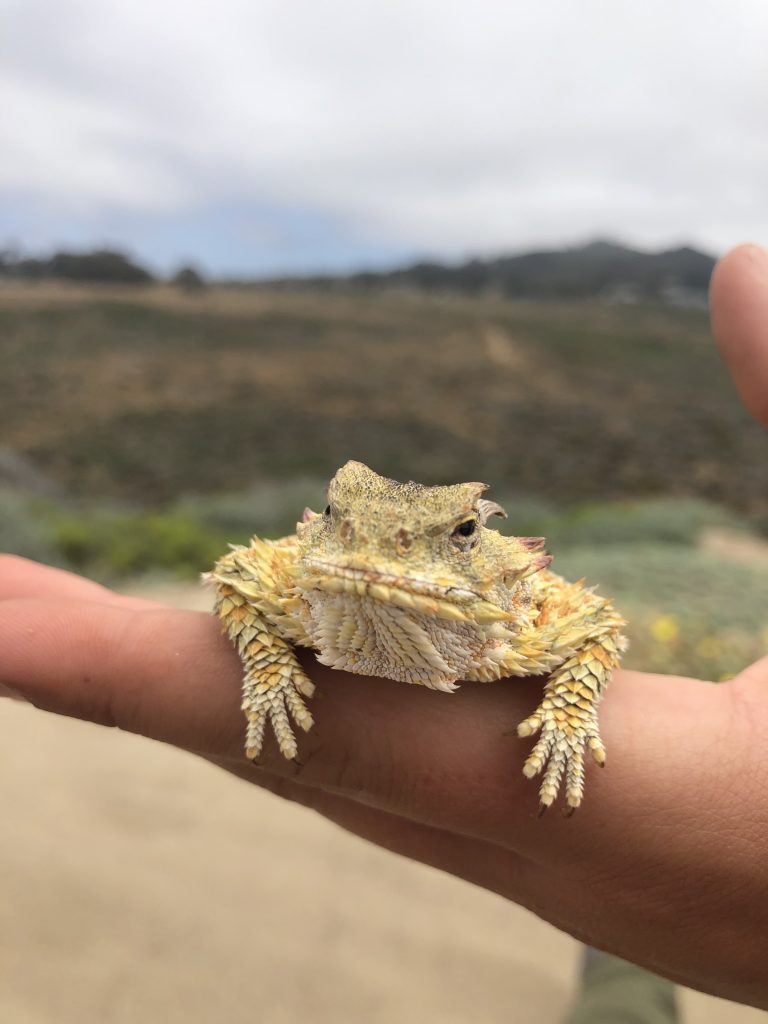 The threat of invasive species
Invasive species threaten the diversity and value of the habitat created by dune systems. In particular, ice plant is an invasive plant species that has made itself at home along the coastal zone. With its three-sided succulent leaves and yellow, pink, or purple flowers, it's a familiar sight in our area. There are two species, Carpobrotus edulis and Carpobrotus chilensis, which hybridize and produce viable seeds. Hybridization creates new genetic advantages that helps the plant adapt to new environments, making the management of this invasive plant more difficult.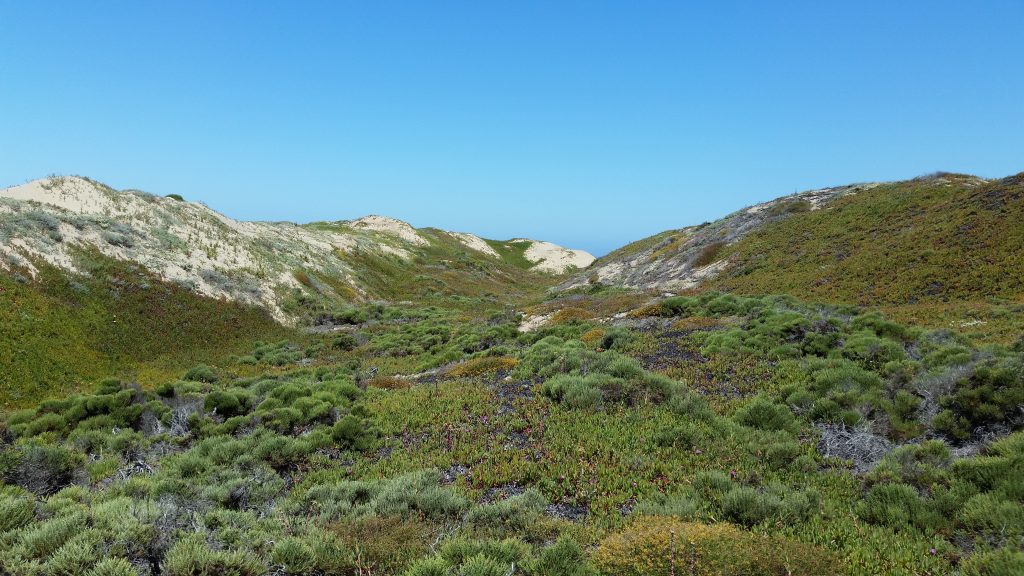 Ice plant originates from South Africa where it is well-adapted to relatively dry and nutrient-poor coastal conditions. It was brought to California in the early 1900s and used to stabilize soil along railroad tracks and highways. According to local records, ice plant was first documented at the Morro Dunes Natural Preserve in 1969.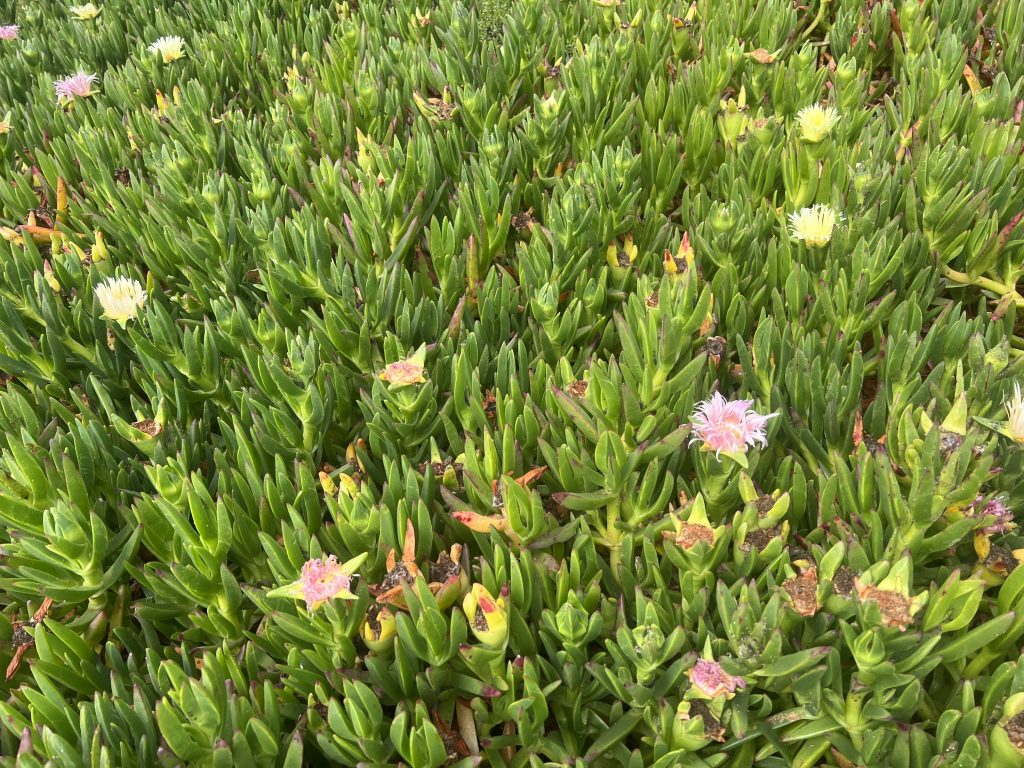 How ice plant dominates dune habitats
When an individual ice plant is small, it temporarily stabilizes the sand, a condition which many native dune plants are not adapted to because they prefer  frequent burial events. But when ice plant becomes larger and more established, its heavy leaves and shallow roots can destabilize coastal soil and increase the chance of landslides, which is the opposite of what it was planted to do.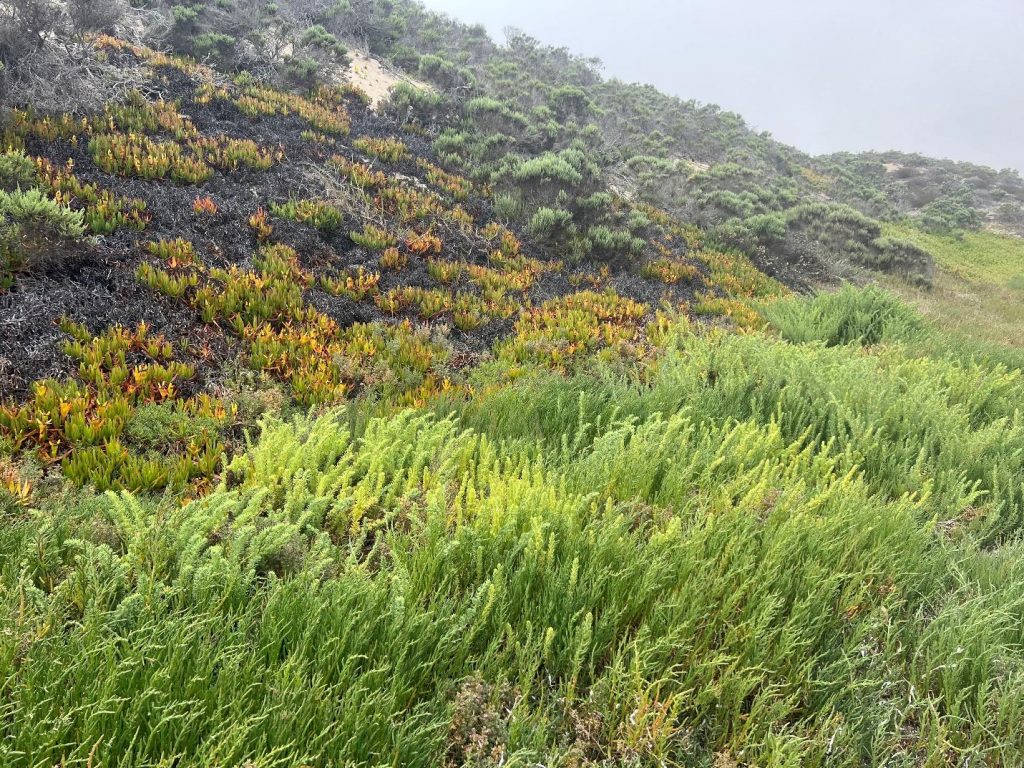 Rather than growing like a bush, ice plant grows as a groundcover. This growth structure greatly reduces the diversity of the dunes as it crowds native plants out of their already scarce habitat. Ice plant suppresses the growth of mature native shrubs, hinders the establishment of native seedlings, and may lower the pH of soil. Ice plant also releases salt, artificially increasing soil salinity. This invasive species wreaks havoc on ecosystems, taking water, light, nutrients, and space away from many endangered, threatened, and rare plants. Ice plant now encompasses about 57% of the available habitat on the Sandspit within the Morro Dunes Natural Preserve at Morro Bay State Park. 
Taking action to protect dune habitat
The Coastal San Luis Resource Conservation District is partnering with State Parks and, with funding from the Estuary Program, is targeting ice plant to protect the dune habitat. These extensive removal efforts support the re-establishment of native plants and animals and help return the habitat of the Morro Dunes Natural Preserve to its condition prior to the introduction of ice plant.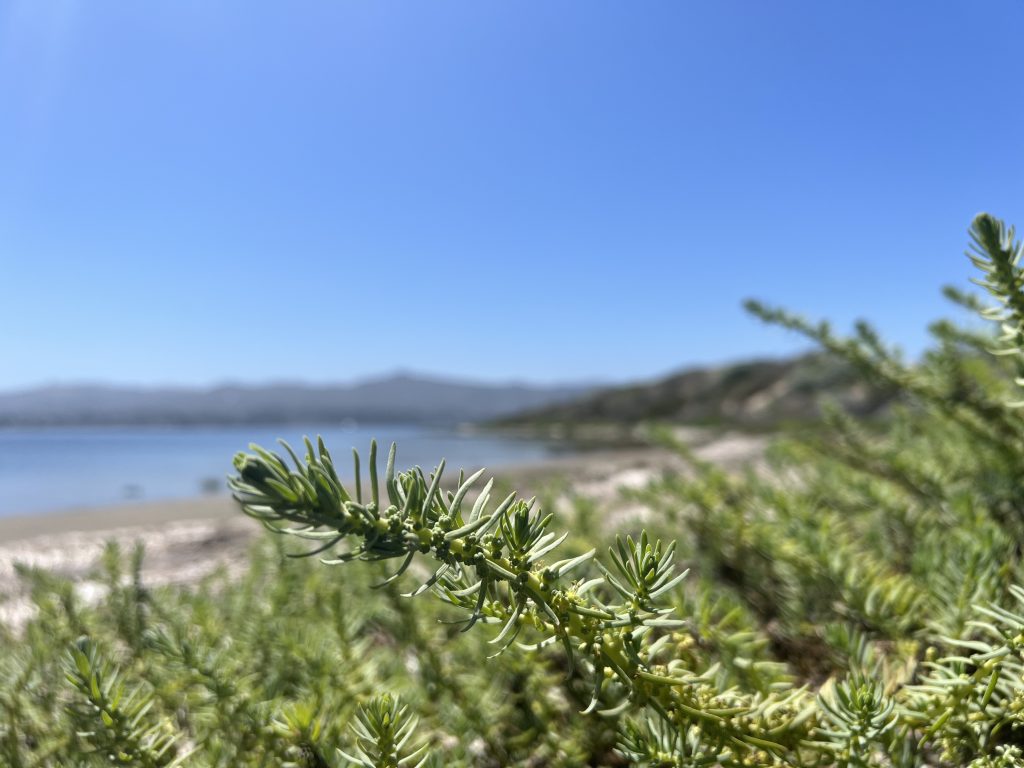 The Morro Dunes Natural Preserve provides a perfect example of the impacts this plant has on ecosystems in California. The 700-acre preserve contains approximately 400 acres of ice plant, with about 150 of those acres considered to be high density. Due to its widespread presence and rapid growth, throughout the area, management efforts often progress slowly. 
Stay tuned as we will share upcoming blogs on ice plant management and the progress of its treatment along the Sandspit.  
About the Coastal San Luis Resource Conservation District
The Coastal San Luis Resource Conservation District (CSLRCD) protects and enhances natural resources through education, restoration, conservation, and collaboration with local stakeholders. RCDs across California work to connect people with the technical, financial, and educational assistance needed to conserve and manage natural resources. The group is non-regulatory and their assistance is free. The RCD is a special district, which is a form of local government created by the community to meet a specific need. Their important work is funded primarily through grants, service contracts, and private donations. The CSLRCD works in over 450,000 acres along the coast from Morro Bay to Osos Flaco. To learn more, visit www.coastalrcd.org
---
References
Albert, Marc E. "Portrait of an Invader II: The Ecology and Management of Carpobrotus edulis." Cal-IPC. 1995. https://www.cal-ipc.org/docs/resources/news/pdf/CalEPPCNews_Spring95.pdf.  
Dale, Don. "Eliminating Iceplant." Beach Bluffs Restoration Project- A Good Plant Turns Invasive. April 2007. https://urbanwildlands.org/bbrp.html. 
Jensen, Lisa. "Taking Back the Beach Ocean Guardian Students Battle Invasive Species." National Marine Sanctuaries. Accessed August 15, 2022. https://sanctuaries.noaa.gov/news/feb15/invasive-species.html. 
Maun, M Anwar. "Burial by Sand." OUP Academic. Oxford University Press. March 5, 2009. https://academic.oup.com/book/40639/chapter-abstract/348300917?redirectedFrom=fulltext.  
Movich, Felice C. "Robert F. Hoover Herbarium, Cal Poly State University -Carpobrotus Chilensis." Herbarium. San Luis Obispo. Accessed August 15, 2022. https://www.cch2.org/portal/collections/individual/index.php?occid=194492&clid=0.  
U.S. National Park Service. "Blainville's Horned Lizard." U.S. Department of the Interior. Last modified August 12, 2022. Accessed August 15, 2022. https://www.nps.gov/samo/learn/nature/hornedlizard.htm. 
---
Help us protect and restore the Morro Bay estuary! 
Thank you for helping our beautiful, bountiful, biodiverse bay!