This blog is the second part of a series on recent invasive ice plant efforts written by the Coastal San Luis Resource Conservation District.
How to make a Dune
The Morro Dunes Natural Preserve is located within Montaña de Oro State Park. These coastal dunes are part of the larger Los Osos Coastal Dune Complex. Dunes develop due to prevailing onshore winds paired with a consistent supply of sand. Such factors are fundamental in molding the size and shape of the dune system. When the wind carrying the sand encounters an obstacle such as driftwood, plants, or seaweed, the wind speed decreases and the sand gets deposited. Since the most common obstacle for the wind is vegetation, plants promote the deposition of sand and help build and stabilize a dune system.
Without vegetation, blowing sand will migrate inland. As sand accumulates, plants adapted to the sandy environment emerge, stabilizing the surface and promoting further dune formation. In the absence of stabilizing vegetation, blowing sand may drift into large "live" dunes that continually shift with the wind. A well-established dune system acts as a barrier against storm waves that can help protect infrastructure.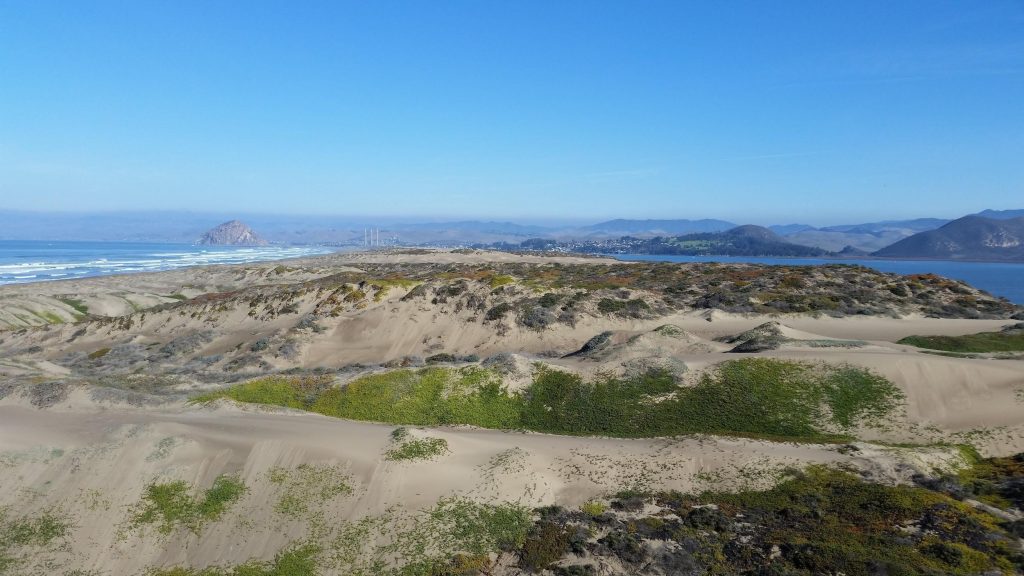 The status of Morro Dunes Natural Preserve
The Morro Dunes Natural Preserve was designated as a preserve in 1983, providing habitat for the endangered Morro shoulderband snail, Morro Bay kangaroo rat, and a variety of reptiles, birds, amphibians, and invertebrates. Significant plant communities include coastal sage scrub, dune scrub, and maritime chaparral. Rare plants found in the dunes include Morro manzanita, Crisp monardella, Blochman's leafy daisy, and Blochman's ragwort.
Ice plant (Carpobrotus spp.) is the most abundant and widespread invasive plant found at the Morro Dunes Natural Preserve. In the foredunes, ice plant can rapidly spread and cover bare sandy areas, reducing nesting habitat for the threatened western snowy plover (Charadrius alexandrinus).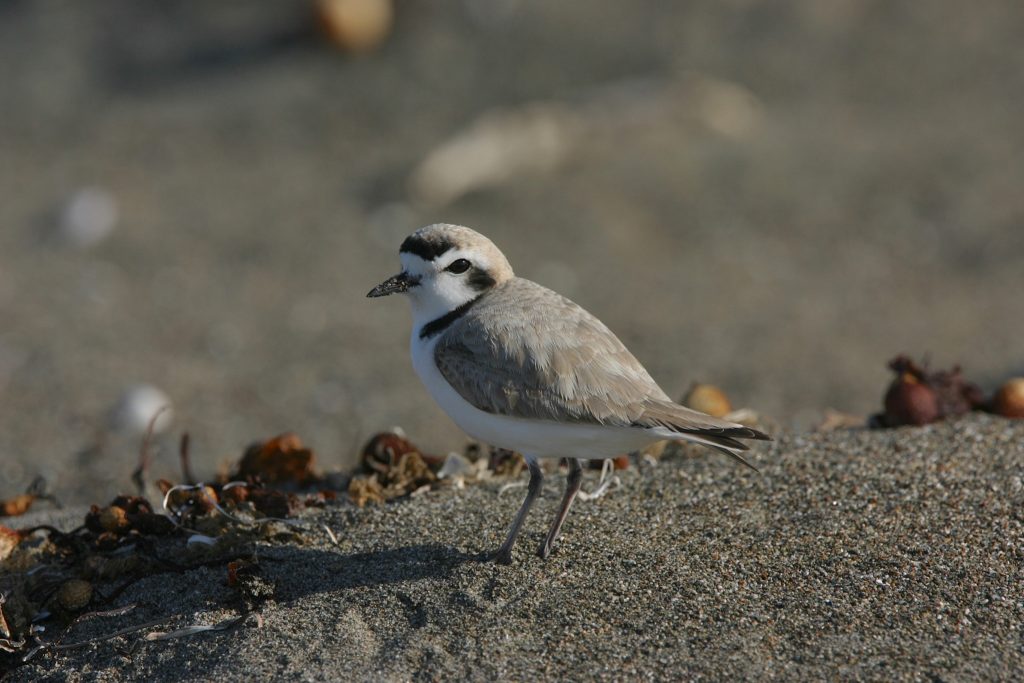 In the dune system, ice plant can displace the native dune scrub vegetation and stabilize the dunes, which interferes with the natural shifting topography of the dunes. The native flora and fauna are accustomed to the changing dunes and thrive in those conditions.
The path back
Multiple local partner agencies came together to restore the Morro Dunes Natural Preserve. The project goal was to completely eradicate ice plant from the preserve to allow the re-colonization of native plants. This shift in plant types allows for an expansion of open sandy areas between the high tide line and foredunes, thus expanding western snowy plover habitat.
The 700 acres of the preserve were subdivided into four treatment phases. Each phase took approximately one year to complete.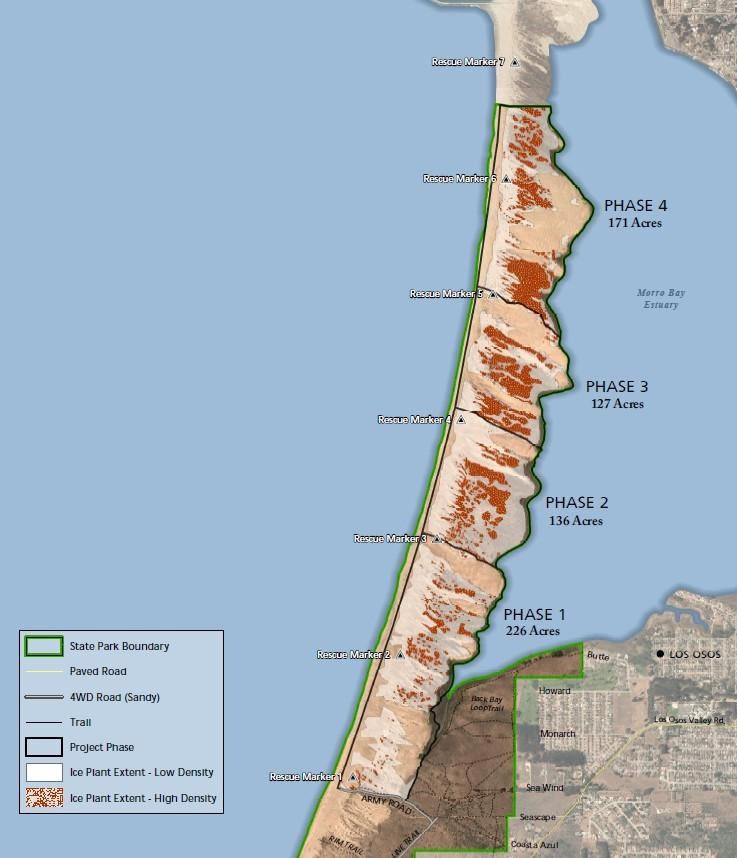 The targeted 140 acres of high-density ice plant were carefully treated by a qualified pest control contractor in addition to State Parks staff. After treatment, ice plant creates a thatch layer that is left to naturally decompose. The decomposition process generally occurs within three years and during this time, native plant species rapidly re-colonize the former ice plant patches, nearly covering the sites.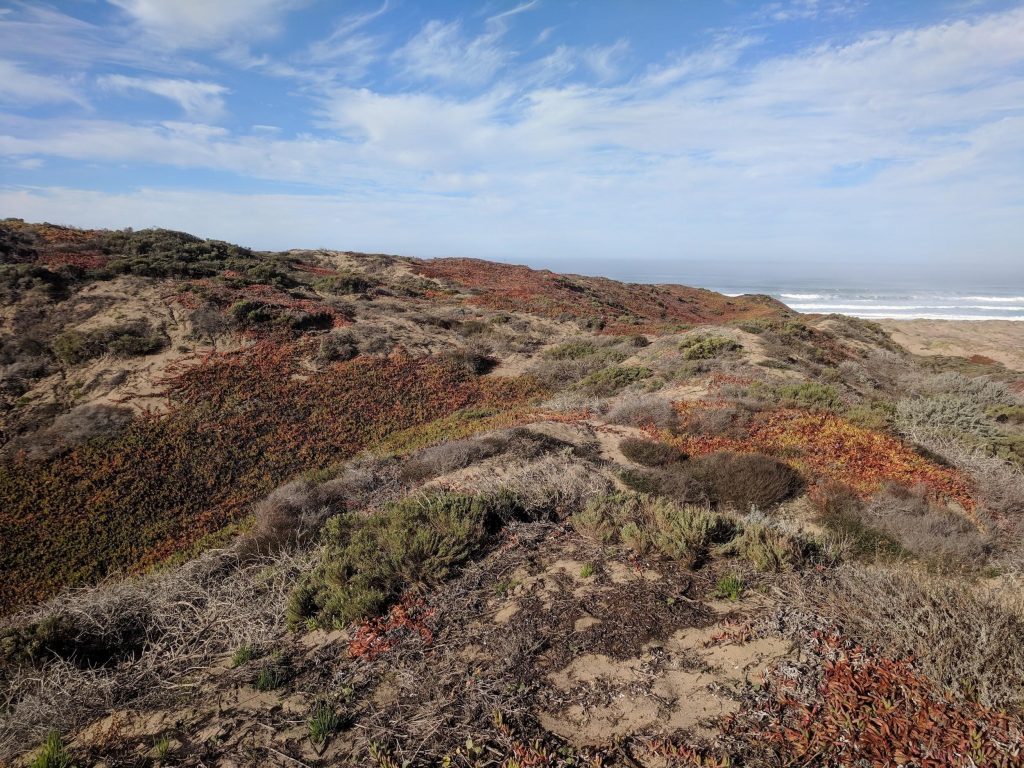 Ensuring success
Coastal San Luis Resource Conservation District staff lead the annual monitoring effort to determine the success of ice plant treatment and native species recruitment.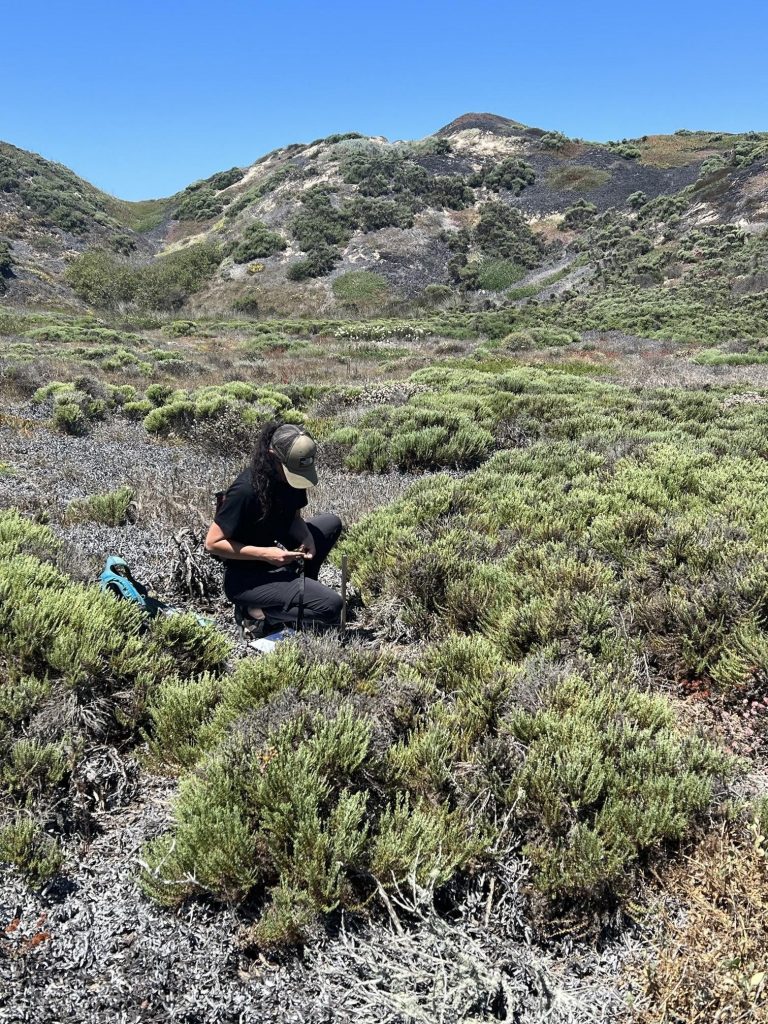 This successful project has reduced ice plant populations to a manageable level for State Parks staff to conduct follow-up treatment. The project has allowed native flora and fauna to re-establish and thrive. The Los Osos Coastal Dune Complex is a great example of what a dune complex naturally looks like and the refuge it can provide for sensitive species in times of climate change and sea level rise. Protecting and preserving this local gem is important not only for the plants and animals that live there but also for the public to be able to experience this exceptional part of the Central Coast in its more natural state.
---
References
Baird, Michael L. "Western Snowy Plover." NPS. U.S. Department of the Interior. Accessed August 22, 2022. https://www.nps.gov/places/western-snowy-plover.htm.
Broome, Stephen. "Restoration and Management of Coastal Dune Vegetation: NC State Extension Publications." Restoration and Management of Coastal Dune Vegetation | NC State Extension Publications. Accessed September 15, 2022. https://content.ces.ncsu.edu/restoration-and-management-of-coastal-dune-vegetation.
California Department of Fish and Wildlife. "Morro Dunes Ecological Reserve." Last modified May 10, 2022. https://wildlife.ca.gov/Lands/Places-to-Visit/Morro-Dunes-ER.
CNPS Vegetation Committee. "California Native Plant Society Relevé Protocol." California Native Plant Society. October 20, 2000. Last modified August 23, 2007. https://cnps.org/wp-content/uploads/2018/03/cnps_releve_protocol_20070823.pdf.
DiTomasso, J.M., G.B. Kyser et al. "Iceplant (Hottentot fig)." Weed Research and Information Center, University of California. https://wric.ucdavis.edu/information/natural%20areas/wr_C/Carpobrotus.pdf.
---
Help us protect and restore the Morro Bay estuary! 
Thank you for helping our beautiful, bountiful, biodiverse bay!