This post is by guest blogger Tatum Schneider of Cal Poly's Marine Sciences Program.
The Morro Bay estuary and the creeks that flow throughout our community are influenced by the people and animals that call this watershed their home. With two urban areas, a rich agricultural history, and some of the world's best bird and marine mammal viewing, it is in our best interest to protect this special place by managing the risk of illnesses from contaminated waters. 
I wrapped up my courses at Cuesta College last summer and began Cal Poly's Marine Sciences Program in the fall. One of my last courses at Cuesta College involved Morro Bay eelgrass research, which led to an opportunity to volunteer with the Estuary Program. Each month, I along with a handful of Cuesta College students monitor the bacteria present throughout the Morro Bay estuary and watershed. We monitor for Enterococcus and E. coli indicator bacteria, which tend to be detected when fecal contamination is present. 
In order to get an accurate estimate of the presence of these bacteria in our local waters, we take samples from sites around the estuary, as well as the creeks and tributaries that run off into the estuary. My role is to collect, process, and interpret the results from the bay shoreline sites. Fortunately, our results typically indicate low levels of bacteria in the bay.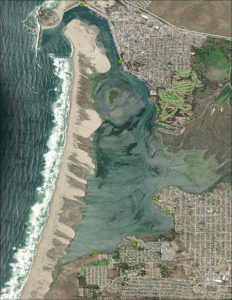 How We Monitor
Once a month during a high tide, we get the morning started bright and early to gather water samples. Adam covers the mouth and front portion of the bay, and I head deep into Los Osos and sample the back bay. Looking like marine "mad scientists" (because we are), we collect our samples using sterile techniques. Once we're finished with the collection work, we process the bay samples for Enterococcus at lab space at Cuesta College in a collaborative partnership developed with Drs. Laurie McConnico and Silvio Favoreto of Cuesta's Biology Department.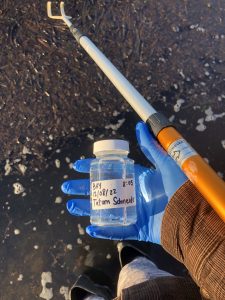 The sample processing begins with the dilution of each sample. We then add a growth media and mix thoroughly. The homogeneous sample is then transferred into trays made up of small and large wells. The tray is then sealed and incubated for 24 to 28 hours. After incubation, we read our results in a UV light cabinet, where any fluorescing wells indicate the presence of Enterococcus.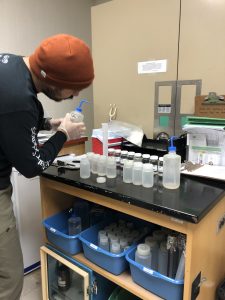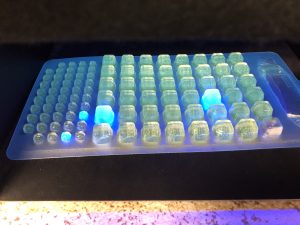 Results
As I mentioned at the beginning of the post, historic data reveals consistently low bacteria levels in the bay, yet frequently elevated levels in the creeks. Possible sources of bacteria can include wildlife, domestic animals, and contamination from faulty septic systems, sewage spills, or leaking boat waste holding tanks.  
It is important to mention that aside from our relatively favorable results indicating good water quality, especially in the bay, it is important to stay out of the water for 72 hours following a storm. During these times, the storm runoff picks up bacteria, oil, fertilizer, pet waste, and other contaminants on its journey to the sea. 
I believe that one of the most important things we can do as a community to protect our water quality is to pick up after ourselves and our pets. Regardless of your proximity to any body of water, most contaminants eventually end up on our coast.  
My Takeaways
I have learned a number of things during this volunteer work, not only the scientific aspects but also on a personal level. Being entrusted to work independently and being part of a team while ensuring data quality has been meaningful and something that I don't always have the chance to do. I have seen the most beautiful sunrises and enjoyed getting to know the ins and outs of Los Osos.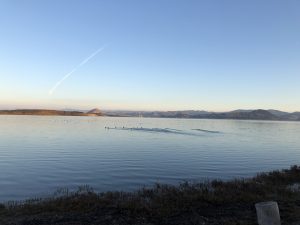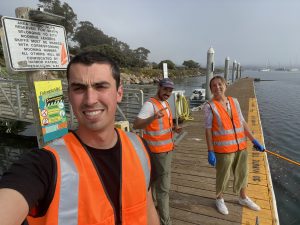 This picture was taken at our first monitoring training. Now, we have spent countless hours working together in the lab, and it has been a pleasure to learn from and be in the presence of such interesting people. 
Guest author Tatum Schneider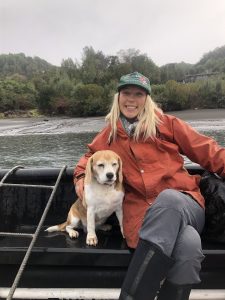 Tatum is a third-year student who recently transferred to Cal Poly where she studies Marine Science. Taking after her Marine Biologist dad, she found her passion while growing up on abalone farms in both southern and northern Chile. Tatum enjoys surfing, spending time with family, and playing with dogs. She is passionate about ocean conservation and is eager to expand her knowledge of marine biology. Tatum is grateful for the experience working with the Estuary Program and is excited to continue her studies on California coastal ecology. 
---
Help us protect and restore the Morro Bay estuary! 
Thank you for helping our beautiful, bountiful, biodiverse bay!