Spring is a busy time of year for our monitoring program as we kick off our annual bioassessment monitoring effort. During these surveys, our staff and volunteers collect creek health data from sites across the Morro Bay watershed. This dataset goes back 20 years and helps us assess changing conditions across the watershed. 
What is Bioassessment?
Bioassessment is a monitoring tool that we use to evaluate creek health. During these surveys, we gather nearly 1,500 measurements per survey to assess stream conditions. Each of these measurements is important to determine if the creek can support sensitive aquatic species.   
One critical aspect of bioassessment monitoring is the collection of benthic macroinvertebrates (or "BMIs"), which are bottom-dwelling insects that are visible to the naked eye. The types of BMIs found in a creek tell you something about the water quality. For example, some species are very sensitive to pollution, so their presence means water quality is likely good. Others are very tolerant of pollution, which could indicate poor water quality.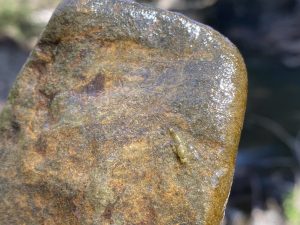 Before the season starts, staff venture out to bioassessment sites to assess the best timing for the surveys and determine whether conditions are safe for monitoring. If we wait too long to monitor, the BMIs may have emerged and flown away. If we monitor too early, flows may be dangerously high and BMIs may not yet have hatched into the larval stage, which is preferred life stage for sample collection.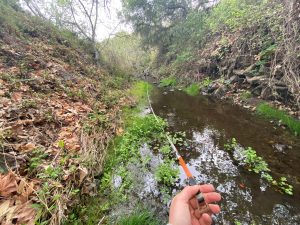 We will conduct surveys throughout May and June, and the results will be shared when they are available in the fall. For more information about bioassessment monitoring, you can check out some of our previous bioassessment blog posts.  
Collecting DNA
An exciting new addition to our 2023 bioassessment monitoring effort is the collection of environmental DNA, or eDNA. eDNA is genetic material that is shed by organisms into their surrounding environment. It can be present in the air, water, or sediment, and is released into the environment by shedding, fecal matter, decaying tissue, or mucus.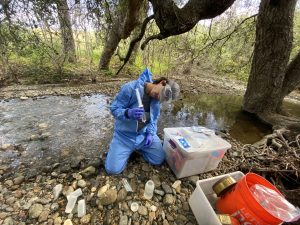 To collect eDNA from freshwater streams, we first filter water from the site through a specialized filter that captures the DNA. The filter is then preserved and sent to a lab for DNA extraction and analysis to identify the species present in the stream. This allows us to detect the presence of aquatic organisms, like fish or benthic macroinvertebrates, without physically capturing them. We are also particularly interested in comparing the eDNA results with our BMI results. This will help us better understand how these two approaches can be used together to assess biodiversity. 
Steering Clear of Field Hazards
Perhaps one of the most prevalent field hazards for bioassessment surveys is poison oak (Toxicodendron diversilobum). This plant contains an oil on its surface called urushiol oil that causes an itchy rash in about 85% of people. While some have more severe reactions than others, our field crews take additional poison oak precautions. These include head-to-toe protective gear in creeks at certain sites.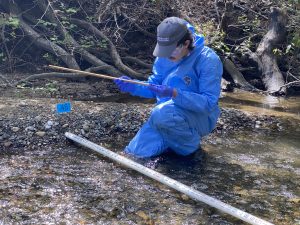 The Role of Poison Oak
Poison oak is a native species to our watershed and plays important roles in the ecosystem. For example, poison oak helps to stabilize sediment after large disturbances like wildfires or floods. This allows other species like the coast live oak (Quercus agrifolia)  to grow and reach maturity.  
Poison oak also acts as a food source for a variety of species. Black-tailed deer, rabbits, wood rats and several insect species enjoy the oily poison oak leaves. The plant also produces small berries, an important and reliable source of food for many resident and migratory bird species through the winter when other foods are scarce. 
Thank You, Harold J. Miossi Trust!
This work is made possible by the generous support of the Harold J. Miossi Charitable Trust. The Trust has supported our bioassessment program for a decade and has provided over $120,000 of funding since 2013. This long-running dataset has furthered our program's understanding of changing conditions and helped to prioritize conservation efforts.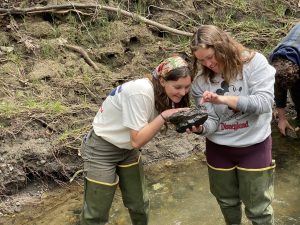 ---
Help us protect and restore the Morro Bay estuary! 
Thank you for helping our beautiful, bountiful, biodiverse bay!