This is a guest blog from One Cool Earth, a local environmental education nonprofit. 
One Cool Earth is a San Luis Obispo-based nonprofit that creates school garden programs that grow happy, healthy, and smart youth. With over 25 gardens from San Miguel to Guadalupe, the organization aims to increase environmental literacy across the Central Coast. By developing culturally-relevant and engaging lessons, students begin to understand the importance of their actions and can take steps to spread awareness to their peers and communities.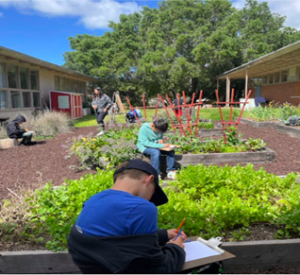 Our Story
One Cool Earth was founded in 2001 by Lionel Johnston, with simple roots as a coalition of volunteers who planted native trees and plants around SLO County. For nearly a decade, the program continued planting over a thousand native trees each year and working with thousands of local volunteers.  
Since 2010, we have created and expanded our Garden Education Program to over 20 public schools across the county. The stars of the program are our Garden Educators, who maintain beautiful school gardens and teach lessons in them weekly. 
We partner with public schools to build a garden from the ground up or revamp an existing garden on campus. We provide either weekly or twice-weekly programming for schools. Other enriching add-ons include garden lunch club, a virtual family cooking night, additional garden workdays. Other options include a seasonal farm stand, a school-wide waste audit, a garden gathering for teachers and staff, and in-person or virtual field trips.
Our Program
The curriculum is designed to support Next Generation Science Standards (NGSS). It is centered around three themes: Zero Waste, Water Wise, and Food Forest. One Cool Earth's Garden Educators lead hands-on environmental lessons, nutrition lessons, and nature connection activities, all while meeting high academic standards. Some examples of these lessons are Garbology where students experiment with what types of materials can and cannot be decomposed naturally. Living in Our Watershed teaches students about watershed stewardship and how water and pollution run off/infiltrate landscapes. And the Eat a Rainbow program introduces students to the various nutrients that make up our foods and how healthy soil grows healthy foods.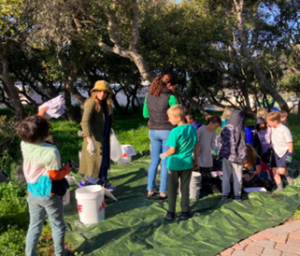 Watershed Week
Our Water Wise lessons emphasize the importance of water for food production. They also encourage water conservation and watershed stewardship, and culminate in a Water Audit. This year, we will be partnering with the Morro Bay National Estuary Program to create a Watershed Week. This program will further enrich these lessons and introduce students to these concepts in relation to where they live. Our Watershed Week Challenge will prompt students to quantify their water use at home. They will predict the amount used in a 24-hour period in order to explore reduction strategies applicable at home and at school. Challenges will be provided that will educate students and their families about coastal watershed stewardship and the flow of water from nature to our homes.  
Waste Week
Zero Waste Week occurs yearly in conjunction with a school-wide Waste Audit. During this time, students dive deeper into sustainability by participating in hands-on activities, such as waste sorting and vermicomposting. Trained student leaders known as "Green Teams" direct their peers to sort waste properly during lunch and compost food waste in their garden. Zero Waste Challenges are distributed for students to take home and focus on reducing marine debris waste and reusing materials for other purposes. Many of the events are based on One Cool Earth's Marine Debris Prevention Manual. This manual is a result of our partnership with NOAA's Marine Debris Program to reduce debris on the Central Coast and promote better habits among students and their families.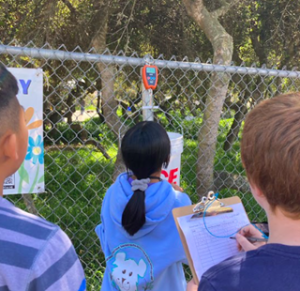 Our Legacy
We hope to expand our program to more schools across the Central Coast through the development of new Early Childhood Education and 6-12 Grade lessons. All of our teaching materials are available for free on our website or YouTube in both English and Spanish, and program updates can be found on our Facebook, Instagram, or through our monthly e-newsletter signup on our website. 
---
Help us protect and restore the Morro Bay estuary!