This is a guest blog written by the Outdoor Education Director, Channing Kaiser, at Camp Ocean Pines in Cambria, CA. 
When people think of environmental education, they often think of kids doing hands-on science—students performing water quality tests in local estuaries, measuring the circumference of redwoods, or even learning about serotinous pine cones by placing them over a fire and watching the scales pop. These are all great examples of environmental education, but the field encompasses much more than that. The North American Association for Environmental Education (NAAEE) delineates nine principles for environmental education, including a sense of place, interdisciplinary programs, lifelong learning, and equity and inclusion.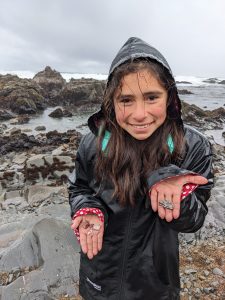 As the outdoor education director for Camp Ocean Pines—a camp facility located in Cambria that hosts everything from summer camp to visiting schools to even the occasional wedding—I think a lot about what our education program looks like, how it functions, and whom it serves. Although my job is limited to one department, our bedrock ethos of education spans all programs here at Camp and aligns closely with NAAEE's principles. 
Sense of Place
Our location is arguably the biggest draw to our facility. With a dining hall overlooking the Pacific Ocean and a copse of Monterey pine trees delicately shading our buildings, our surrounding nature is one of the Central Coast's many gems. People come from across the country, sometimes even the world, to enjoy our facility. 
Nature enriches everyone in different ways. For some, the coastal breeze and morning marine layer are a respite and a source of relaxation, and for others, the ensatinas hidden beneath logs and the edible buds of sourgrass are an invitation to get dirty and explore. Regardless of their motivation, we hope that every visitor has a positive experience in nature. As place-based educator David Sobel wrote, "…let us allow [people] to love the earth before we ask them to save it."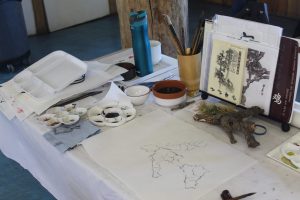 Interdisciplinary Programming
One of our core beliefs is that education functions best when all the disciplines are intertwined. We host adult workshops and retreats throughout the year, and many of those have an artistic focus. From mosaics to nature journaling to our week-long sculptors' symposium, participants make art in and about nature.  
We're very lucky that some of that art is donated to camp. A brush-painted owl—similar to Earl, our resident great horned owl—hangs in the dining hall bathroom, and the stadium seating in our amphitheater is ribboned with rainbow mosaics, a reference to the Rainbow Bridge Chumash story that we pay homage to as Camp resides on Chumash and Salinan land.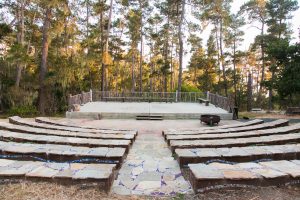 Our emphasis on interdisciplinary education is a unique facet of our outdoor education program. By interlacing science, humanities, and art, we aim to make learning accessible to all students by providing diverse methods of engagement. For example, a student can learn what an adaptation is by holding a snake, playing camouflage in the woods, or creating their own hybrid animal with art supplies (speaking of, has anyone seen a horsehawk wandering around? If so, please return to Camp).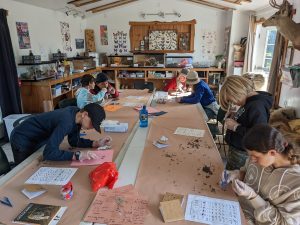 Lifelong Learning
You're never too old to be a student, and you're never too young to be a teacher. At Camp Ocean Pines, we're big advocates for educational reciprocity and empowering students of all ages and backgrounds. Our age range is anywhere from newborns attending family camp all the way to our senior artists and naturalists who are sometimes in their 80s or older. Nature is for everyone, and we believe that there is always something new to take away from a visit to Camp, whether it's a skill, a friendship, or a magical nature experience.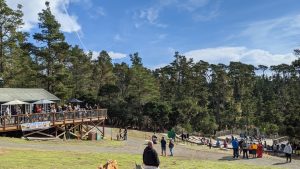 Equity & Inclusion
We serve a broad range of participants, both in age and demographics, and we try to make each person's experience as impactful as possible. Our programs for students from the San Joaquin Valley, some of whom are seeing the ocean for the very first time, look different from our programs for Central Coast students, who have regular ocean access and education. All of our programs—summer camp, family camp, outdoor education, and workshops—offer scholarships to help limit financial barriers, and all of our programming can be modified to meet the diverse and unique needs of participants. Everyone deserves a place to learn and grow in the outdoors, and we strive to provide that here at Camp Ocean Pines.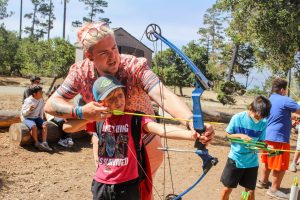 Environmental education is a diverse and growing field, and we are honored to be part of the Central Coast environmental education community. We're fortunate to live in an ecologically rich and beautiful place, and we hope that by sharing the wonders of nature with others, we can create new generations of environmental stewards and foster the environmental appreciation and advocacy that is already alive within some. 
If you're interested in learning more about our facility or getting involved, please visit www.campoceanpines.org, reach out to me at channing@campoceanpines.org, or call ahead to arrange a visit to our campus.