This is a guest blog written by Corpsmembers from the Watershed Stewards Program (WSP). These Corpsmembers served with the SLO Steelhead Initiative (SLOSI) WSP site from October 2022 to August 2023. This blog details how the Corpsmembers provided support to the Estuary Program during their term of service. 
The Watershed Stewards Program (WSP) is a special program of the California Conservation Corps (CCC) that partners with AmeriCorps and California Volunteers. WSP is dedicated to building capacity within organizations that focus on watershed ecology, like the Estuary Program. If you're interested to learn more about WSP, you can check out this blog.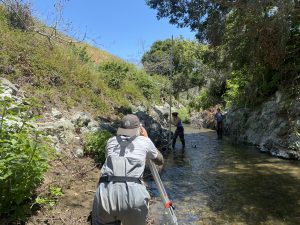 San Luis Obispo Steelhead Initiative (SLOSI)
The Estuary Program has provided support for WSP Corpsmembers for nearly thirteen years. This would not be possible without the support of a local partnership called the "San Luis Obispo Steelhead Initiative" or SLOSI. SLOSI is a coalition of local organizations that pool resources to support populations of the threatened South-Central Coast California Steelhead (Oncorhynchus mykiss). The SLOSI partnership includes the California Conservation Corps, Creek Lands Conservation, the City of San Luis Obispo, and the Estuary Program.   
Eelgrass Monitoring in Morro Bay
Eelgrass beds like those in Morro Bay contribute to a rich and productive ecosystem. About a decade ago, this flowering plant (Zostera marina) began experiencing steep declines in the bay, and the Estuary Program along with many partners began monitoring, research, and restoration efforts. Although eelgrass acreage is now back to pre-decline levels, there is still much to learn about the health of eelgrass in our bay. 
WSP Corpmembers joined Estuary Program staff in the fall and spring to monitor eelgrass throughout the bay. Corpsmembers experienced the beauty of Morro Bay from atop paddle boards at sunset and sunrise, saw incredible bird diversity, and got up close to the marine life of the eelgrass beds.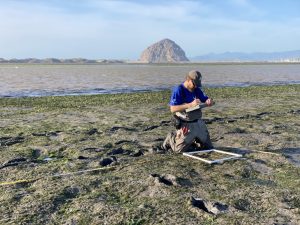 Water Quality Monitoring
Healthy streams depend on both water quality and quantity. Both WSP Corpsmembers gained new skills in water quality and stream flow monitoring during their term of service. This data contributes to a long-running water quality dataset that provides insight into creek health and how it is changing over time. Whenever this work shows up on the WSP Corpsmembers' calendars, they 'go with the flow' enthusiastically.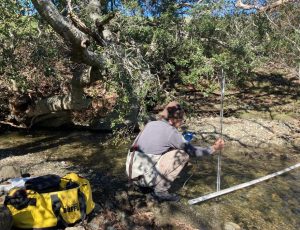 Bioassessment Monitoring in the Watershed
The WSP Corpsmembers also participated in bioassessment monitoring this spring. This effort uses a standardized protocol to evaluate stream health based on measurements of factors like creek conditions, surrounding vegetation, nearby land use, and the diversity of benthic macroinvertebrates. Wading through the creeks of the Morro Bay watershed and collecting bugs in a net has made for very interesting days and some unforgettable wildlife encounters.  
Reflecting on a Year of Service
It has been a true joy to travel throughout the most biodiverse areas of the Morro Bay watershed to help collect data, and these memories will continue to inspire the SLOSI Corpsmembers for the rest of their lives. 
As the Corpsmembers' term with SLOSI wrapped up in August, one member commented, "I can't believe I am able to find myself here for work. Exploring these places was my passion as a child, and I've only dreamed that it could align with employment." 
To learn more or see how you could become a Corpsmember, visit the Watershed Stewards Program website. 
---
Help us protect and restore the Morro Bay estuary!