A quick introduction…
Hi everyone! My name is Bret, and I am the new Monitoring Projects Manager for the Estuary Program. I'm a recent transplant from the Midwest, but the West Coast has been calling to me for quite some time. As I get settled here in Morro Bay, I look forward to learning more about our estuary as well as how to be a steward of our watershed.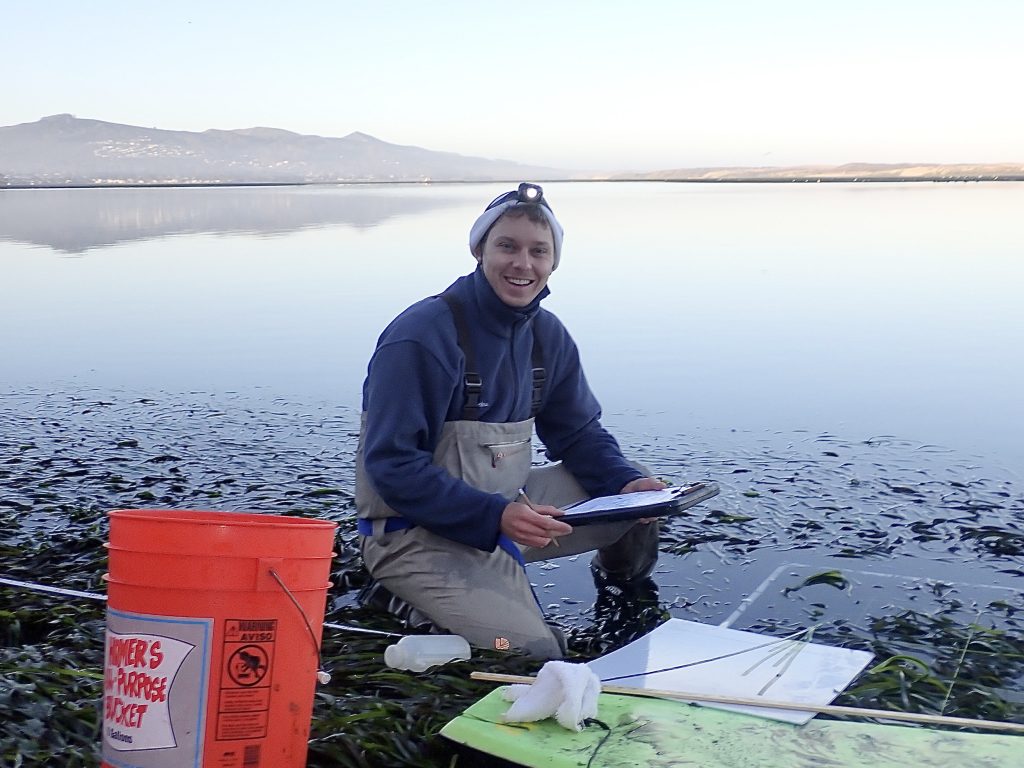 I arrived in Morro Bay at the beginning of April, just in time for bioassessment (you can read more about bioassessment in our April Field Updates blog post). I really hit the ground running! Lucky for me, the Estuary Program team is incredibly supportive and promptly got me up to speed.
When I first arrived, I kept hearing about eelgrass. I quickly learned that eelgrass (Zostera marina) is an instrumental part of this ecosystem for several reasons, including its role in stabilizing the bay bottom, putting oxygen into the water, and providing refuge for various critters.
A day of eelgrass monitoring
My alarm went off at 4:00 a.m. The moon and stars were still out when I arrived at Windy Cove at 5:00 a.m. Things were not as quiet or still as you might expect. Some double-crested cormorants grunted in the nearby rookery, while others flew back and forth looking for branches to build their nests. I put on my waders and turned on my head lamp. The tide was at its lowest point, and the entire eelgrass bed was exposed. We were now racing against the returning tide, trying to complete our monitoring before the eelgrass became submerged once again.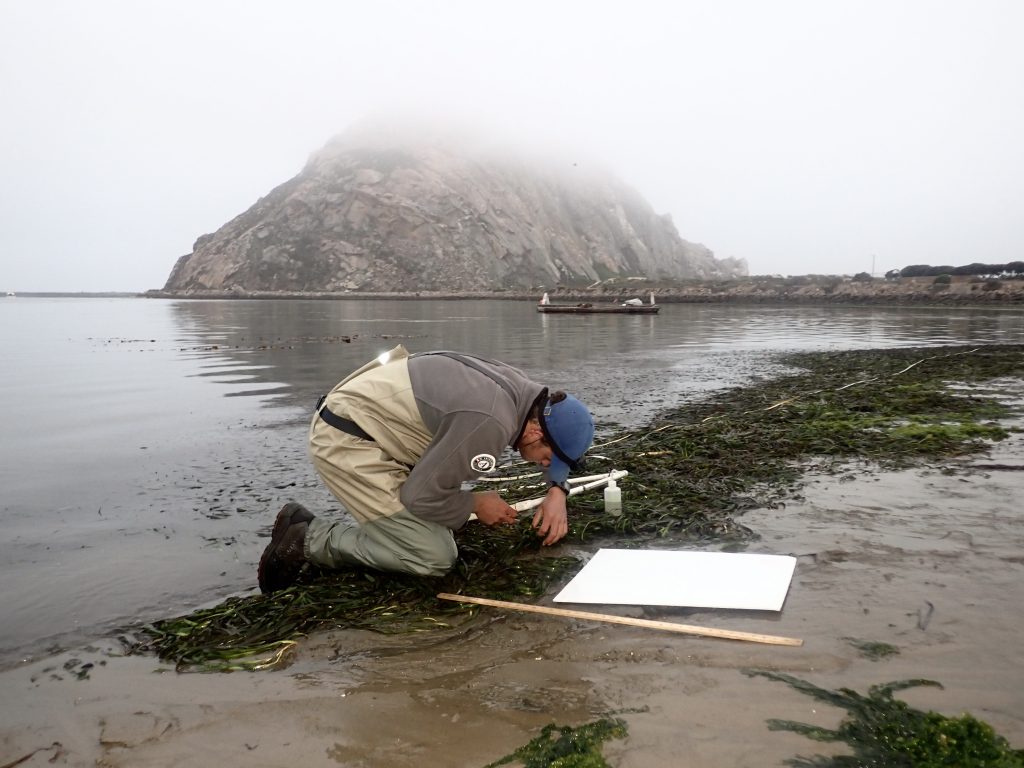 During the low tide windows of April and May, we visited four of the most significant beds throughout Morro Bay to track their overall health. Once at the site, we laid out a 150-meter measuring tape. A one-by-one meter quadrat was placed in the eelgrass at seven locations along the 150 meters. We collected various measurements from within the quadrat, including data on plant density, blade condition, and the presence or absence of algae. By tracking this data, we get a sense of how the health of Morro Bay's eelgrass is changing over time.
The eelgrass beds are full of life
One of the highlights of this monitoring activity is discovering what wildlife lives in the eelgrass beds. One of our regular monitoring sites is located on the sandspit across from Tidelands Park. This site is less impacted by the presence of people than other sites, and we saw that fact reflected in the abundance of wildlife. Black-crowned night herons gathered in one area as we began our eelgrass transects. While digging through the shallow water and mud, I stumbled upon several eelgrass isopods, and even a juvenile California halibut.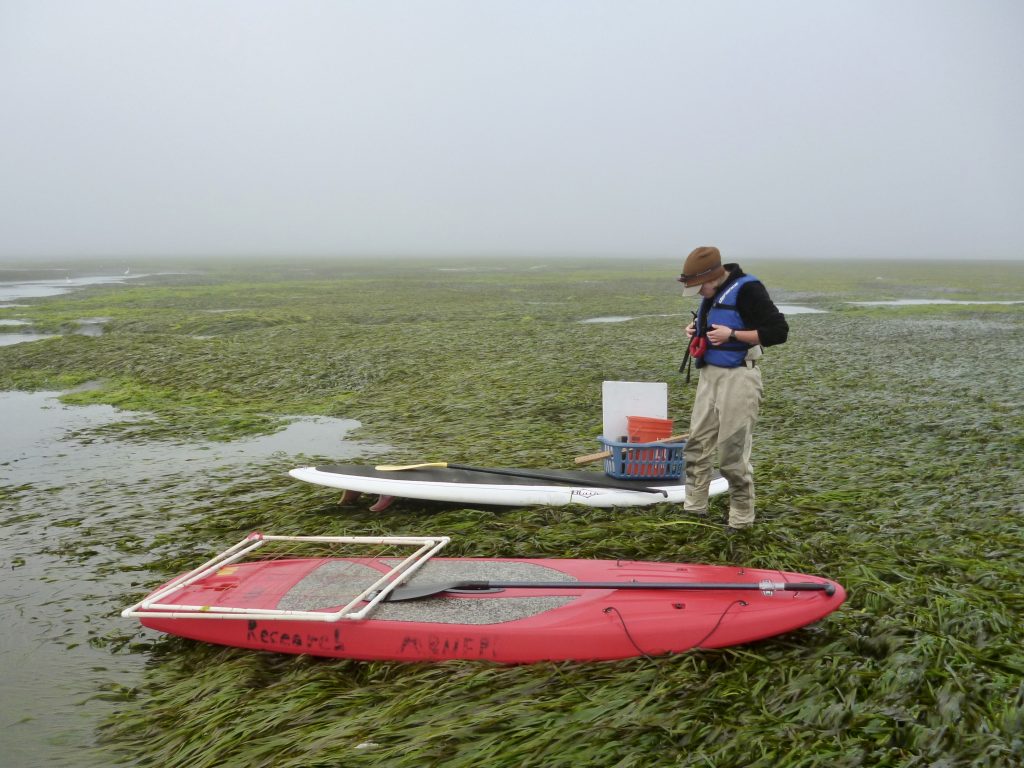 One of the most exciting finds for me was a California sea hare. This unique creature, aptly named for the two ear-like protrusions on its head, is a type of sea slug found in the intertidal zone on the California coast.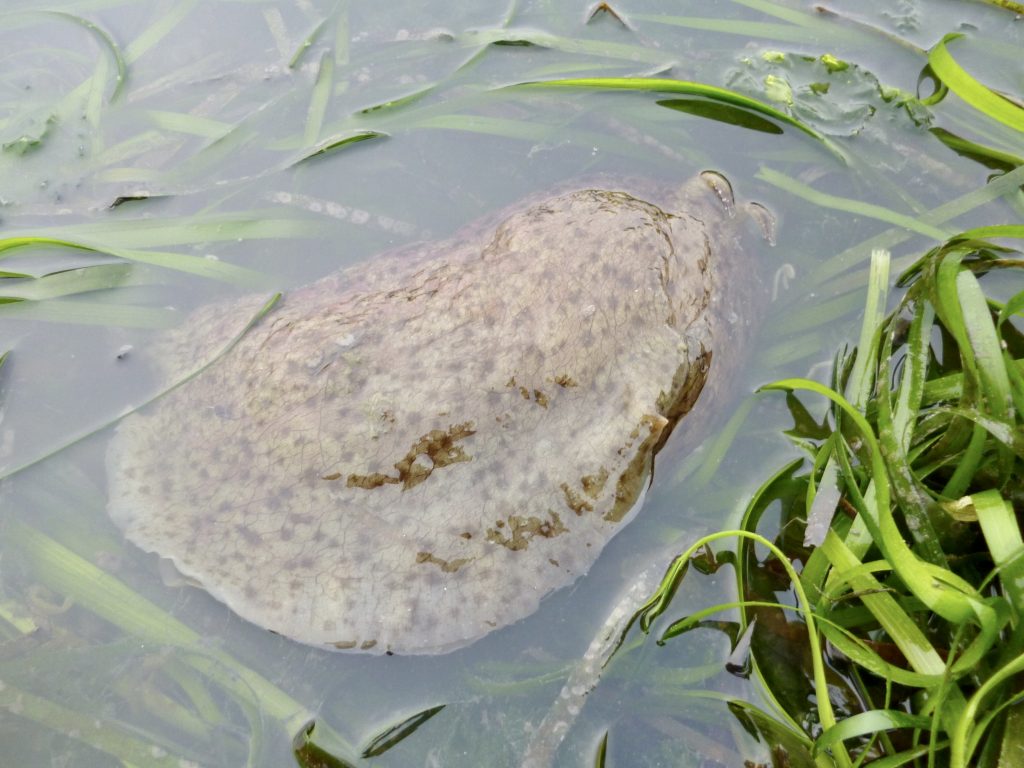 Despite the early mornings and chilled hands, I enjoyed getting to know the eelgrass of Morro Bay and its inhabitants, and I look forward to more monitoring adventures out on the bay.
---
Help protect and restore the Morro Bay estuary
Donate to the Estuary Program and support our work in the field, the lab, and beyond.
The Estuary Program is a 501(c)3 nonprofit. We depend on funding from grants and generous donors to continue our work.
Support us by purchasing estuary-themed gear from ESTERO. This locally owned and operated company donates 20% of proceeds from its Estuary clothing line and 100% of Estuary decal proceeds to the Estuary Program. Thank you, ESTERO! You can find ESTERO hoodies, shirts, hats, decals, and more online at esterosurf.com or at

Joe's Surfboard Shop in Morro Bay

.
Purchase items from the the Estuary Program's store on Zazzle. Zazzle prints and ships your items, and the Estuary Program receives 10% of the proceeds. Choose from mugs, hats, t-shirts, and even fanny packs (they're back!) with our fun Estuary Octopus design or our Mutts for the Bay logo.
Thank you for your support!