Open spaces and hiking trails to explore rank high on our list of things we're grateful for at the Morro Bay National Estuary Program. The land that surrounds the estuary is contoured by hills and valleys, studded with trees, and etched by creeks that take their time winding down to the salt marsh and entering bay. In short, it is a beautiful place that offers many opportunities for casual strolls and more strenuous treks.
Whether you're planning a much-needed walk after a festive family dinner, or looking for something fun to do on your day off, we have suggestions for places you can get outside.
Monarch Grove Trail Los Osos
Short, kid- and dog-friendly stroll with the chance to spot Monarch butterflies
The Monarch Grove trail is about one mile long and relatively flat, making it a great spot to hike for families with small kids or dogs.
A video of the monarch grove in Los Osos. Video by HikeSLO via Youtube.
It's a nice walk throughout the year, but it comes alive in late October when the monarch butterflies return. Look up quickly, and you might see what looks like a lot of  leaves fluttering on branches in the breeze. Look closely, and you'll see that those leaves are actually the undersides of hundreds of butterfly wings.
You could even participate in the Western Monarch Thanksgiving Count to help scientists track monarch populations and migration while you walk.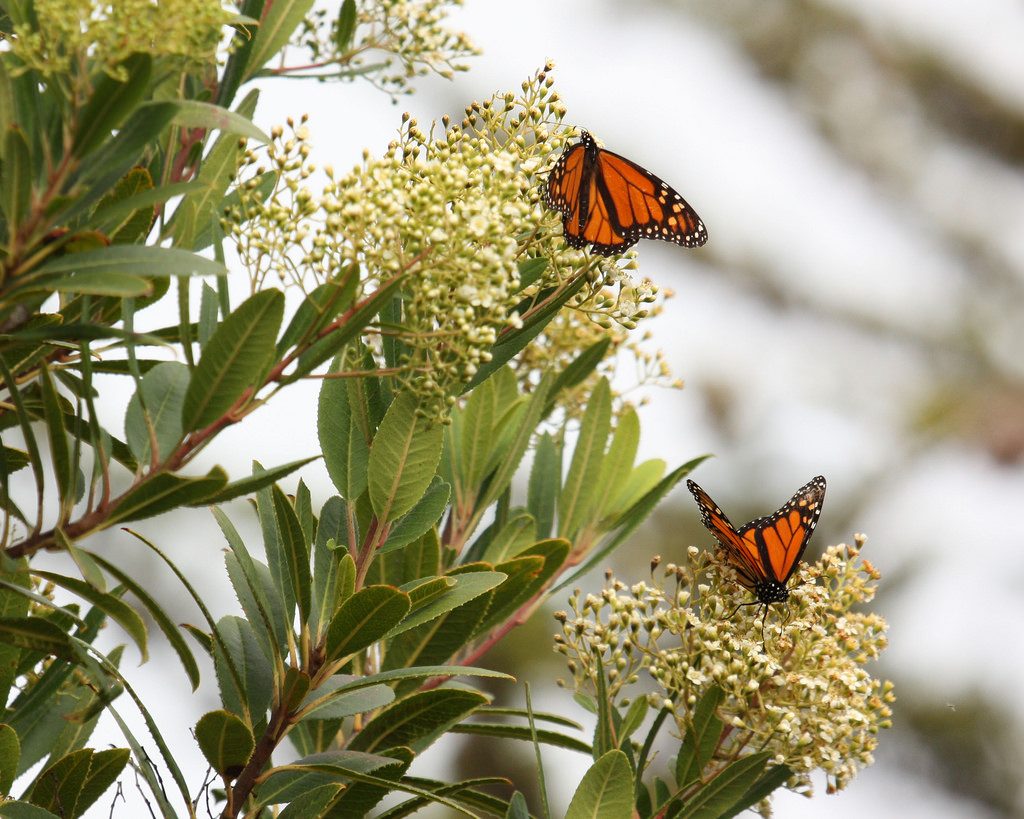 Montaña de Oro to the Morro Bay Sandspit
Choose-your-length beach and dune hike
Hiking the Morro Bay sandspit can be an all-day nine-mile affair or a quick jaunt amidst the dunes. This out-and-back hike begins in Montaña de Oro at Sandspit Beach. From there, you can park your car and hike as far as you like.
The minute you head down the hill to the beach between the tall dunes you'll get a whole new perspective. Make sure to check out both the estuary side of the sandspit and the ocean side. Keep an eye out for osprey circling, pelicans diving, and  shorebirds searching for food beneath the sand.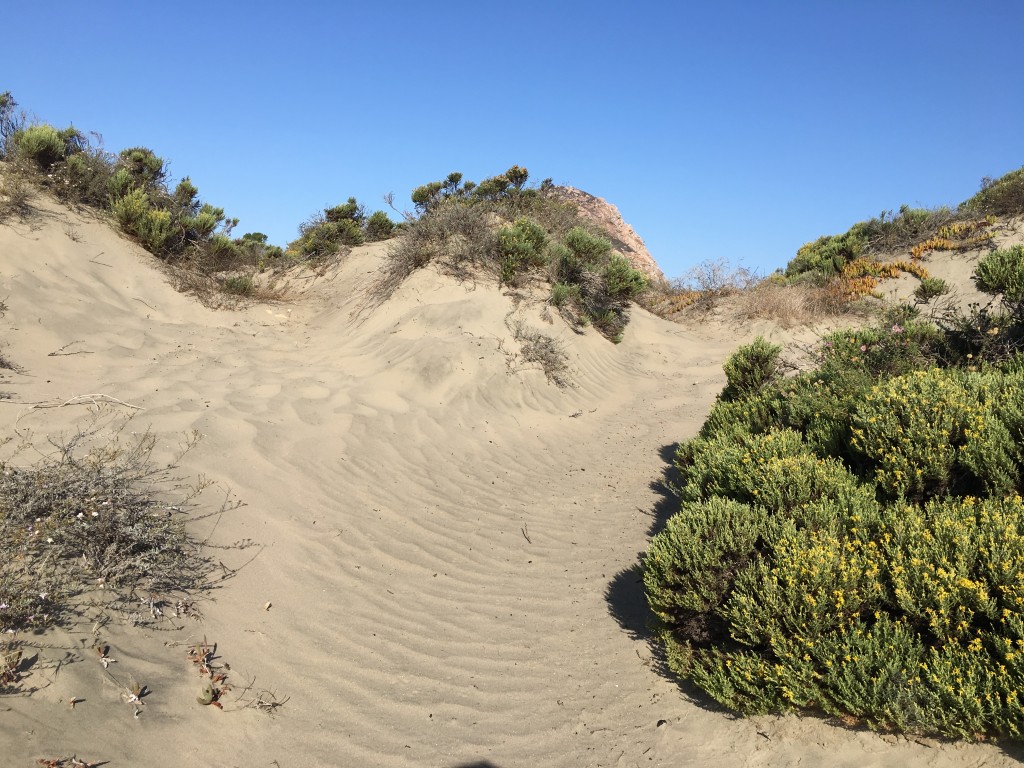 You'll also find beautiful shells, rocks, and even bones of birds and other wildlife. Take as many photographs as you like, but please leave all of these natural treasures in place.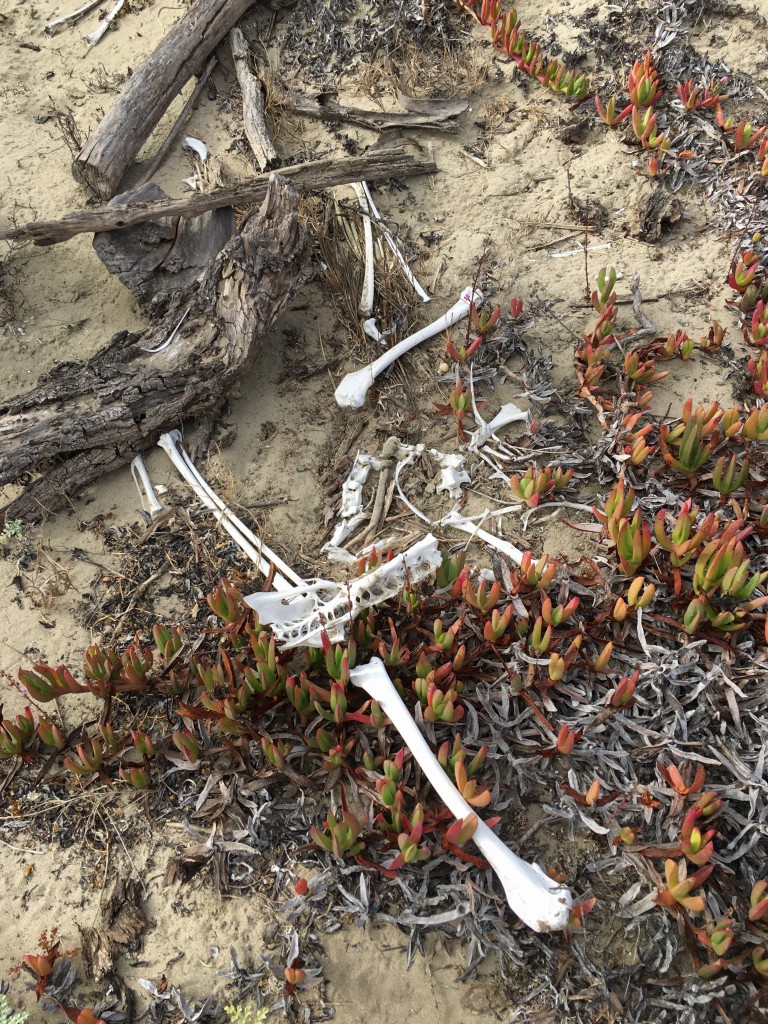 Consider photographing any animals and plants you see and adding them to the Morro Bay National Estuary Program's Biodiversity project on iNaturalist.
Elfin Forest
Accessible boardwalk trail with stunning views and hidden groves
This one-mile boardwalk trail takes you through a pygmy oak forest and a variety of other native habitat types. Kids and adults will feel the magic of the Rose Bowker Grove, which offers two benches where you can rest beneath the bows of the pygmy oaks. You'll also find two viewpoints that overlook the estuary.


Friends of El Morro Elfin Forest (FEMEF, formerly Small Wilderness Areas Preservation or SWAP) maintains the forest, and offers some docent–led walks and talks on the third Saturday of each month. You can see what's coming up next, or to find driving directions, visit SWAP's El Moro Elfin Forest website.
Los Osos Oaks State Natural Reserve—Multiple Trails
Great trails for a leisurely walk spent admiring large live oak trees.
While the Los Osos Oaks State Natural Reserve features many native plants including large live oaks, much of the underbrush is poison oak. To protect yourself, it's best to wear long pants and closed toed shoes, and make sure to stay on the trail when you visit.
Follow these directions to the reserve and park in the lot off Los Osos Valley Road. Then, choose any of the three looping trails to take you through this beautiful natural reserve managed by California State Parks. You'll find options ranging from .75 miles to 1.5 miles, and all are relatively flat. When the rainy season starts, you might even get to see Los Osos Creek flowing down below!
Check out this page from Hikes Peak for more specifics on the trails and directions.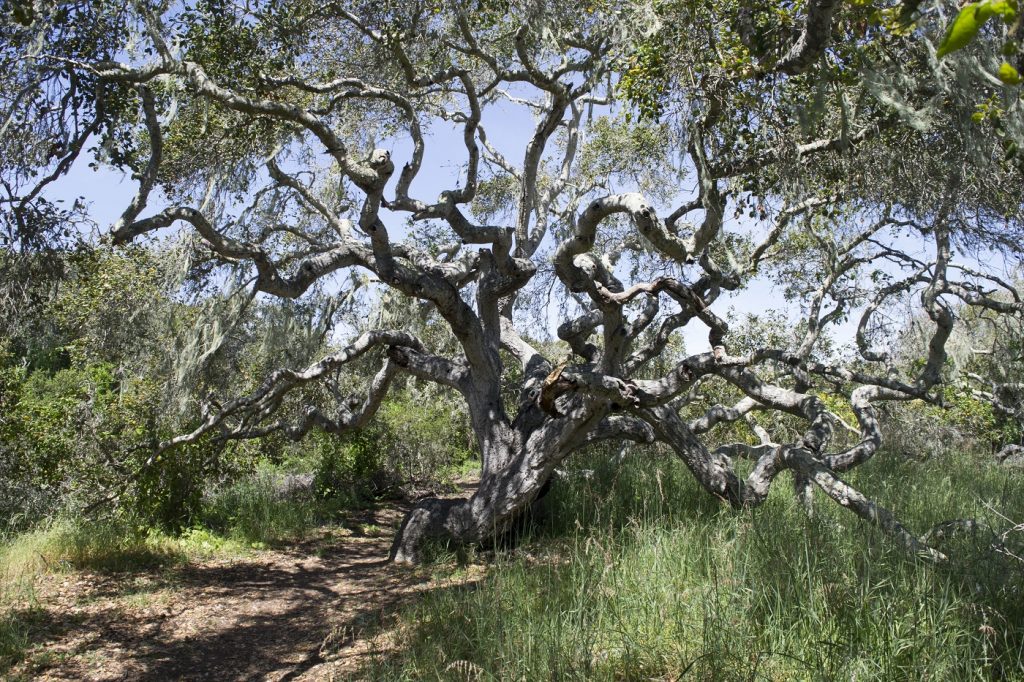 Broderson Peak Lookout Trail in Morro Dunes Ecological Reserve
This dog-friendly, neighborhood peak hike will get your heart pumping.
This 2.6 mile lollipop-loop starts at the end of Broderson Avenue in Los Osos. It brings you up over ancient sand dunes covered in sage and other vegetation, and ends at an overlook where you can catch your breath along with a panoramic view. On a clear day, you'll see Morro Bay and Morro Rock, the Elfin Forest, and Montaña de Oro's Hazard and Valencia Peaks.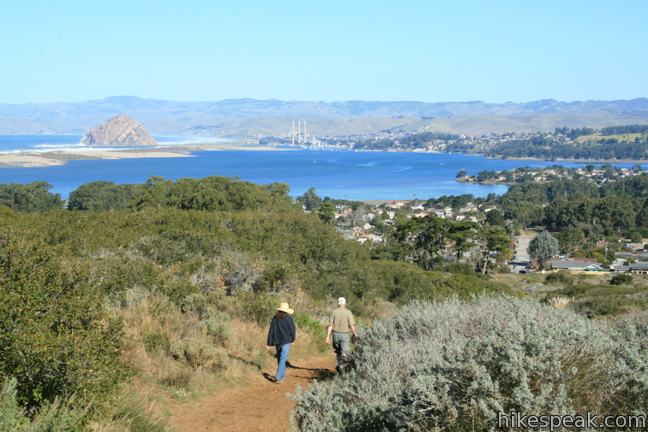 Dogs are welcome on this trail, so please make sure to bring your dog waste bags to pick up after your pet. If you happen to forget your bag, grab one from the dispenser at the head of the trail. (This dispenser is sponsored by the County of San Luis Obispo and stocked by Estuary Program Mutts for the Bay volunteers.)
---
Help us protect and restore the Morro Bay estuary!
Thank you for your support!