Header photo courtesy of Erin Moses-Wierman. 
This spring, California has seen an explosion of wildflower growth as a result of record-breaking winter rains throughout the state. This phenomenon is commonly known as a super bloom and only occurs under the right conditions. While it can be tempting to get up close and personal with the flowers, it's important to enjoy the bloom responsibly.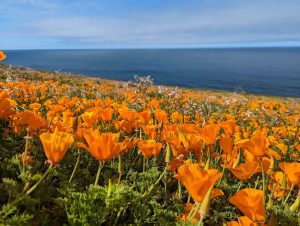 What is a Super Bloom?
A super bloom refers to an unusually high number of flowers blooming at once. While California is known for its beautiful annual wildflowers, a true "super" bloom is rare and requires just the right mix of weather and climate conditions. Super blooms are most likely to happen when there is a long drought followed by intense rain, along with other factors such as optimal air temperature and cloud cover. The last super bloom in California was in 2019. Some blooms can be so vast and drastic in comparison to the landscape that they are even visible from space!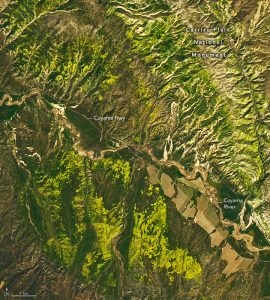 California Wildflower Season
The California wildflower season begins in the spring in Southern California, then moves north through the summer. This year, wildflowers started blooming near San Diego as early as February, and they are expected to be visible in the Sierras through June or July as the snow melts and temperatures rise.  
Super blooms are a beautiful and beloved phenomenon in California, but they are threatened by climate change. Longer droughts, changing weather patterns, and more intense storms can all create unfavorable conditions for native wildflowers.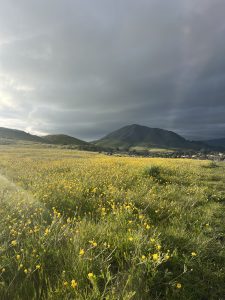 Responsible Wildflower Viewing
The beauty and rarity of a super bloom attracts people from all over the globe. Irresponsible viewing behaviors can harm habitats and lead to the closure of wildflower viewing areas. If you visit a super bloom, respect the Leave No Trace principles. Only walk on official marked trails, and avoid stepping on or driving over wildflowers. Know the regulations of an area before you visit; for example, picking or trampling wildflowers is not allowed on State Parks property. Removing or destroying flowers negatively impacts the ecosystem by reducing food and habitat for wildlife. For more information on respectful wildflower viewing, visit this page from California State Parks.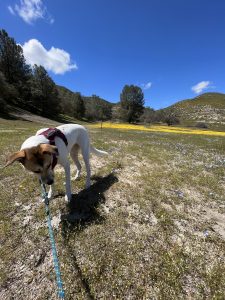 If you bring your dog along to see the super bloom, make sure to pick up after them! Pet waste takes longer to break down than wild animal waste and contains bacteria that can negatively impact local wildlife. 
For your own personal safety, make sure you are adequately prepared before you visit a super bloom site. Many bloom areas are remote and lack cell service or amenities like gas stations. Before you leave, check the weather and prepare for unexpected events such as rain or wind, or resulting road closures. 
Where to Find Wildflowers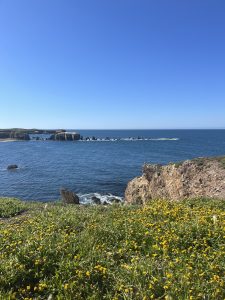 Flowers are expected to be blooming throughout California from now until July. Many State, National, and municipal parks have super bloom information on their social media pages or websites. You can also call the Theodore Payne Foundation Wildflower Hotline at 818-768-1802 ext 7 to hear the most up-to-date reports. This hotline releases new reports every Friday from March until May, and highlights blooms in Southern and Central California. If you prefer to stay local, there are plenty of places to see wildflowers in the San Luis Obispo area. To find out more, check out this post from SLOcal.org.
---
Help us protect and restore the Morro Bay estuary! 
Thank you for helping our beautiful, bountiful, biodiverse bay!