A crucial component of the Estuary Program's work involves conducting long-term monitoring to understand conditions in Morro Bay and its watershed and how they are changing over time. Each spring, a dedicated group of staff and volunteers conduct bioassessment monitoring to track creek health. To learn more about this effort, check out some of our past bioassessment blogs. 
The Bugs Tell the Story
An integral part of bioassessment monitoring is the collection of benthic macroinvertebrates, which are small insects that live on the stream bottom and are visible to the naked eye. These insects give us insight into the health of our creeks. 
Since certain macroinvertebrates are sensitive to pollution and others are tolerant to pollution, we can use them as an indicator for water quality conditions. For example, if we collect a sample and only find macroinvertebrates that are very sensitive to pollution, we can assume that the water quality is likely good. But if we only find macroinvertebrates that are highly tolerant of pollution, the water quality may be poor.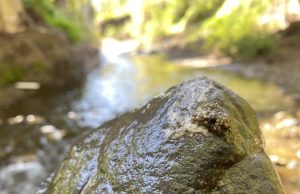 When the surveys are completed, the Estuary Program ships the preserved benthic macroinvertebrate samples to a certified laboratory where a taxonomist sorts, identifies, and counts the first 600 organisms present in the sample. This analysis typically takes a few months to complete, and we expect the data later this year. 
A Successful Survey Season
This spring, the Estuary Program and its volunteers surveyed eleven creek sites. We assessed four sites on Chorro Creek, two sites on Dairy Creek, one site on Pennington Creek, one site on San Bernardo Creek, one site on San Luisito Creek, and two sites on Los Osos Creek. The surveys started in mid-April and wrapped up in early June. 
Surveys wouldn't be possible without the support of community volunteers, Cal Poly, and the Americorps Watershed Stewards Program (WSP). Many of the Cal Poly volunteers were part of a stream assessment class where students collected bioassessment data in the San Luis Obispo watershed.  
Collecting Bug DNA
When we collect benthic macroinvertebrates using a net, it's possible that we might miss certain species that are present in the water. This might occur with very small invertebrates or ones that only live in a very specific type of habitat.  
To get a better understanding of all the invertebrates that might be present, we can look at genetic material in the water. Environmental DNA (eDNA) is typically released into the environment by shedding, fecal matter, decaying tissue, or mucus. We monitor for eDNA by collecting a water sample, filtering it, and then sending the filter to a lab for genetic sequencing.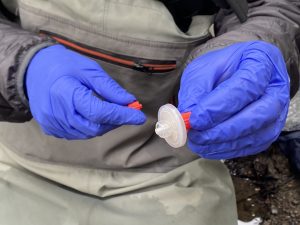 This survey season, we collected eDNA samples at each of our eleven sites. We are very excited to compare our results with data from our net samples. We are also excited to share this data with the Surface Water Ambient Monitoring Program's eDNA Monitoring and Analysis Project (SeMMAP), a broader statewide effort to understand the relationship between the macroinvertebrate samples captured with a net and the eDNA found in the water. 
Sensitive Species Sightings
During this year's survey season, our staff and volunteers were lucky enough to spot local sensitive wildlife including the elusive California red-legged frog (Rana draytonii) and Central Coast steelhead (Oncorhynchus mykiss). These two species are federally listed as "threatened," meaning they would be expected to become endangered if they didn't receive protection. It's always exciting to see that our local creeks provide high quality habitat for these important species of concern.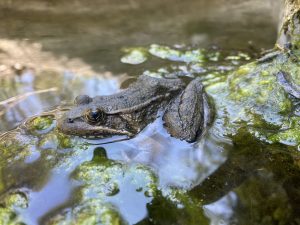 Thank you, Miossi Trust!
The Harold J. Miossi Charitable Trust has provided more than $140,000 in grant funds to support bioassessment monitoring in the Morro Bay watershed over the past decade. We thank the Miossi Trust for their generous support that allows us to collect crucial data to help prioritize conservation efforts and assess changing conditions.  
Beyond bioassessment monitoring, the Miossi Trust has funded and pledged an additional $125,000 to support the work of the Estuary Program, including developing the program's monitoring results and clean water messaging to share with residents, students, and visitors to Morro Bay.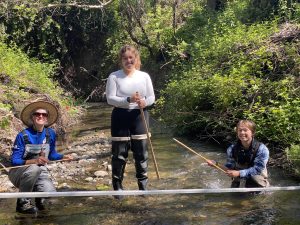 ---
Help us protect and restore the Morro Bay estuary!