Header photo courtesy of Erin Moses-Wierman.
Dogs are a common sight when you're out and about around the bay, which is not surprising given that the Morro Bay watershed is home to more than 5,500 dogs. These dogs collectively produce an average of 19,000 pounds of poop every week. As dog owners, that means you go through a lot of poop bags to responsibly pick up after your dog. On average, you need about 1,000 bags to deal with one year of a dog's waste. Over the average canine lifetime, this can add up to over 10,000 bags. As we're seeing more biodegradable and compostable bag options, you might be asking yourself which is the best kind of bag for picking up after your dog.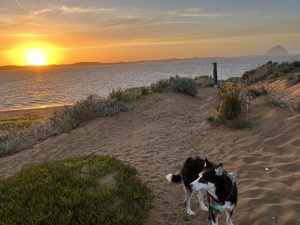 Break Down of Dog Waste
Dog poop produces nearly twice as much bacteria as human waste. When dog poop is left on the ground, it can have a major impact on the environment and water resources. It can take up to one year to break down and can negatively impact water quality as it contains bacteria and attracts parasites, according to the Center of Disease Control (CDC).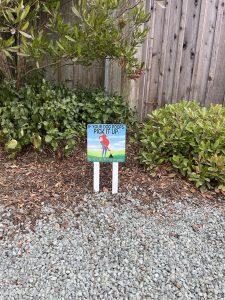 Because of the health risks it can cause, dog waste is not good fertilizer or compost in your yard. The diet and lifestyle of today's domestic dogs are vastly different from their canine ancestors, which means dog poop cannot decompose in the natural environment in a healthy manner.  
Dog poop requires very specific conditions to be composted, including maintaining an elevated temperature. Many municipal compost and green-waste facilities cannot meet these requirements. As a result, dog waste cannot go into your green waste bin in San Luis Obispo County. Throw away dog poop in your regular garbage bin. Some areas have dog waste compost facilities, so be sure to check for your local area.  
Compostable and Biodegradable Bags
Reducing your single-use plastic waste is a great idea. However, compostable or biodegradable dog waste bags do not reduce the impact of plastic in a landfill. In a county like ours that does not have dog waste composting facilities, your dog waste goes into the garbage and eventually makes its way to the landfill. In a landfill, the bags of dog poop are mixed in with other garbage. Once mixed, they won't get the oxygen needed to decompose. Even if a bag is "compostable" or "biodegradable," it will act just like a regular plastic bag and stay intact in a landfill.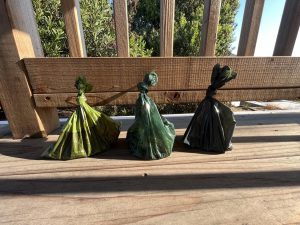 Mutts for the Bay
The Estuary Program's Mutts for the Bay program encourages you to pick up after your dog every time and provides on average of 300,000 bags per year in Morro Bay and Los Osos through our network of dispensers. 
The best thing you can do for the watershed and the bay is to make sure you pick up after your dog. Here are ways you can reduce your single-use plastic use while being a responsible pet owner: 
Reuse bags from shipping packaging or the grocery store that might otherwise have been thrown out anyway.

 

Look for bags that use less material in their packaging and were produced using more energy and water efficient practices.

 

Use a bin in your yard to collect more dog poop piles and put them in one larger bag. 

 

Reduce your consumption of other single-use plastics to reduce your overall plastic footprint.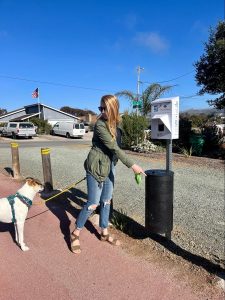 Mutts for the Bay is managed by the Estuary Program and is funded by the generous support of the Harold J. Miossi Charitable Trust, the San Luis Obispo County Stormwater Program, and donations from businesses and community members. You can help this program by donating here or submitting your interest in sponsoring a dispenser here! 
---
Help us protect and restore the Morro Bay estuary!