The Morro Bay watershed, the area of land that drains into the estuary, is a special place. Our watershed's creeks provide valuable habitat to aquatic life, including iconic steelhead. These fish are anadromous, meaning they are born in freshwater, such as our watershed creeks, and then venture out to the ocean. After several years in the ocean, they return to the creeks where they were born to spawn and continue the life cycle.

Here on the Central Coast, we are host to a distinct population of steelhead known as the South Central California Coast Steelhead.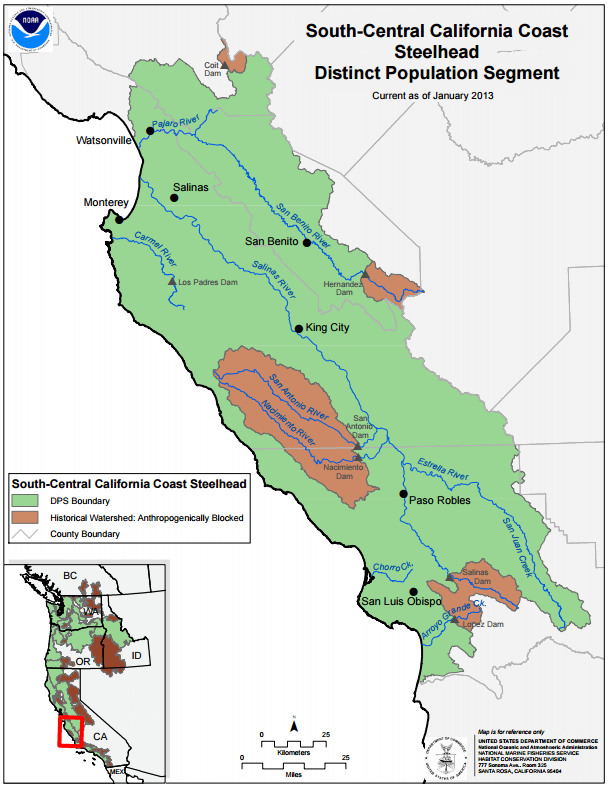 The formerly abundant steelhead are now designated by the National Marine Fisheries Service as Threatened under the Endangered Species Act. The declines are attributed, at least in part, to the loss of freshwater and estuarine habitat, fish passage barriers, inadequate flows, and periodic poor ocean conditions. Water withdrawals, flood control structures, and development have altered both the habitat and the water quality that these fish depend on.
Monitoring the Waters for Wildlife
The Estuary Program and its partners work to help the threatened steelhead, including projects to protect lands, restore habitat, and conserve water. Additionally, Estuary Program volunteers and staff venture to watershed sites each month to collect data such as oxygen, temperature and flow to assess whether the waters can support sensitive species such as steelhead.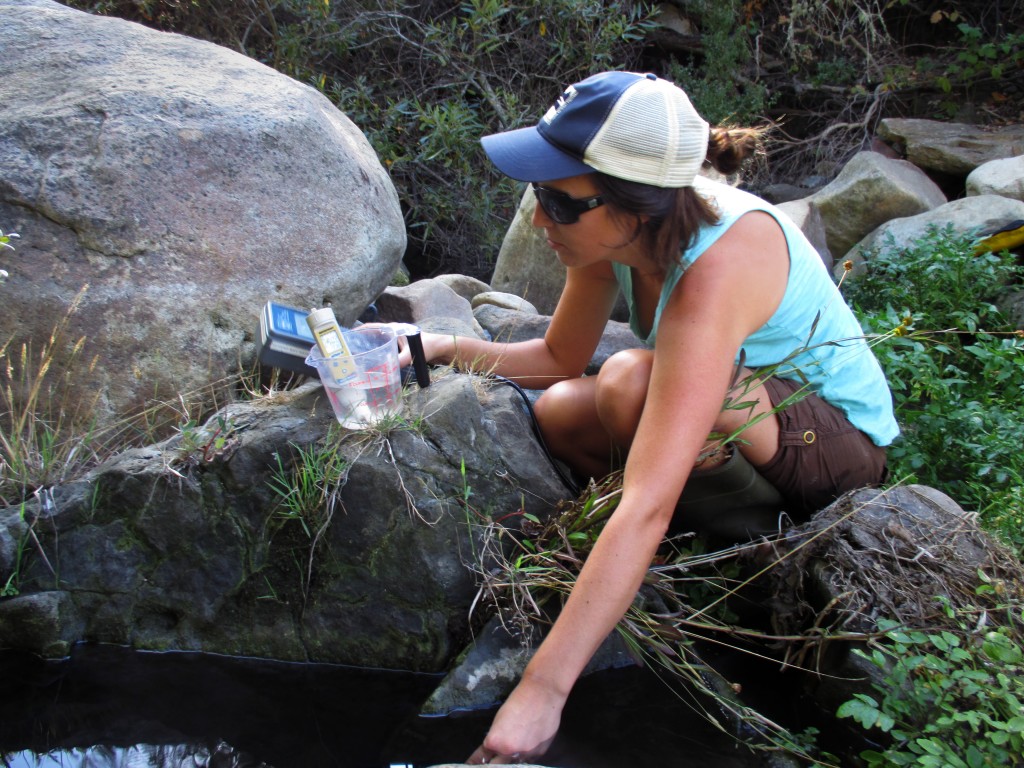 Steelhead Like Cool Waters
Steelhead are sensitive to water temperature. If temperatures are too high, the fish become more susceptible to disease and predators, and their life cycle and spawning cycles can be disrupted.
Volunteer-collected data from our watershed indicate that water temperatures are on average below 21°C, which is the level that sensitive steelhead need. Continuous monitoring indicates only limited time periods during the summer months when temperatures climb higher than 21°C.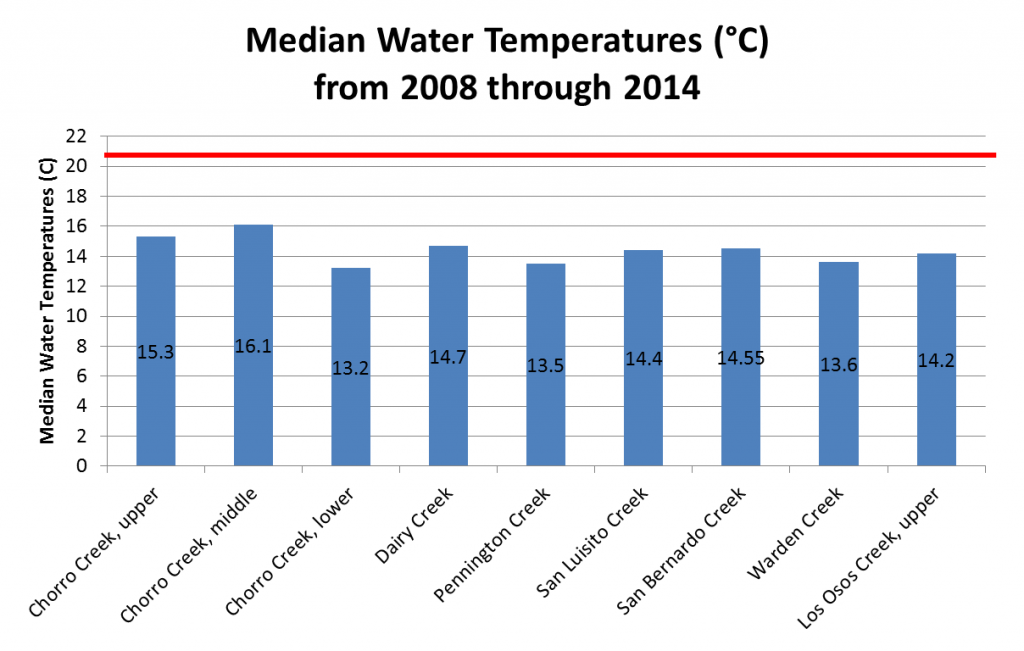 Steelhead Like Well-Oxygenated Waters
Warm water is not able to retain as much oxygen as cold water. Fish need well-oxygenated water in order to thrive. If oxygen levels drop too low, it can impact all life stages of steelhead. Adults cannot migrate upstream as effectively, egg growth is delayed, and newly-hatched steelhead are smaller.
The following map shows each creek in our watershed color-coded with its oxygen status, based on the averaged monthly data from 2008 through 2014.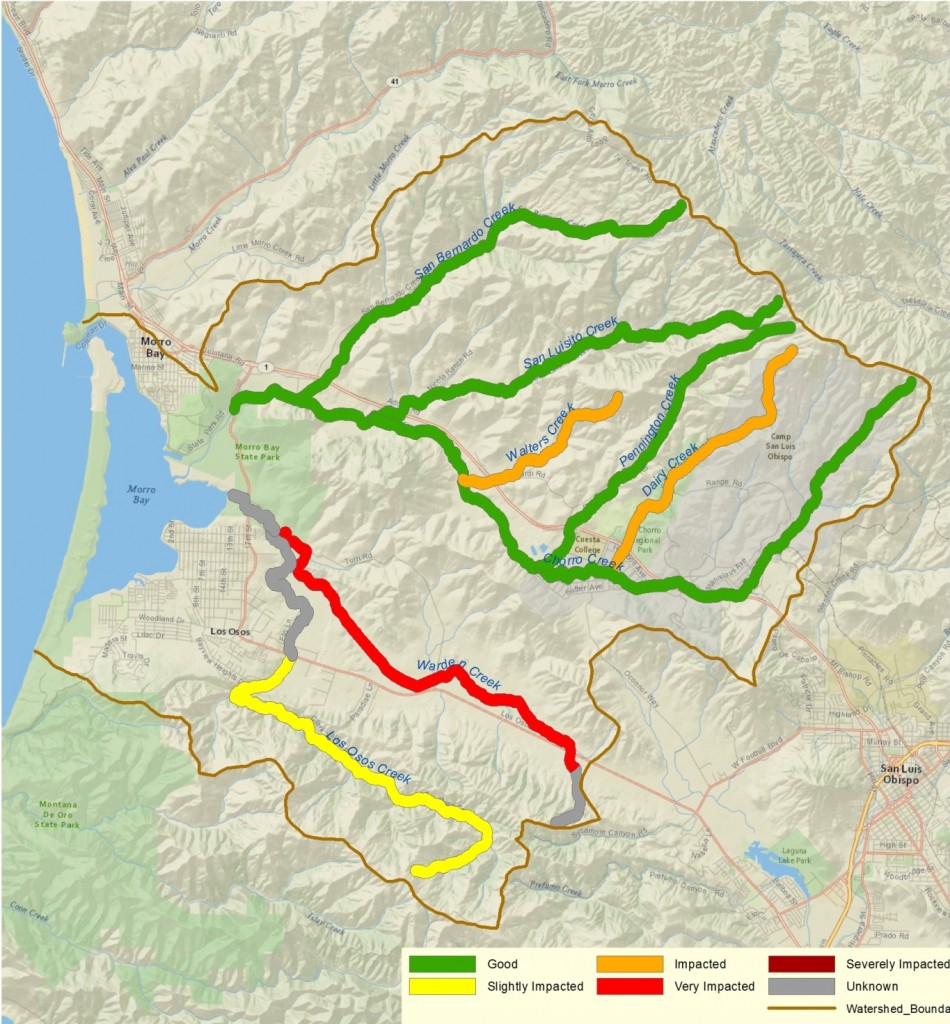 Chorro Creek and three of its five tributaries (a tributary is a smaller creek that drains into a larger one) all have Good oxygen levels. Dairy and Walters Creeks have an oxygen status of Poor, most likely due to low flows. In the Los Osos Valley, Los Osos Creek has levels that are Slightly Impacted (mostly due to low flows) while Warden Creek has the status of Very Impacted. Warden Creek experiences low flows, elevated nutrient levels, and has little plant matter on its banks that can provide shade to help keep waters cool.
Waters With Low Nutrient Levels Are Better for Fish
Elevated nitrate levels can be harmful for wildlife because they can encourage excess algal growth. This algae undergoes photosynthesis during the day, putting oxygen into the water. But at night, the algae switches to a respiration mode and takes up oxygen. This leads to depressed oxygen levels which can be dangerous for sensitive aquatic species, including fish and bugs.
The map shows each creek color coded with its average nitrate concentrations with data from 2008 through 2014.
On Chorro Creek, the impact of the California Men's Colony Wastewater Treatment Plant can clearly be seen. At the point where the treated effluent from the plant is discharged into the creek, nitrate levels climb (nitrate status changes from Good to Slightly Impacted). On Warden Creek, nitrate levels are elevated far above others in the watershed. Agricultural runoff is thought to be a likely contributor.
What You Can Do to Make a Difference
Pick up after yourself and your pet. Litter, pet waste, yard waste and oil leaks are carried by runoff down storm drains and into your local waterway. For more tips, take a look at our Bayside Living Guide.
Get informed. Learn more about steelhead, their habitat needs, and what you can do to help. Here are some resources to help:
Share your knowledge. Our handout on creek water quality and steelhead is a great resource to use with clubs and scout groups, or in classrooms.