Our State of the Bay 2017 report contains data that the Estuary Program and our partners have collected over the years. We release this report every three years to answer common questions about the health of Morro Bay and its watershed. Last week's blog discussed eelgrass, sedimentation, and climate change. In this week's blog, we address the indicator questions related to habitat protection, steelhead, and birds.
Protecting Habitat for People and Wildlife
Habitats are the natural environments where animals, plants, and other organisms live. The Estuary Program and its partners work to protect, enhance, and restore habitats to support naturally-occurring plants and animals. These native flora and fauna are best adapted to our climate and soil.
We accomplish this through three main activities:
Protection: projects that preserve habitats by preventing development and other activities that might harm them
Enhancement: projects that improve habitat conditions
Restoration: projects that return lands to the condition they were in before human activities impacted them.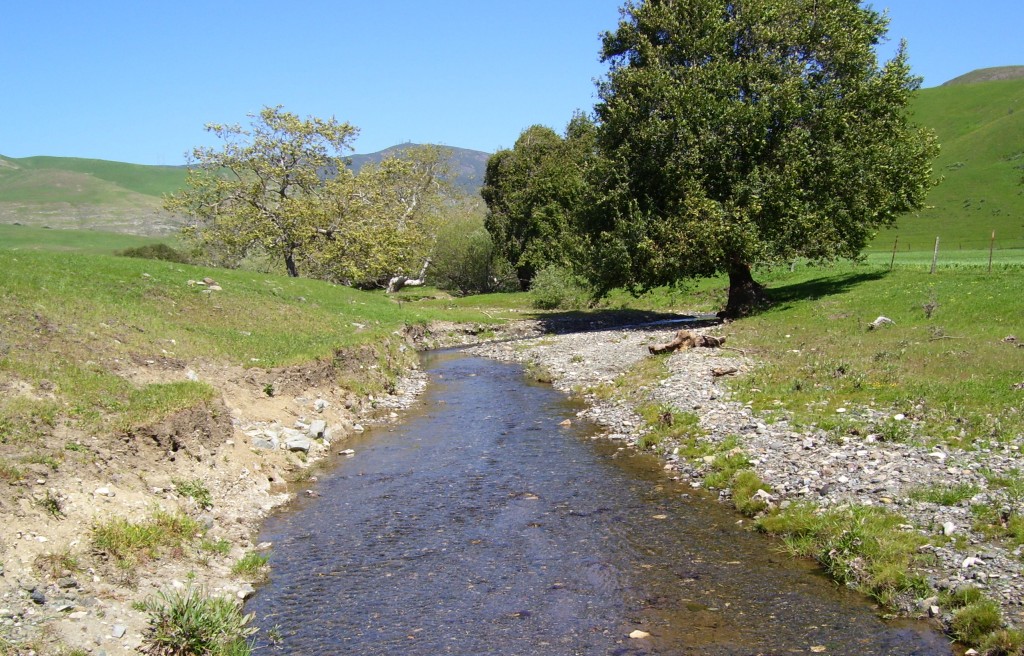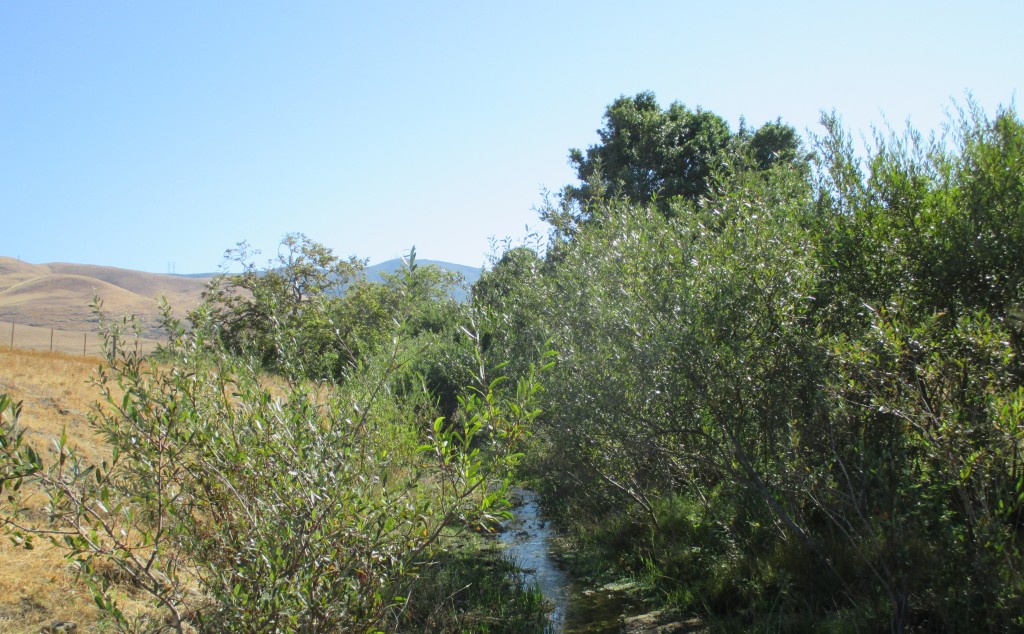 These before and after photos show the changes in a creek after fencing was installed to keep cattle out of sensitive creek areas. When the cattle were removed, vegetation recovered, shading the creek. This keeps waters cooler and helps keep oxygen levels up and bacteria levels down.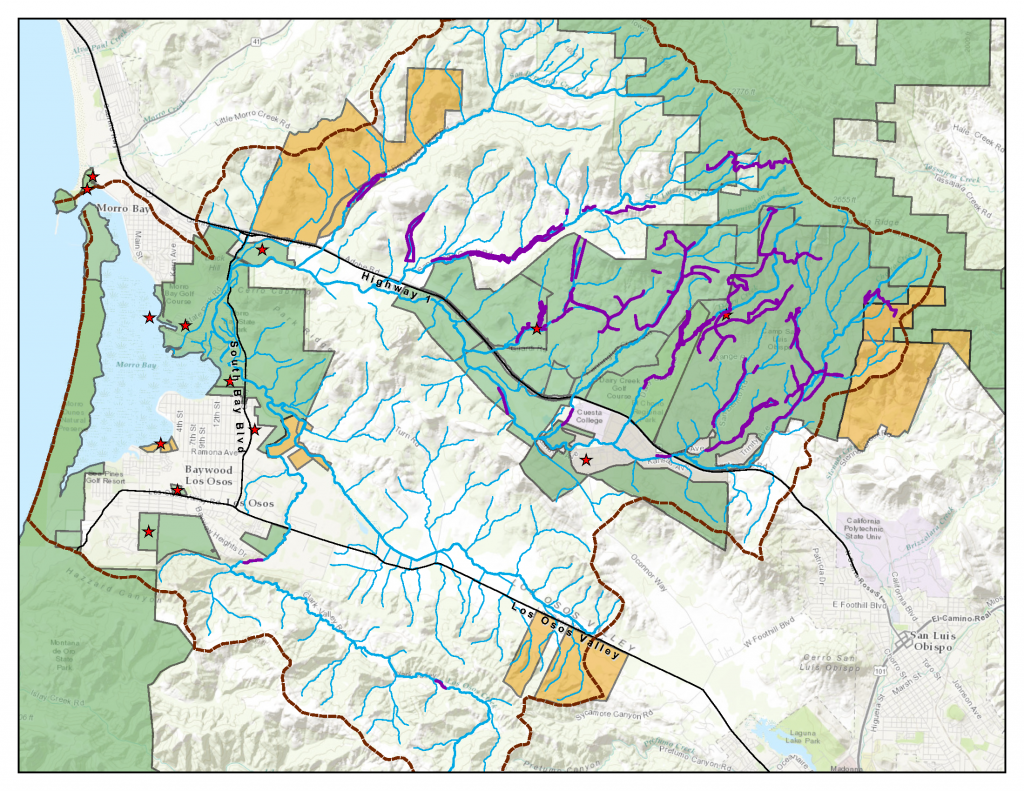 This map summarizes the areas protected, enhanced, and restored in the Morro Bay estuary and watershed. This work was conducted by our program as well as numerous others, including San Luis Obispo County, Cal Poly, Camp SLO, the Coastal San Luis Resource Conservation District, and many others. Over 4,000 acres have been protected and over 400 acres enhanced or restored.
Steelhead: Working Towards Recovery
The steelhead trout is a unique fish that requires cold, clean, well-oxygenated waters. Once abundant in the Morro Bay watershed, their numbers have drastically declined. They are born in freshwater such as the creeks of the Morro Bay watershed, they migrate to the ocean to live for a few years, and then return to the creeks to spawn. Thus, they require healthy habitat throughout local waterways in order to thrive.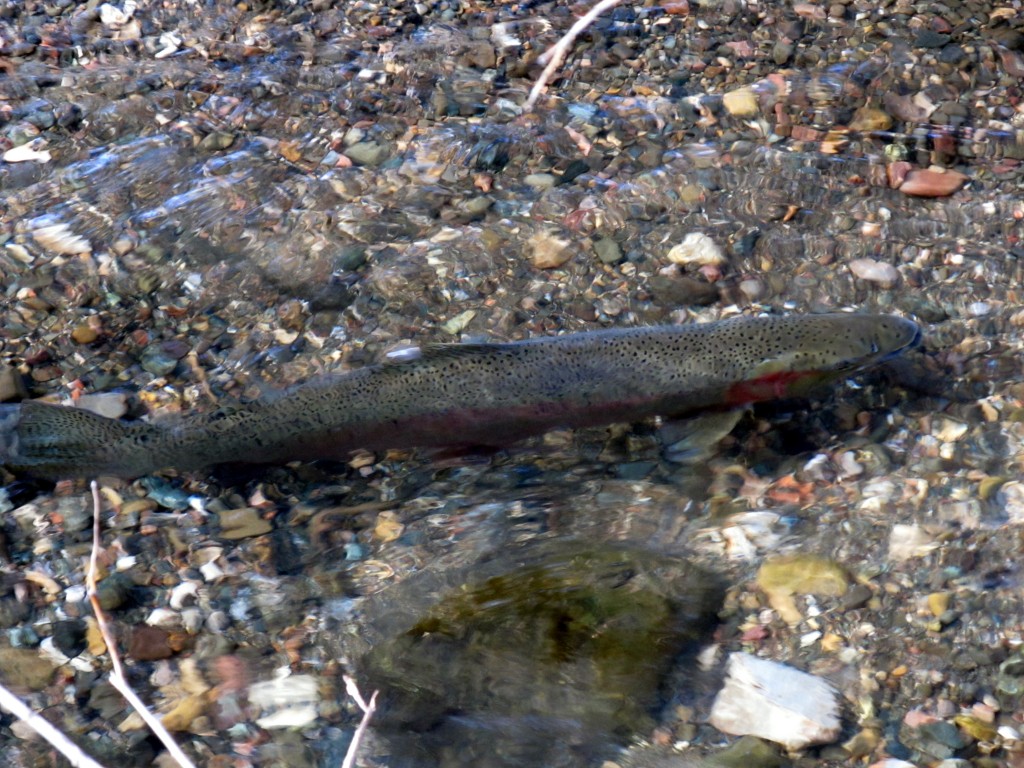 These fish face multiple challenges, including passage barriers, predatory invasive species, lack of water, and degraded water quality conditions.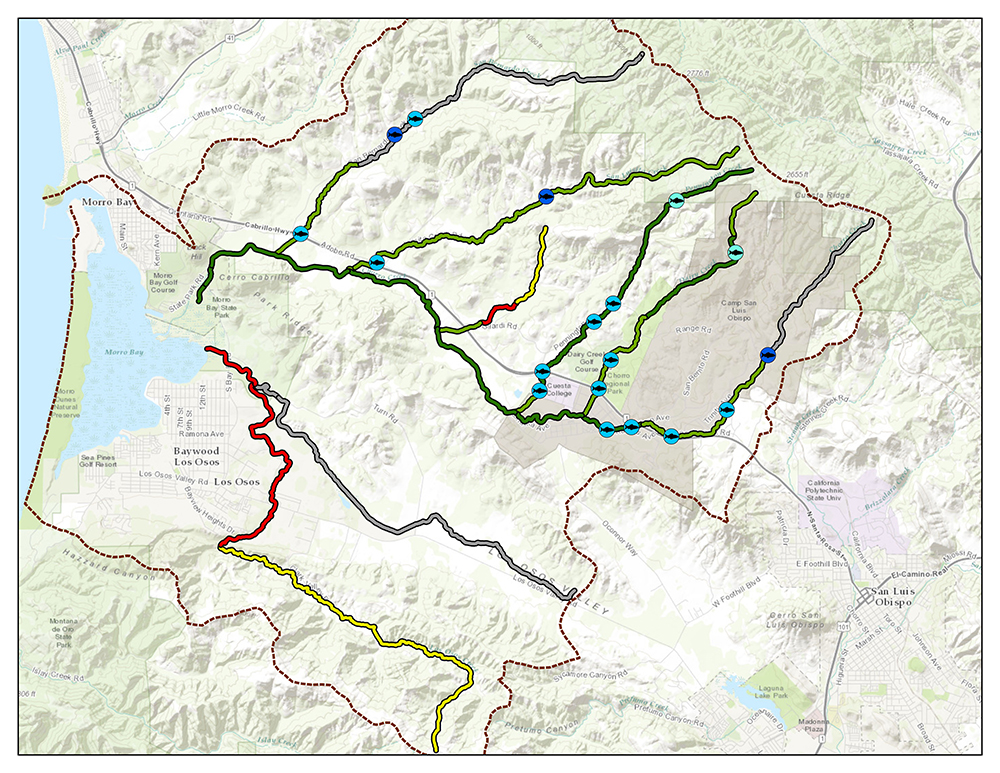 The map above indicates the habitat quality on the creeks of our watershed. This ranking takes into account water quality, habitat quality, and quantity of water. The blue circles on the map indicate the presence of barriers to fish migration. The light blue symbols are naturally-occurring barriers and can represent features like a waterfall that is too high for fish to jump. Total barriers are designated in dark blue and are completely impassable to fish. The medium blue symbols are partial barriers, which are those that are not passable for some fish, such as juveniles.
The Estuary Program has focused on restoration, water conservation, invasive removal, and other efforts with partners to improve habitat quality for steelhead.
Morro Bay's Bird Populations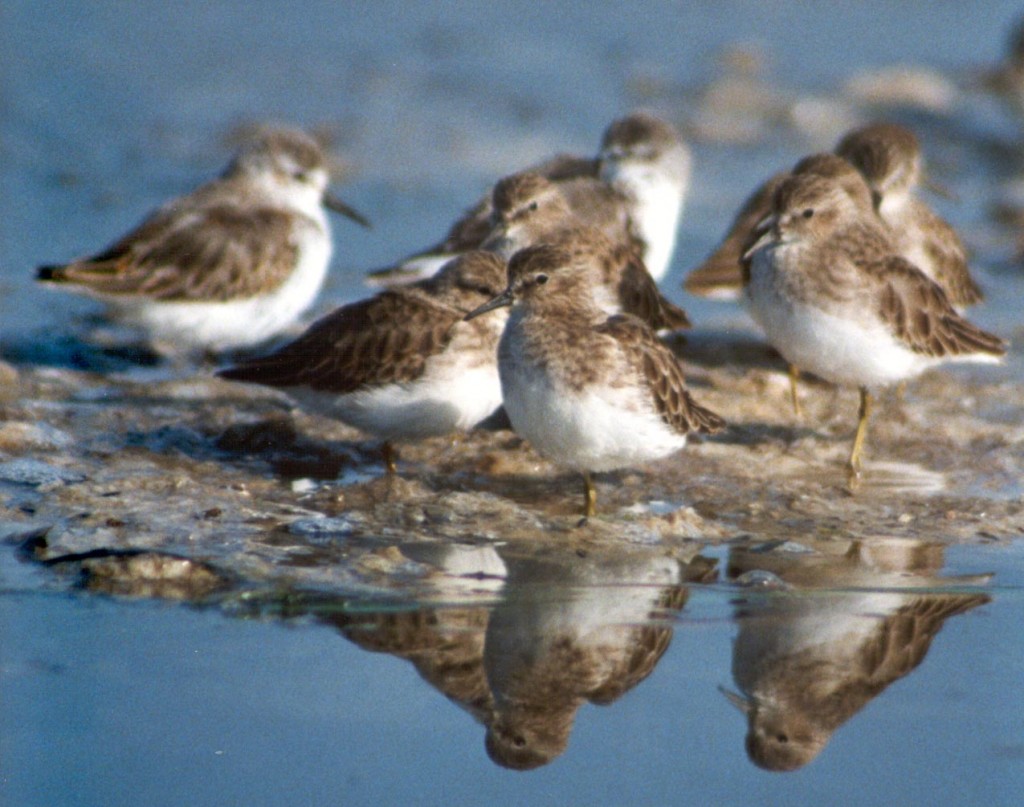 Morro Bay is well-known for its high numbers and diversity of birds. Data from efforts such as the Audubon Christmas Bird Count and the Morro Coast Audubon Society's fall Shorebird Survey indicate relatively stable populations of birds.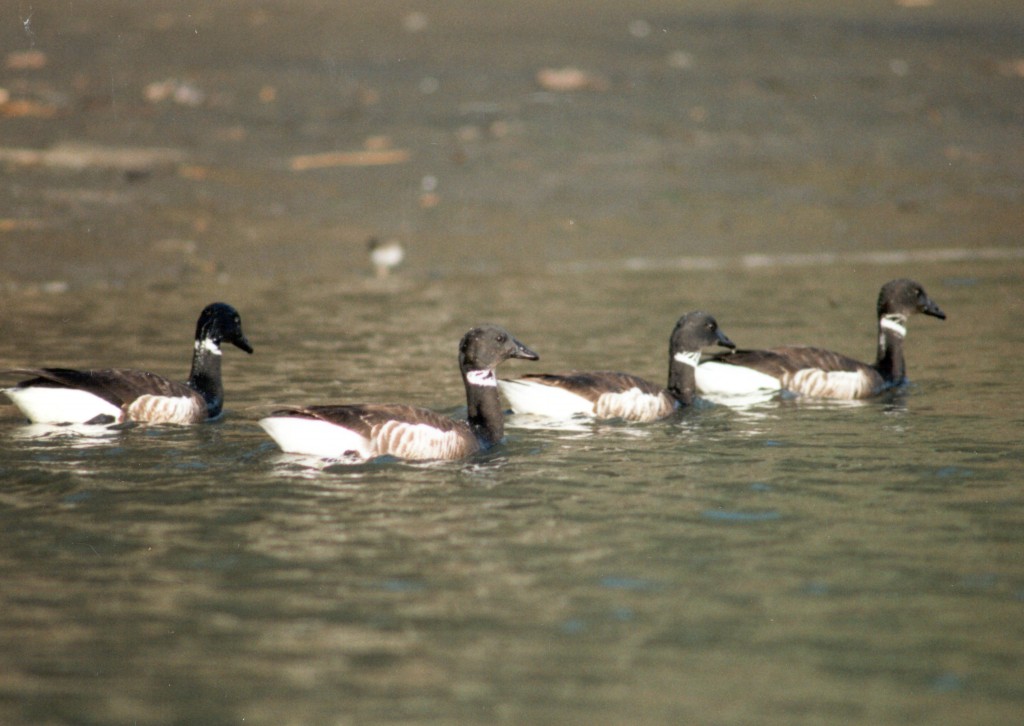 When looking at the flyway as a whole, we do see some changes. Brant geese numbers have been decreasing in our bay in recent years, in part due to declining eelgrass acreage. Brant feed on eelgrass, and Morro Bay is a favored stop on their migratory route from Alaska to Mexico.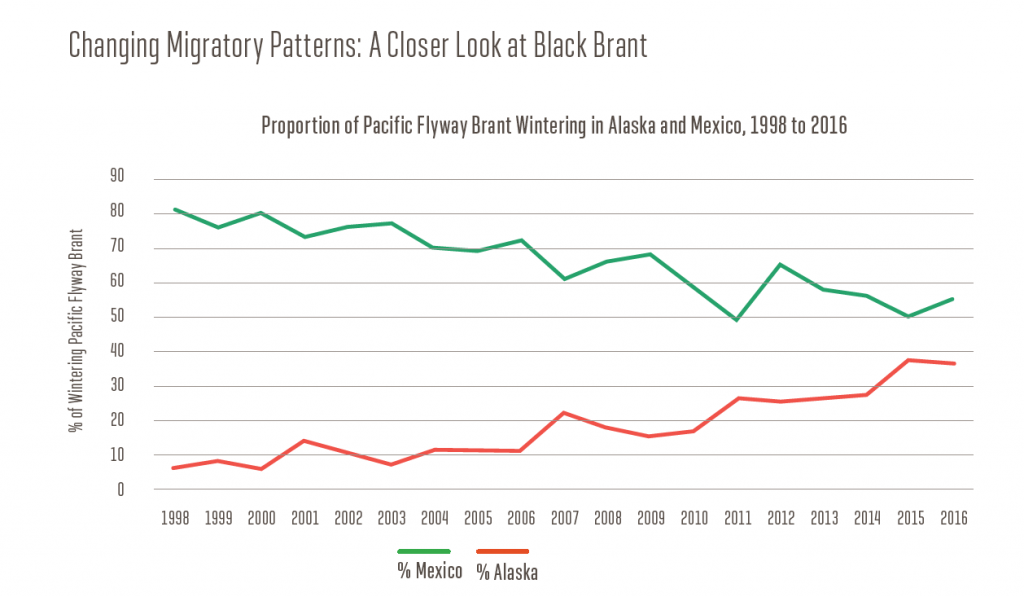 Warming global temperatures mean that fewer brant are making the 3,000-miles journey each winter and are instead choosing to remain year-round in Alaska. The green line on the graph shows the decreasing number of brant migrating south each winter, while the red line shows the increase in the number of brant remaining in Alaska year-round.
More information
TOMORROW: Come to our Clean Water Talk and Wild Ale Launch in partnership with Libertine Brewing at the Libertine Pub in Morro Bay.  Starts at 4, talk at 5. $10 will get you a commemorative Libertine glass and Morro Bay National Estuary Program bamboo coaster, and a pint of the delicious Morro Bay Gose. It combines local ingredients including saltwater, citrus zest, avocado honey, and citrus zest. Proceeds benefit the Estuary Program.
Save the date for our Science at the Museum talk entitled "Birds, fish, and the necessity of a healthy bay." It happens Thursday, April 27 from 6-8 p.m. at the Morro Bay Natural History Museum. Two guest speakers will focus on the importance of the Morro Bay estuary and watershed habitats to wildlife. Ann-Marie Osterback, PhD, of NOAA's National Marine Fisheries Service will discuss iconic steelhead. Andrea Jones, Director of Bird Conservation for Audubon California, will speak about Morro Bay's importance to birds migrating along the Pacific Flyway.
You can also view the full report and attend our other State of the Bay events throughout April and into May of 2017.
Read our past posts on eelgrass, sedimentation and climate change, and bay and creek water quality.
---
#ExploreOurEstuary