Wildlife observations
The fall is a great time for observing invertebrates along the mudflat in Morro Bay, and lucky for us, we are out monitoring eelgrass every fall. This often leaves us wondering, "What is this?!", but sometimes we find the answers while monitoring eelgrass health.
For example, we have been seeing a number of egg masses such as this one, tucked away on blades of eelgrass.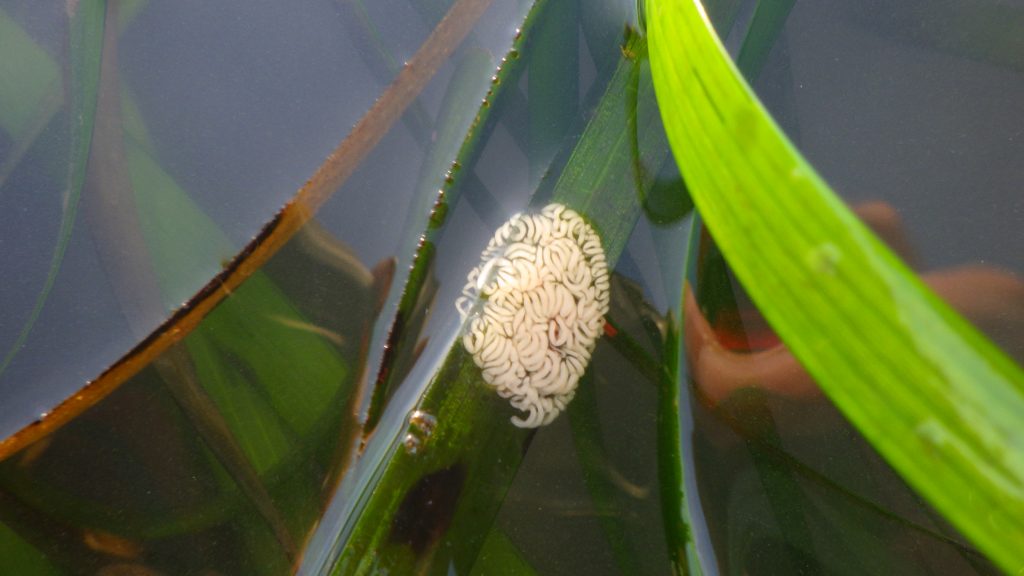 Considering the diverse array of organisms that utilize eelgrass as habitat, we were left wondering which creature had been laying the eggs. Sometimes though, you wander along the right part of the mudflat and find a nudibranch laying an egg!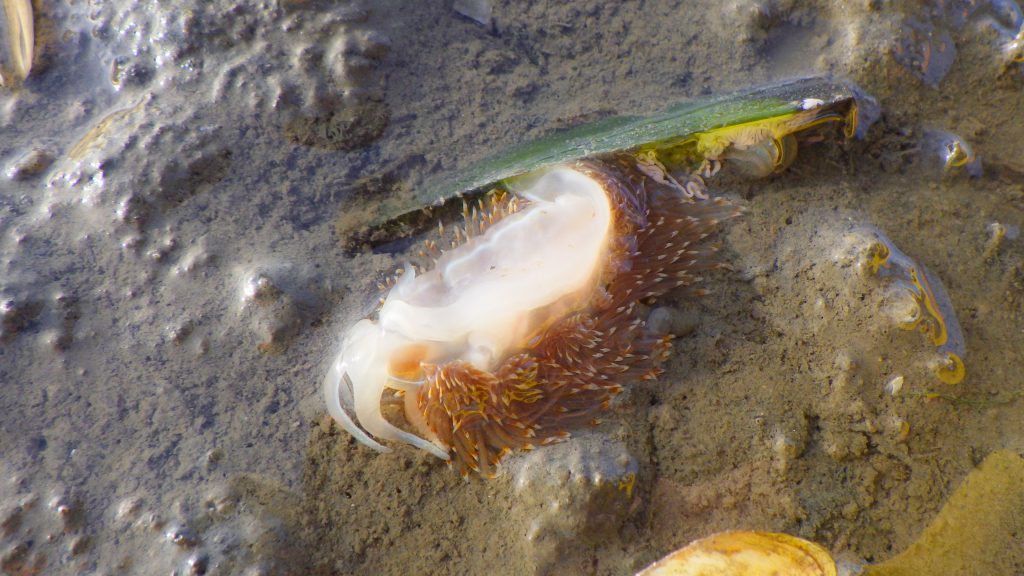 It makes sense that these egg masses are those of the Opalescent nudibranch, as we have been seeing both a lot of the egg masses and a ton of the Opalescent nudibranch.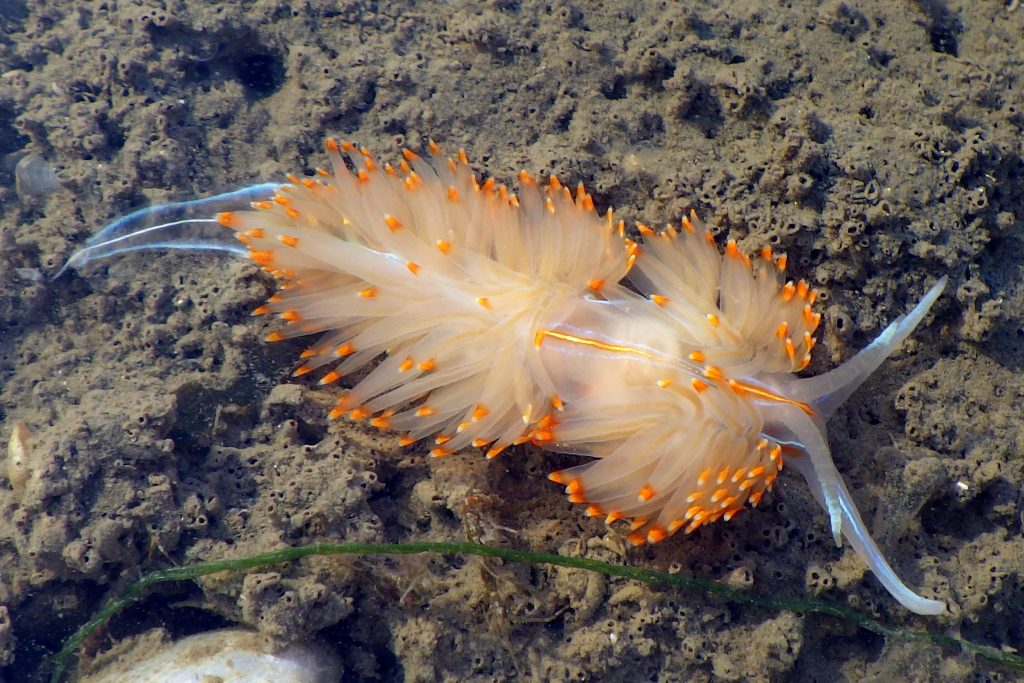 For some organisms, the eggs or egg masses are well documented, so it is easy to look up an identification online. We have not found that to be the case for a lot of Morro Bay nudibranchs (or it is just difficult to find the correct reference online). Some experts in the field have even noted that the overlap in shape, color, and size of egg masses makes it difficult to identify without adults nearby.
The navanax, also sometimes called the California aglaja, is another common Morro Bay mudflat mollusc that belongs to the Aglajidae or headshield slug family. These sea slugs are known for their predatory nature; they consume nudibranchs and, at times, have been observed practicing cannibalism. Navanax are a common organism for us to find, but one day we stumbled upon this one, which was larger than the ones we typically see.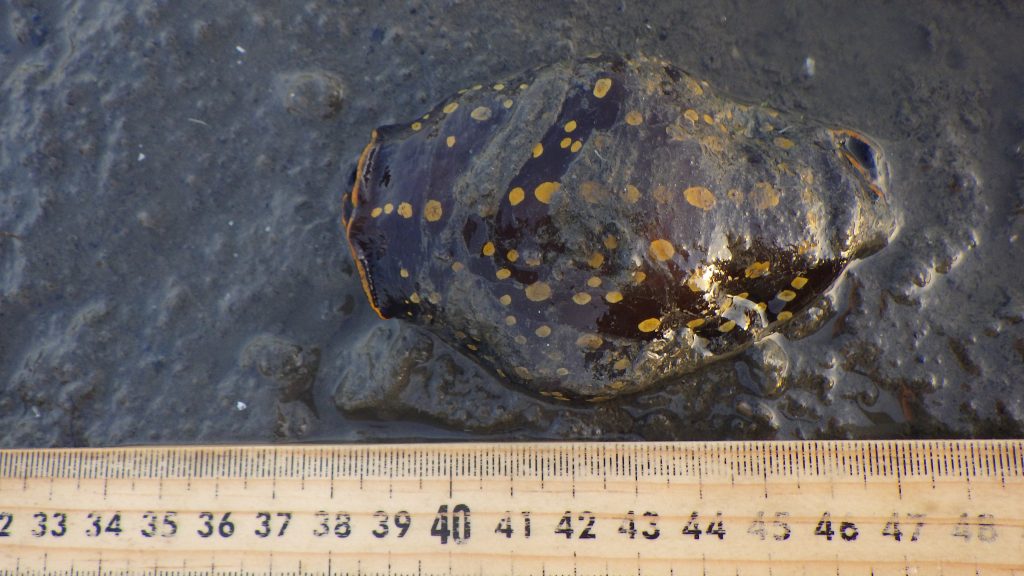 We've also been seeing a lot of this egg mass, which we believe is the egg mass of the navanax.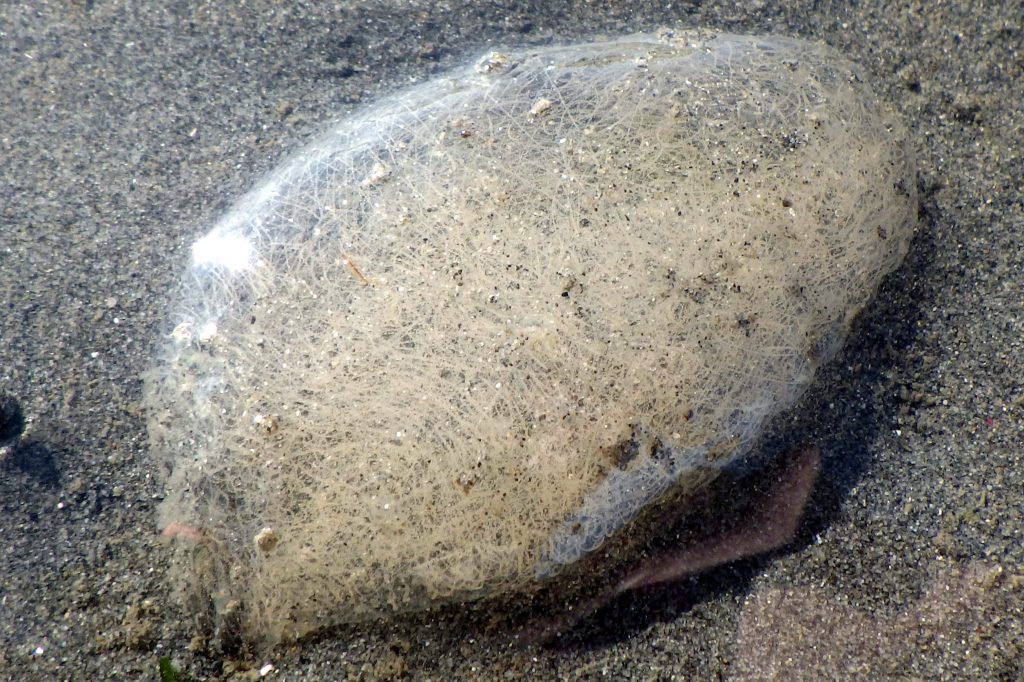 Good weather, beautiful sunsets, new and departing staff
We often find ourselves crossing our fingers for good weather during the negative tide weeks. Though it feels like we often get really windy days when we need to head out to monitor, we've had a few spectacularly calm days, with even better sunsets.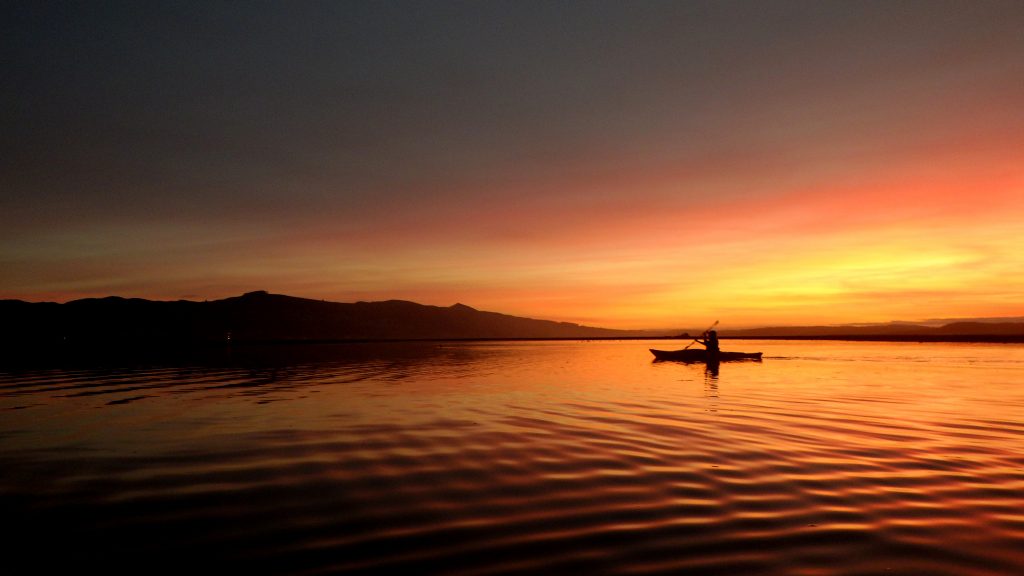 Our new monitoring technician Blake (pictured on the left in the photo below) has joined the team to help with the monitoring component of the Estuary Program's mission. We are excited to have him with us, and wish Tyler, our previous tech, the best of luck finishing up his degree in Environmental Engineering at Cal Poly. Blake studies Environmental Management and Protection at Cal Poly with an emphasis in watershed management. You might see him measuring stream flow on creeks around the watershed over the next few months, or conducting eelgrass surveys in the bay.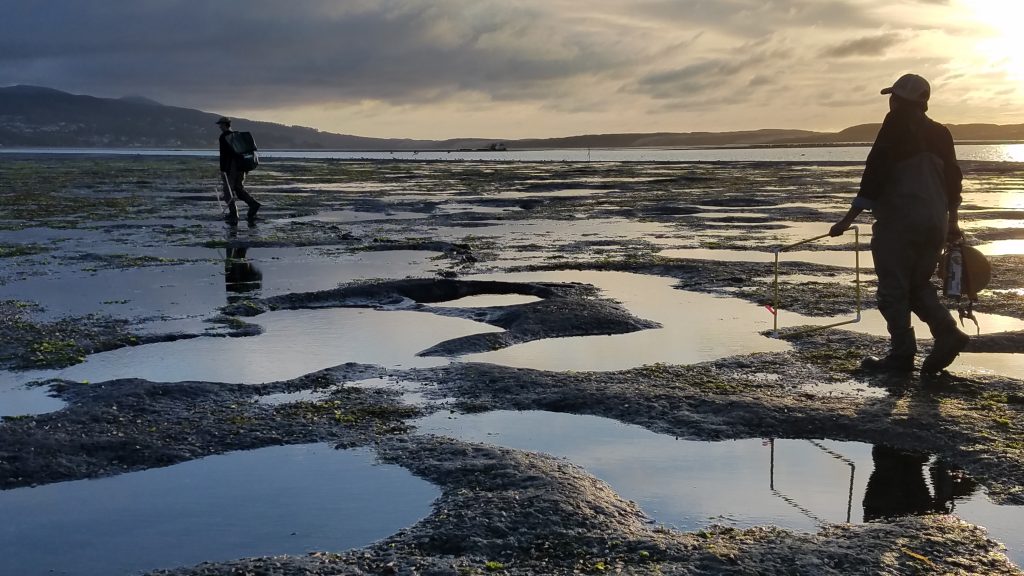 On the particular survey pictured above, we were also greeted in the skies by a flock of Pacific Black Brandt. To learn more about this bird and its extraordinary migration, check out our past guest post from brandt expert John Roser.
Restoration
Thanks to the rain, the restoration project at the Chorro Creek Ecological Reserve is looking green with life. Estuary Program staff have been on site with the California Conservation Corps who have planted almost 1,000 plants within the five-acre floodplain.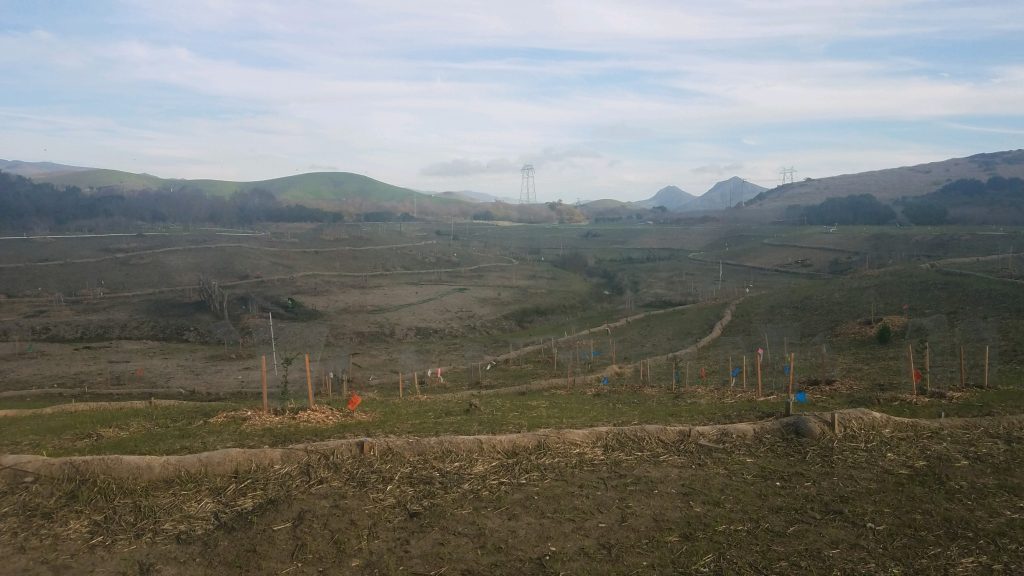 The wet weather has been ideal for getting vegetation established. Species such as cottonwood, willow, box elder, sycamore, oak, elderberry, among other natives will soon create beneficial habitat for creek dwellers. The Estuary Program also installed monitoring equipment to track the timing and frequency of flooding.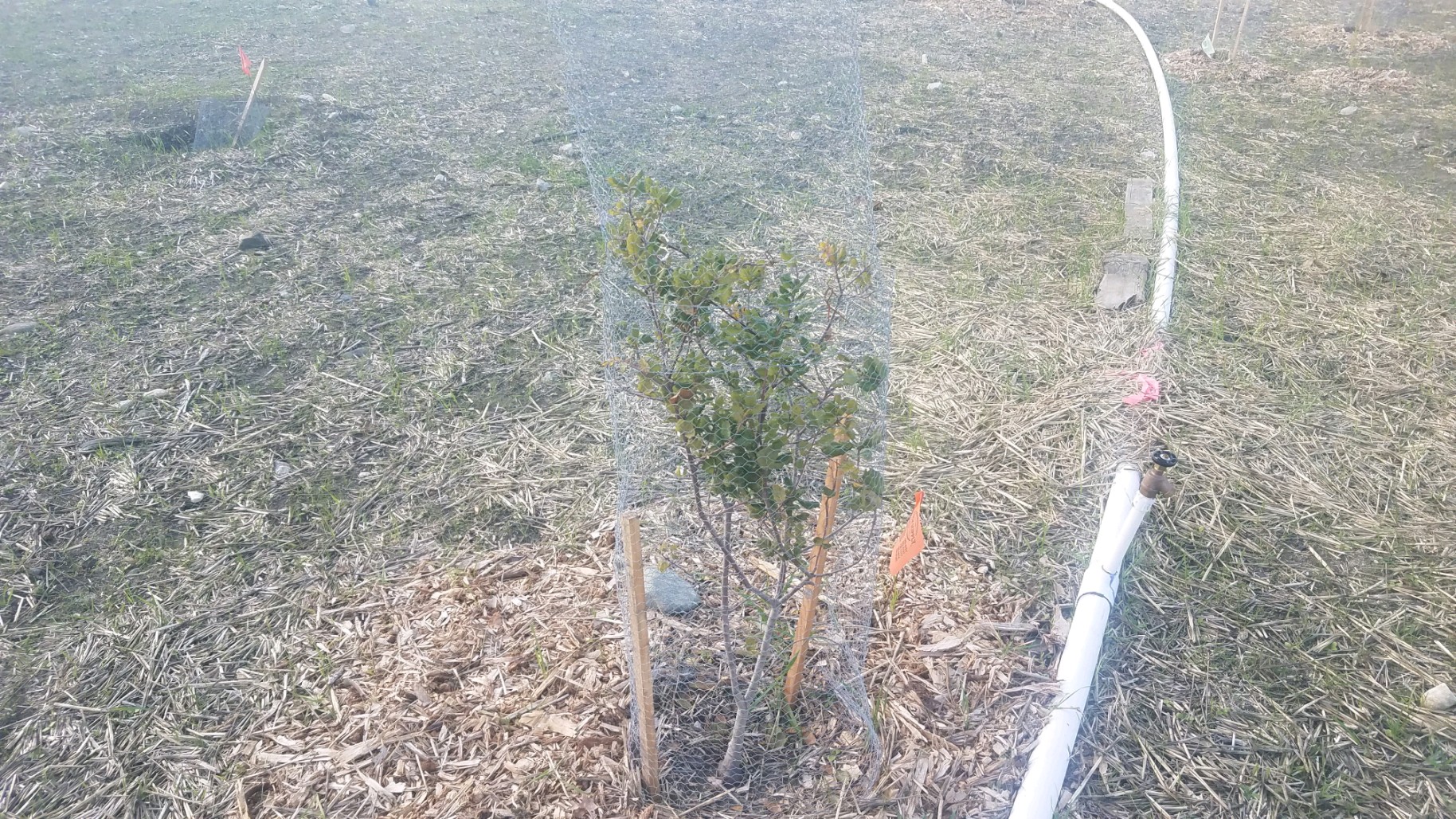 Looking ahead
We are excited to see what organisms we see while conducting fieldwork in January. Tiny Opalescent nudibranchs maybe?
---
Help protect and restore the Morro Bay estuary
Thank you for your support!